With the advent of various tools of Information Technology, DAVIM finds new innovative ways of teaching and learning. Nationwide Institutions are trying to find ways to inculcate evaluation of the adopted teaching methodology and enhance students learning skills while at home.
In a situation where all Universities and Colleges have waved away the examination procedure for student's promotion, DAV Institute of Management understands the zeal of students and worry of parents. DAVIM has responded by introducing Online Internal Examination system as part of its regular curriculum under the dynamic leadership of Principal Director, Dr. Sanjeev Sharma.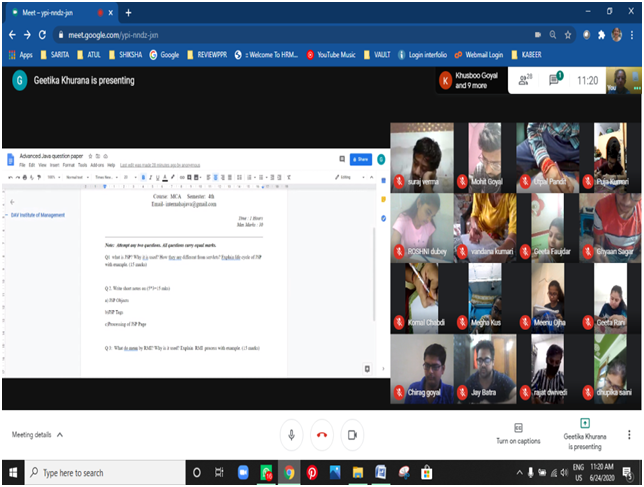 All Teaching and Non teaching members, according to the positive visionary Dr. Sanjeev Sharma, have equal participation in contributing towards the growth of every academic Institution. A step towards this learning and teaching expertise is the well managed and executed Online Internal Examination System which is managed by IT experts and evaluated by teachers.
The usage of Video conferencing software like Cisco WebeX, Zoom, Microsoft Teams, Moodle, Google meet and many more are being used for this purpose. This model set in the first place by DAVIM, Faridabad is an exemplary technique at Undergraduate and Post Graduate level where content is more of CASE STUDY based. Vice Principal, Dr Ritu Gandhi Arora and Dean Academics, Dr. Neelam Gulati, along with Dean, Examinations, Ms. Kulvinder Kumar have added their thoughtfulness in bringing evaluation and learning system at the door step of the students.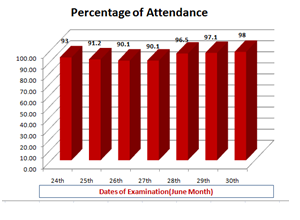 All Head of Departments – Dr. Meera Arora(MBA), Dr. Sarita Kaushik(MCA), Dr. Juhi(BBA(CAM)), Dr. Nidhi(BBA(BBE)), CA Alka Narula(BBA(II)), Ms. Pooja Sachdeva(BCA), Ms. Pooja Goyal(Off. BSc(Hons)) along with their coordinators implemented the structured, well scheduled system.
The comparative study of conducting this virtual Examination platform with the previous one has shown almost 100% attendances. The Online Internal Examination has been conducted only for 2nd and 4th semester students but not for final year students. This strategic decision is also in the benefit of the students as final year students have either to join for job/business or they may have to prepare for competitive exams.
The Graph of student's total strength as compared to the percentage of attendance in earlier exams clearly shows that student's preferred and accepted online mode of Examination despite the fact that there was more level of strictness and discipline. All teaching staff has appreciated the answer sheet performance of the students which are in the process of evaluation. We at DAVIM feel proud to introduce a method of gadget usage for the benefit of the student for UG and PG students.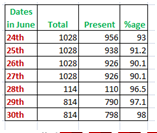 Although it was felt little challenging but with the dedicated staff of DAVIM it has become integral part of the existing system in a way that next step for scholarship is also being planned in similar manner.