Founded on 12th October 1997, DAV Institute of Management, Faridabad, is a leading business school of India, under the direct control of DAV College Managing Committee, New Delhi.
The Institute is affiliated to Maharshi Dayanand University (MDU), Rohtak which is NAAC accredited with an institutional score of 80-85 percent. As an affiliate of M.D. University, DAVIM is the most preferred institution for studies in management and information technology in NCR.
Since its inception the focus of the institute has been on providing total quality education, Know-how of the corporate world, Interface with the global economy, corporate social responsibility with a passion for continuous improvement and excellence.
DAVIM offers two postgraduate programs: Master of Business Administration (MBA)-a two years regular degree program, (intake 120), Master of Computer Applications (MCA)- a three-year regular degree program (intake 120). It also offers a wide range of undergraduate courses in Business Administration and Computer Applications. The nomenclature of various courses is: BBA, BBA (Computer Aided Management), BCA, BBA (Industry Integrated), BSc.(H) Comp.Sc. and BBE (Bachelors in Business Economics).
To add professional value to the Management courses and enhance student's employability, the institute offers add-on courses of CA, CS, and CMA (CWA).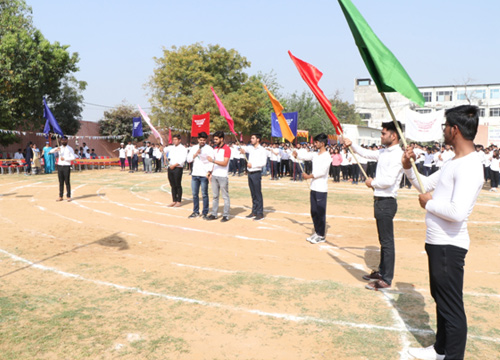 PHENOMENAL GROWTH OVER A DECADE AND A HALF
Having started with 30 students in 1997, the institute today has 2000 plus students, 100 plus faculty, 2 postgraduate courses, 6 undergraduate courses and 3 integrated professional programmes. Our rigorous and integrated course curriculum helps student to acquire knowledge, skills and attitude to fulfill the evolving requirements of the corporate world.
The institute is a study center cum oral coaching center of CA, CS, and CMA (CWA).
The environment at DAVIM is driven by values which include excellence in holistic management, team work and family culture, integrity and strong ethics, mutual respect and co-operation, creativity and synergetic innovation along with the humane touch.
The institute has been able to achieve and maintain high level of academic results by creating best learning opportunities and conducive academic environment. Over the years, more than 50% students have been securing distinctions, the rest first divisions and practically no second divisions. Currently more than 100 students achieve top positions in the University. Today we are able to attract the best students from all parts of India because of the repute of our institute, as a coveted center for management & IT education. High achiever alumni of DAVIM are placed in corporate of national and international repute.