HOLISTIC GROWTH DEPARTMENT
DAVIM believes that education is no longer just about learning tangible and measurable skills. Our past educational paradigms relied on the "average" measurements and standardization. The biggest benefit of a holistic approach isn't just about mental development but it encompasses psychological, social and emotional growth which is the need of the hour. Holistic development essentially means the development of intellectual, mental, physical, emotional, and social abilities in a student so that he or she is capable of facing the demands and challenges of everyday life. These abilities are vitally important for success in professional fields. In the past decades our knowledge regarding student development has expanded, and with this our teaching methodologies. To achieve the 360 degree growth of the student, department of holistic growth conducts declamation competition, poster making and essay writing etc activities on regular basis in which students participate with full vigour and enthusiasm. The department also organises in-house sessions for the students where the speakers from diverse areas address the students and groom the students for their overall development. Holistic learning approach has successfully helped development of our students into well-rounded and successful professionals serving the society.
---
Training Session on Communication Skills
The Training Department and Holistic Growth Department of DAV Institute of Management, Faridabad, organized a Session on the topic "Communication: There is always a Better Way" on 4th February, 2021, in association with Internal Quality Assurance Cell (IQAC). The session was organised for the first year students of BBA (CAM), BCA and BBA (BE). The speaker of the day was MS. Jaya Goyal, Chairperson of Women Entrepreneur Cell - I am SME of India and a corporate trainer. She said that being able to communicate effectively is one of the most important life skills to learn and emphasised upon its importance for an individual in the corporate world. Communication does not mean merely being able to speak good English; it encompasses the skills to convey your message to the other person in the right sense and also involves non-verbal communication. She said that we are comfortable in doing those tasks which we are conversant with, but we face problems in executing tasks which we have not done before, for which one needs to practice. This was made clear to the students with the help of activities. The session was very interactive and lively. Dr. Sanjeev Sharma, Principal Director and Dr. Ritu Gandhi Arora, Vice Principal, put on record the appreciation for the departments for organising this event and giving the students an opportunity to rub their shoulders with such an erudite speaker.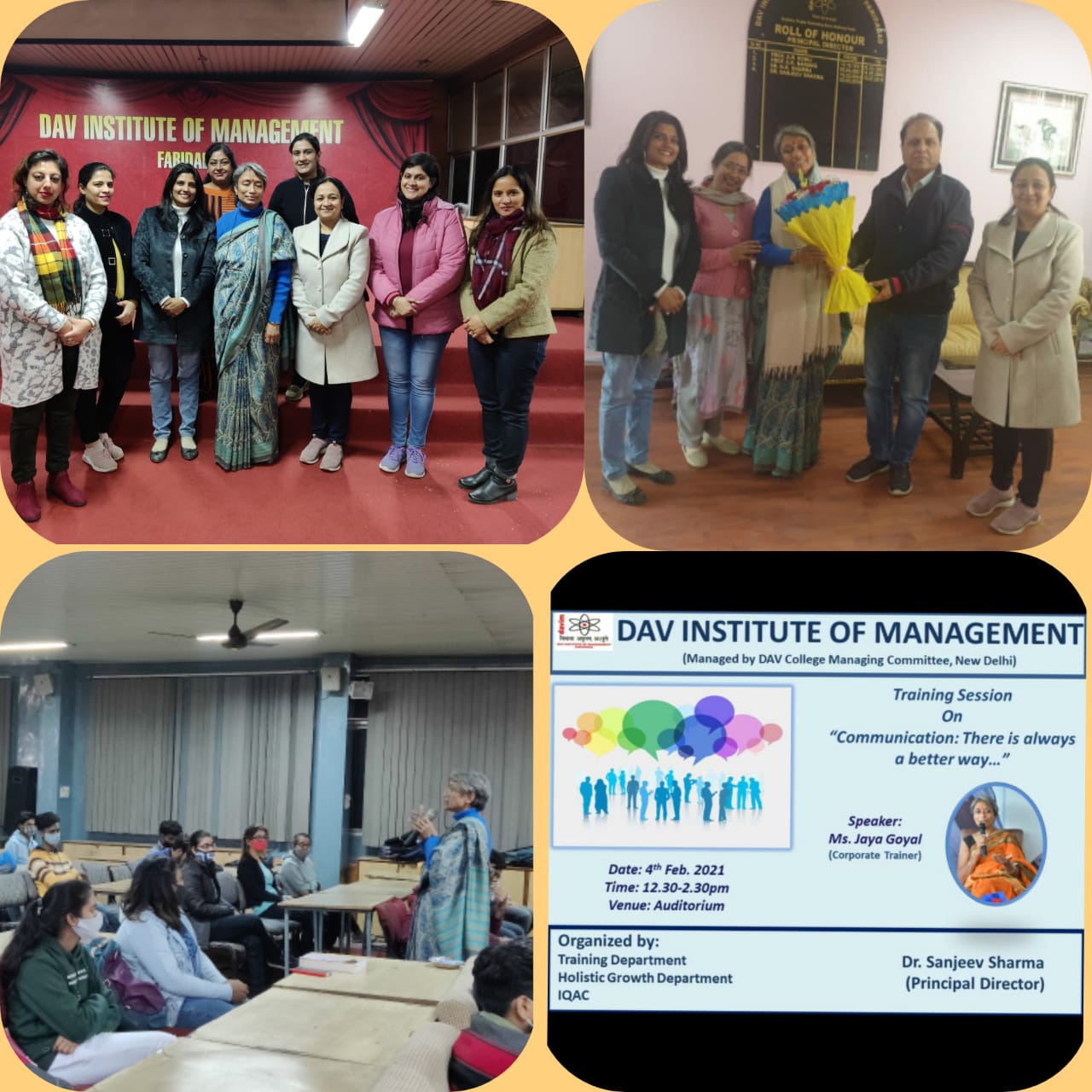 ---
Vigilance Awareness Week 2020
Observance of Vigilance Awareness Week every year during the last week of October is taken up to encourage all stakeholders to collectively participate in the prevention of, and the fight against corruption and to raise public awareness regarding the existence, causes and gravity of and the threat posed by corruption. In 2020, the Vigilance Awareness Week is being observed from 27th October to 2nd November, 2020 with the theme, "सतर्क भारत, समृद्ध भारत - Satark Bharat, Samriddh Bharat (Vigilant India, Prosperous India)". This awareness week campaign affirms our commitment to promotion of integrity and probity in public life through citizen participation.

In view of the foregoing, an Online Poster Making Competition was organized by the joint efforts of Holistic Growth Department headed by Dr. Rashmi Bhargava and Extra Curricular Department headed by Dr. Parul Nagi of DAV Institute of Management, Faridabad under the guidance of Principal Director, Dr. Sanjeev Sharma and Registrar, Dr. Ritu Gandhi Arora. The event was sponsored by NHPC Ltd., which granted considerable sum of money as a reward to the winners. The judges of the event were Dr. Meera Wadhwa, Dr. Anjali Ahuja and Ms Priti Bali.

The first prize of Rs. 2500 was bagged by Geetanshu Verma (BBE, 5th Semester).The second prize of Rs. 2000 and third prize of Rs. 1500 werecollected by Nisha Kushwaha (MBA, 3rd Semester) & Divyank Joshi (B.SC Hons., 3rd Semester) respectively. Whereas, the consolation prize of Rs. 1000 was given to Geeta Rani (MCA, 5th Semester), Shweta Baghel (BBE, 5thth Semester) and Prashant Kumar (B.SC Hons., 3rd Semester).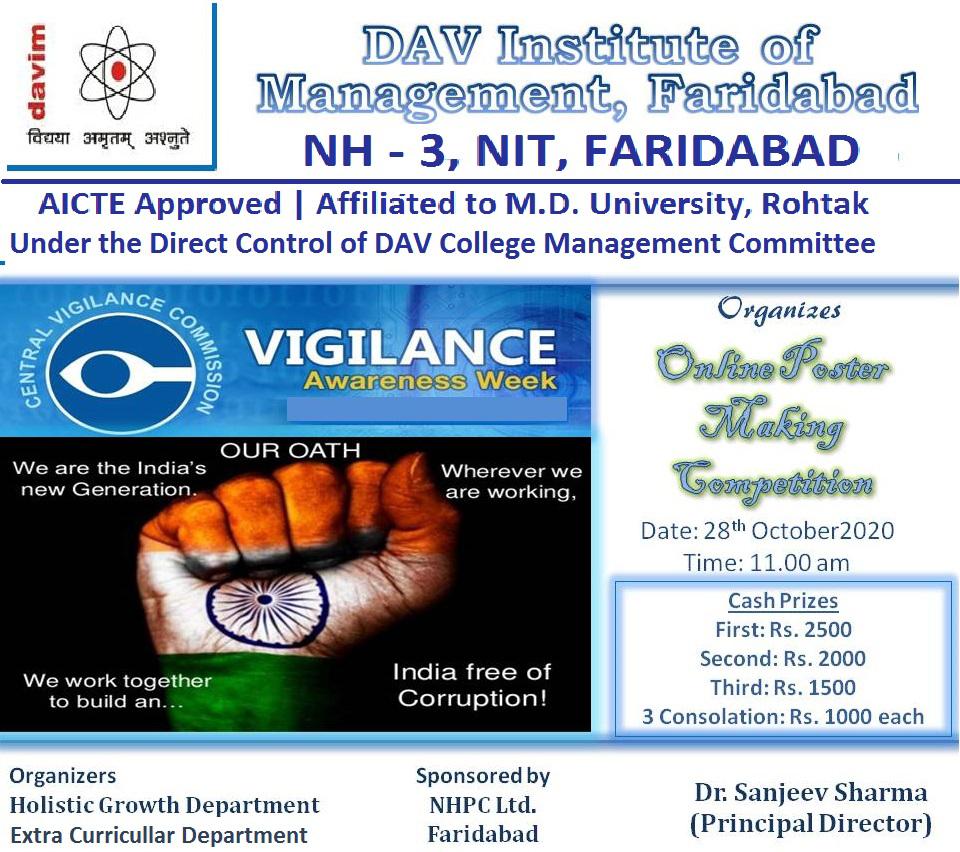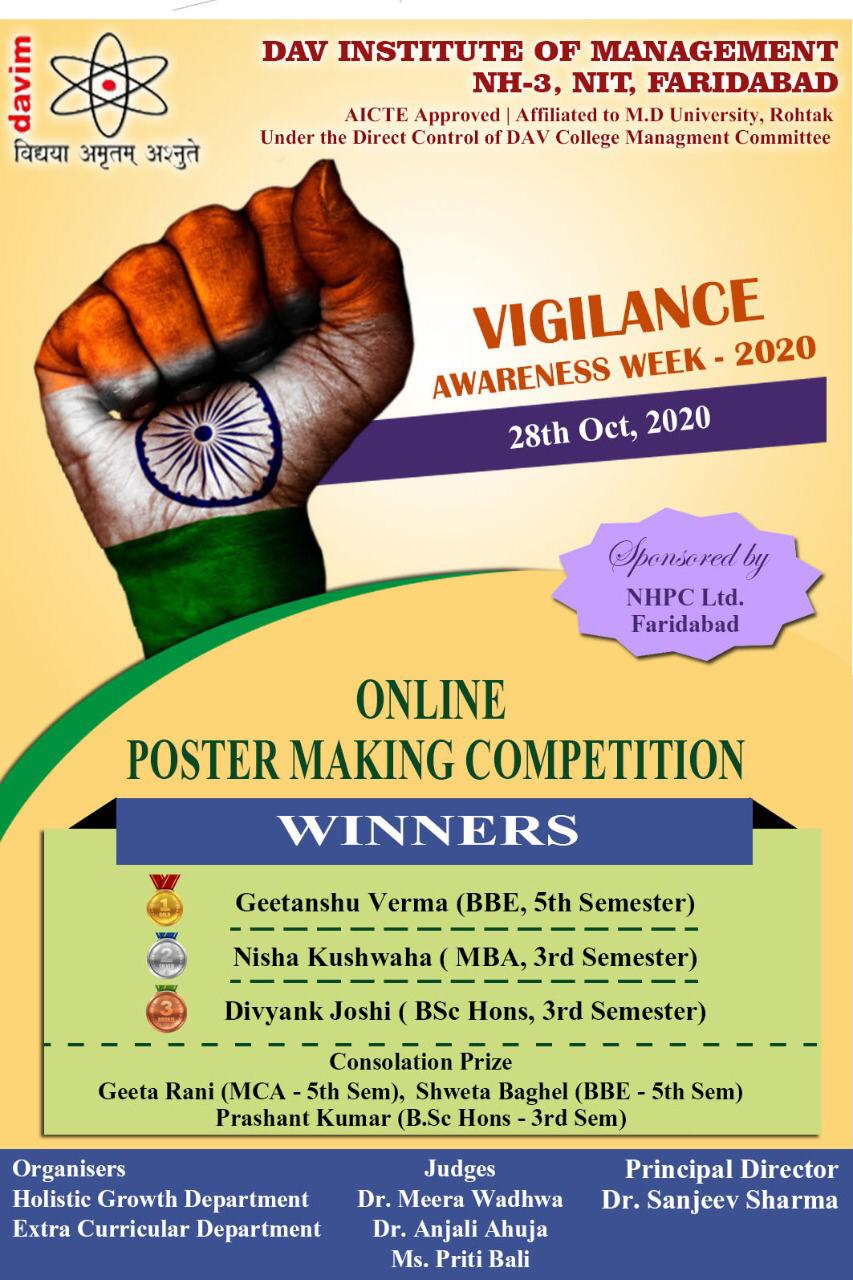 ---
"INDEPENDENCE TO SELF- RELIANCE" – INDEPENDENCE DAY CELEBRATION
It was a red letter day in the history of India when the country got her freedom on August 15, 1947. It is a grand occasion calling for impressive celebrations throughout the country that inspires sentiments of nationalism and patriotism. The occasion is celebrated with great zeal and gusto across the country and the official celebrations take place at the Red Fort in New Delhi. Due to the unfortunate pandemic, DAV INSTITUTE OF MANAGEMENT, Faridabad, virtually celebrated the occasion with unprecedented patriotic fervor on August 14, 2020 in the form of a Valedictory session of National Online Slogan Writing (Abhivyakti) and Collage Making& Presentation (Zara Yaad Karo Qurbani) Competition.

Dr. Dhrity Gulati vigorously initiated the programme which was followed by showcasing the mesmerizing video of Indian Flag prepared by Mr. Sachin Narula. Principal Director of DAVIM, Dr. Sanjeev Sharma congratulated the stakeholders on such an auspicious occasion and uplifted their spirit with his words of wisdom. Introduction to the theme of the event was given by Dr. Anjali Ahuja, Convener – Patriots Club. Dr. Rashmi Bhargava, Dean - Holistic Growth, welcomed the Chief Guest and proceeded the programme further. The honorable chief guest, Captain Akhilesh Saxena, Kargil War veteran and corporate icon graced the occasion with his presence. Apart from being a veteran in army, Captain Saxena is a versatile speaker and is also excelling in the corporate world. Sir reflected on the hardships faced by the defense personals and success stories of the Kargil War.

The results of the competition were declared by Dr. Parul Nagi, Dean – Cultural & Extra-Curricular Committee. For Slogan Writing Competition, Yashika Aggarwal (Aggarwal College) secured the first position, Preeti Sharma (DAV Centenary College) secured second position whereas, third position was bagged by Renu Kumari (Govt. College for Women, Faridabad). On the other hand, for collage Making Competition, Nishi Khatri (Revolt of 1857) bagged the first position, second position was shared by Pooja Verma (Kheda Satyagraha) and Simran Bhatia (Partition of Bengal)whereas, Charu Gandhi (Champaran Satyagraha) secured third position.

The organizers of the event were SARFAROSH – The Patriot Club, Holistic Growth Department, Student Support Department, Extra Curricular Activities Department, NCC & NSS. The team members who managed the event behind the curtain were CA Alka Narula, Dr. Nidhi Turan, Ms. Neetu Juneja, Ms. Archana Mittal, Ms. Esha Khanna, Ms. Kanika Duggal, Mr. Prince Ahuja, Ms. Maya Verma, Ms. Akansha Sharma, Dr. Deepak Sharma, Ms. Poonam Singh, Mr. Ashish Goyal, Dr. Hema Gulati, Mr. Sachin Narula, Ms. Kavita Goyal, Ms. Vandana Jain, Ms. Ritu Gautam & Mr. Harish Rawat. The judges for Slogan Writing Competition were Dr. Neelam Gulati, Dr. Pooja Kaul, Dr. Ashima Tandon & Ms. Priti Bali. Whereas, Judges for Collage Making Competition were Ms. Reema Nangia, Dr. Meera Wadhwa, Dr. Sunita Bishnoi & Dr. Gurjeet Kaur.

The closing remarks for the event were given by Dr. Ritu Gandhi Arora, Vice Principal & Registrar (DAVIM) and a formal vote of thanks was extended by Dr. Meera Wadhwa, Dean – Student Support. The event concluded with National Anthem.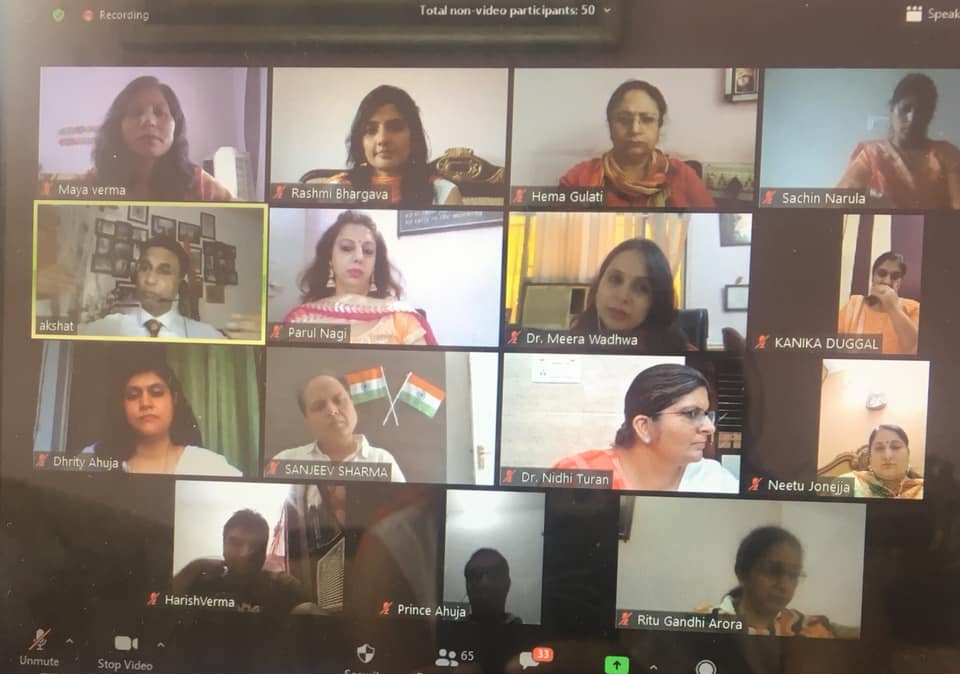 ---
MANAGING STRESS AND MENTAL HEALTH DURING CHALLENGING TIMES
The DAV Institute of Management, Faridabad organized a National Webinar on Managing Stress and Mental Health during challenging times on 30th June 2020. The Principal Director Dr. Sanjeev Sharma gave the initial deliberation and addressed the audience with his enriching and enlightening words. He emphasized how effectively one needs to manage stress in these tough times of COVID-19. He congratulated the organizing team Dr. Neelam Gulati (Dean- Academics and Centre for Environment), Dr. Anamika (IQAC Coordinator), Dr. Meera Wadhwa (Dean- Student Support), Dr. Gurjeet Kaur, (Dean- Outreach Programme), Dr. Rashmi Bhargava, (Dean- Holistic Growth) for taking a step forward in organizing such insightful webinar for all of us. The Opening Remarks were given by Dr. Ritu Gandhi Arora, Vice Principal and Registrar, DAVIM. There were four technical session in the webinar whereby one after another speaker added their insightful experiences and valuable suggestions for the participants.
The first technical session was taken up by Mr. Rajiv Chawla (Chairman, IAMSME OF INDIA),followed by Dr. Anubha Walia (Director – Prism Trainings and Consultancy) taking up the second technical session. Further Dr. Pankaj Gupta (President, Indian Institute of Health Management and Research University presided over the third technical session and lastly Dr. Jaya Sukul, HOD, Psychology, QRG Hospital concluded the fourth technical session. The Speakers of the day focused on how effective stress management helps you break the hold stress has on your life, so you can be happier, healthier, and more productive. The ultimate goal is a balanced life, with time for work, relationships, relaxation, and fun—and the resilience to hold up under pressure and meet challenges head on. But stress management is not one-size-fits-all. That's why it's important to experiment and find out what works best in general. They suggested that one must do a bit to manage stress like accepting that there are events that you cannot control, exercise regularly to remain fit, Eat healthy and well-balanced meals , Learn to manage your time more effectively ,Set limits appropriately and learn to say no to requests that would create excessive stress in your life, Make time for hobbies, interests, and relaxation, Get enough rest and sleep ,recover from stressful events , Don't rely on alcohol, drugs, or compulsive behaviors to reduce stress, Seek out social support ,Spend enough time with those you enjoy, Be assertive instead of aggressive , Learn and practice relaxation techniques.The webinar received an overwhelming response from the viewers and as such the chat box was full of queries which were presented by Ms. Kanika Duggal and Ms. Neha Sharma. The Session concluded by vote of thanks given by Organisers.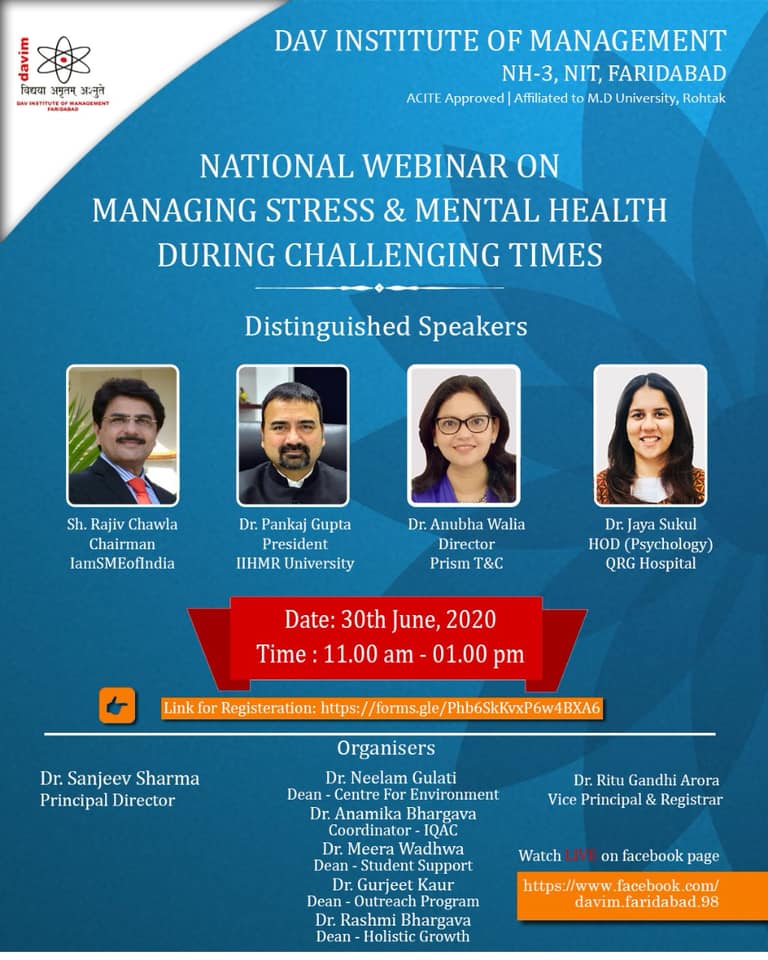 ---
Vigilance week was conducted by Department of Holistic Growth, DAVIM in association with NHPC with the theme 'Integrity-A way of life', on 2nd November 2019 to promote moral values, ethics, good governance etc. Essay Writing Competition, Poster Making Competition and Declamation Competition were conducted in the institute under the vigilance week celebration. Dr Sanjeev Sharma, Principal, DAVIM welcomed the guest of the day Mr S.N.Natarajan (GM, NHPC) with a potted plant. Dr Sanjeev Sharma addressed the students and motivated the students to be more more ethical and to embibe human values in them. Other officials from NHPC i.e. Mr B.B. Sethi, Mr Satbati and Mr. Kamal Sangra also marked their presence to encourage and motivate the students. Dr Rashmi Bhargava,(Dean, Department of Holistic Growth) and other faculty members welcomed the other guests of the day. Mr Natarajan, Chief guest also addressed the gathering and threw light upon the importance of vigilance week. The winners of the various competition held were awarded cash prizes and certificates by NHPC Ltd. Shweta Baghel bagged first prize in Poster Making Competetion, Sarisha secured first position in essay writing competition and Vipin got first position in declamation competition.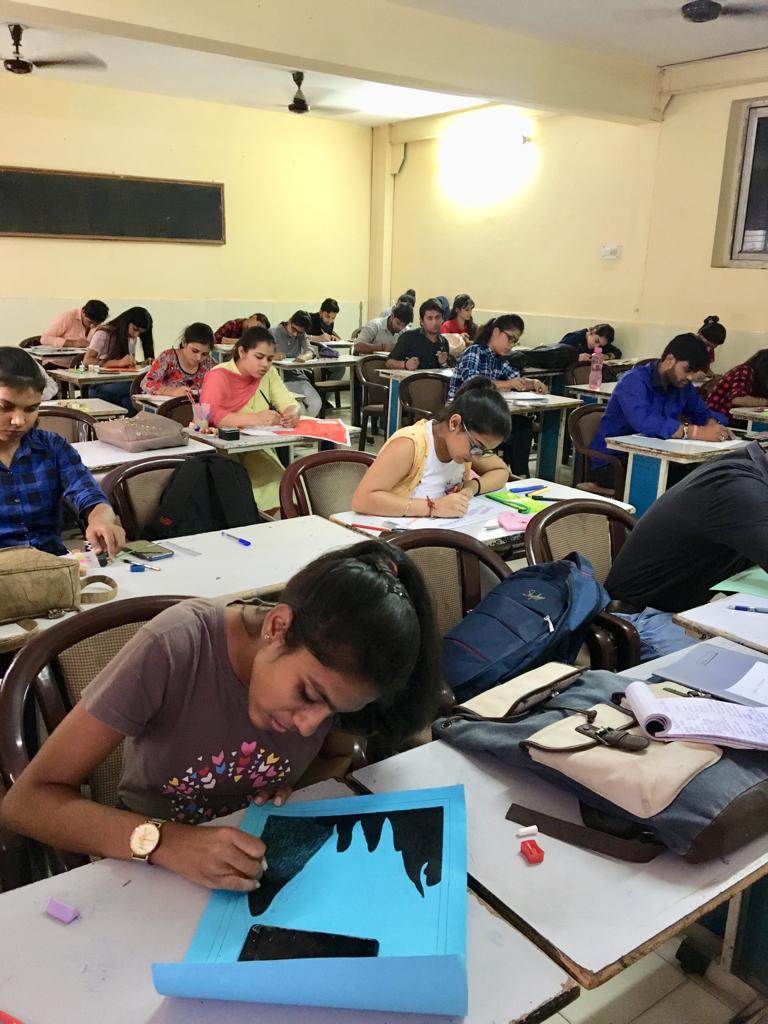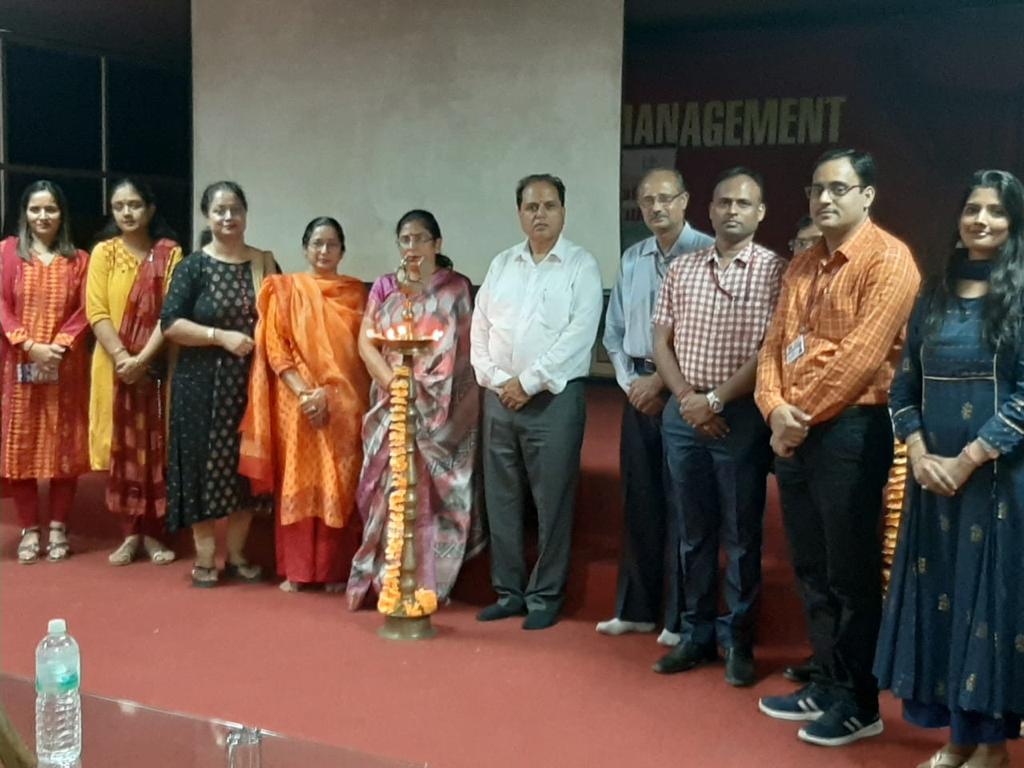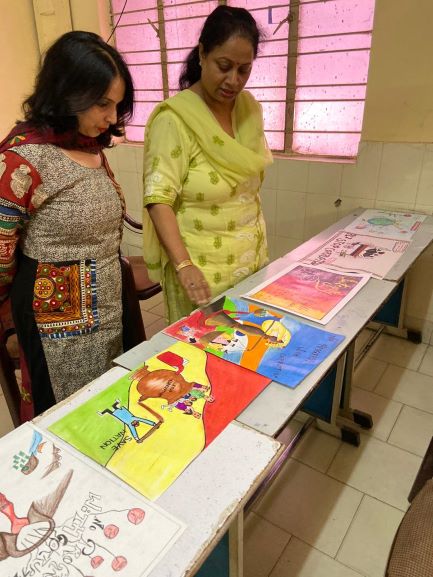 ---