The primary purpose of the incubation centre is to facilitate the creation of ideas and inventions that benefit society and importantly, are commercially viable. In order to encourage and felicitate entrepreneurial skills and foster ideas of young minds, and establish collaborations with Industries and entrepreneurs to guide our students, Incubation Center has been set up in the institute. DAVIM's incubation centre is aimed at transforming the students' vibrant ideas into entrepreneurial ventures. We support the ideas of the students, and help them to nourish those ideas into effective action plans. We help them during the process, and provide them with the required support at any point of time. The incubation center at DAVIM also arranges different activities so that young minds bubbling with ideas get platform to explore the possibilities and get wide knowledge on financial, technical and marketing assistance provided by governmental and non- governmental agencies. This platform endeavors to provide students facility to:

Get opportunities to work on live projects with the help of industry
Frequent interactions from industry experts
Regular interactive sessions with entrepreneurs
Connect with mentors through conducting workshops, seminars and interactive sessions
Connect with successful students- turned- entrepreneurs
Get information about Government and Non-Government initiatives about academics-industry collaborations
Providing infrastructure for all activities in the campus
Following are the members of Incubation Committee :

Dr. Meera Arora
Dr. Sarita Kaushik
Dr. Sunita Bishnoi
Dr. Pooja Kaul
Dr. Anjali Ahuja
Dr. Juhi Kohli
Ms. Ruchi Dhunna
Mr. Harish Verma
---
Brainstorming Session to design strategies for developing Entrepreneurial capabilities in students through strong Industry – Academia linkage
The Incubation Cell of DAV Institute of Management, Faridabad organized a Brain Storming Session on 12th December 2020, Saturday, to design strategies for developing Entrepreneurial capabilities in students through strong Industry – Academia linkage. Entrepreneurs from some of the reputed organizations were invited as guests who shared their point of views for right tracking the Incubation Cell of DAVIM. Dr. Ajay Garg, Service Sector Entrepreneur, Mr. Amit Aggarwarl, Managing Director of AGROMACH ENGINEERING, Mr. Dinesh Sharma, founder of Image Consulting Group Mr. Romesh Chaudhary, Managing Director of Industrial Systems and Mr. Vivek Aggarwal, Managing Partner of Vikas Rubber were the Entrepreneurs present on the occasion.
Dr. Sanjeev Sharma, Principal Director, DAVIM apprised the industry representatives of the role that Entrepreneurship plays in the overall growth of the economy and how DAVIM as a B- School can help the Atma Nirbhar Bharat mission of the Government become a reality. Dr. Ritu Gandhi Arora, Vice Principal & Registrar appreciated the efforts of the Incubation cell in organizing this session and thanked the industry representatives for sparing time from their busy schedule and sharing valuable insights. All present shared their suggestions on strategies that can be adopted strategies for developing Entrepreneurial capabilities in students. Dr. Meera Wadhwa, Convener of the Incubation Cell, summarized the discussions and assured that DAVIM will be working in close collaboration with the Industry to ensure that students become job providers instead of job seekers.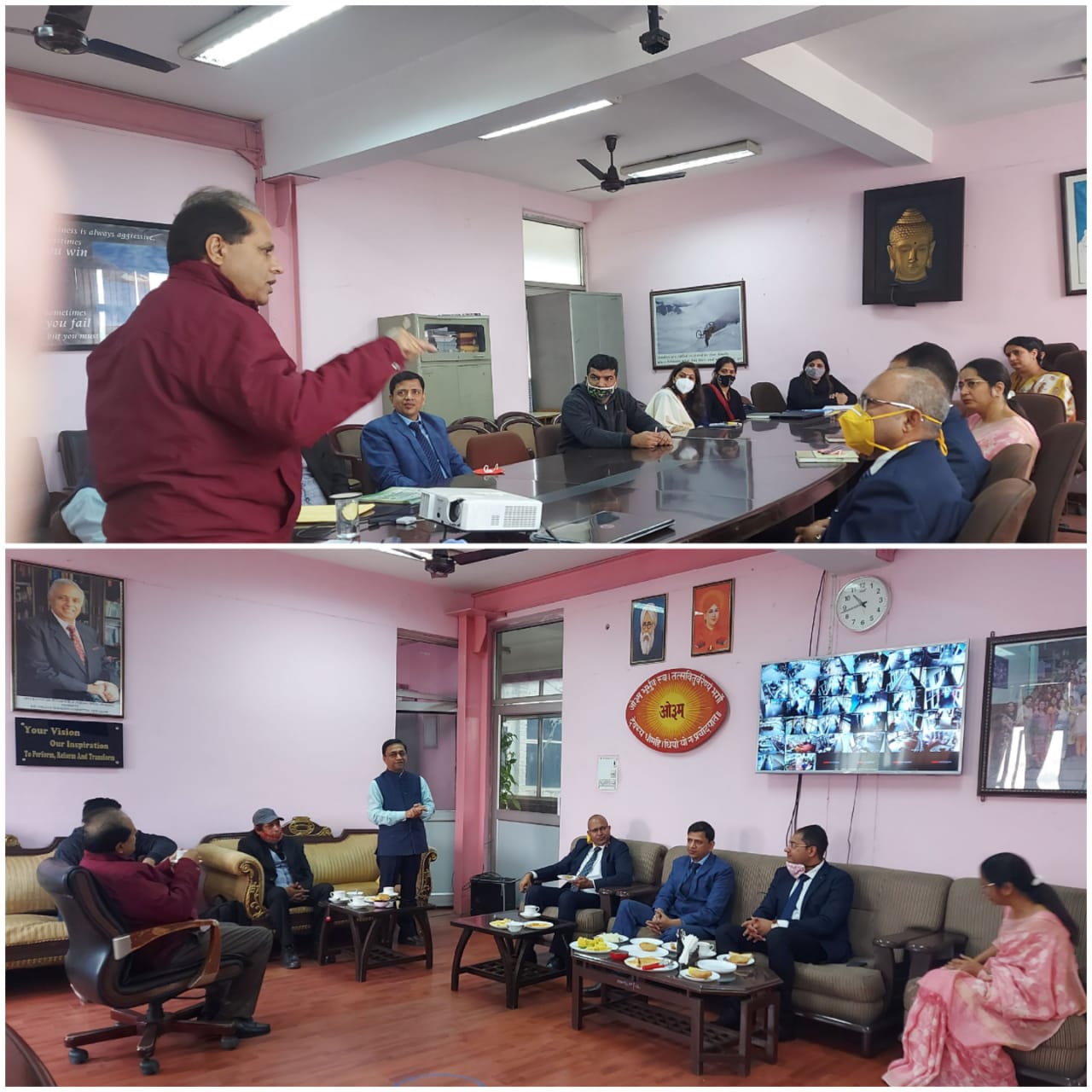 ---