National Service Scheme was started on September 24, 1969 by the then Union Education Minister Dr. V.K.V.Rao in 37 Universities all over the India. It was started during the Gandhi Centenary Year as it was Gandhi Ji who inspired the Indian youth to participate in the movement for India's independence and the social upliftment of the downtrodden masses of our nation.
The reason behind starting the NSS was to create social awareness among the youth i.e. to understand at the young age about the realities of life. This also inculcates into youth a better understanding and how to resolve theproblems of the people as well as their own.
NSS is, thus, a concrete attempt in helping society and, also helps students in learning and knowing the actual picture through which our developing country, INDIA, is going through.
The aims and objectives of the NSS are:
To render service to the community while studying in an educational institution;
To arouse the social conscience among students
To provide them with an opportunity to work creatively and constructively with the community around the educational campus; and
To put the education they receive to concrete social use; and specifically
To work with and among the people
To engage in creative and constructive social action
To enhance knowledge of oneself and the community through a face-to-face with reality
To use the knowledge gained in the classroom in a practical way for mitigating at least some of the social problems and
To gain skills in program development to be able toself-employed. The goals are to achieve improvement in personality, leadership qualities, national outlook and a sense of civic responsibility
The NSS has two types of programs, viz.,
Regular activities
Special Camping programs
Under the "Regular Activities", students are expected to work as volunteers for a continuous period of two years, rendering community service for a minimum of 120 hours per annum (i.e. 240 hours over 2-year period).


Under Special Camping Programs, a camp of 07 days' duration is conducted every year in the adopted area on a specific theme. Each student is required to participate in at least one Special Camp over 2-year period.
We, at DAV Institute of Management, started National Service Scheme (NSS) Unit on 26th September 2019. Dr. Ranbir Gulia, Program Coordinator, MD University, Rohtak and Mr. Rajneesh, Indira Gandhi, NSS Award Winner, were the guests on inauguration day.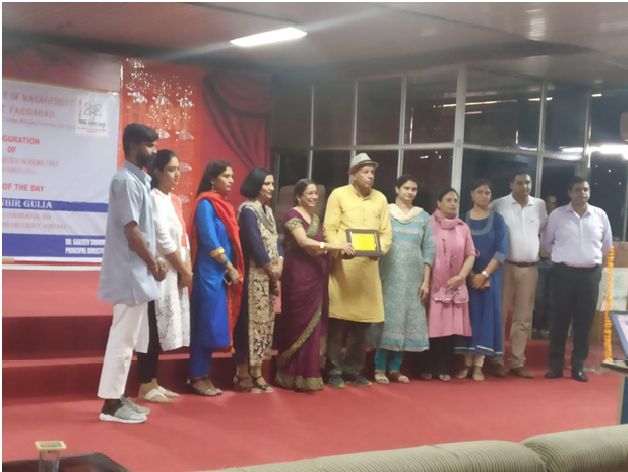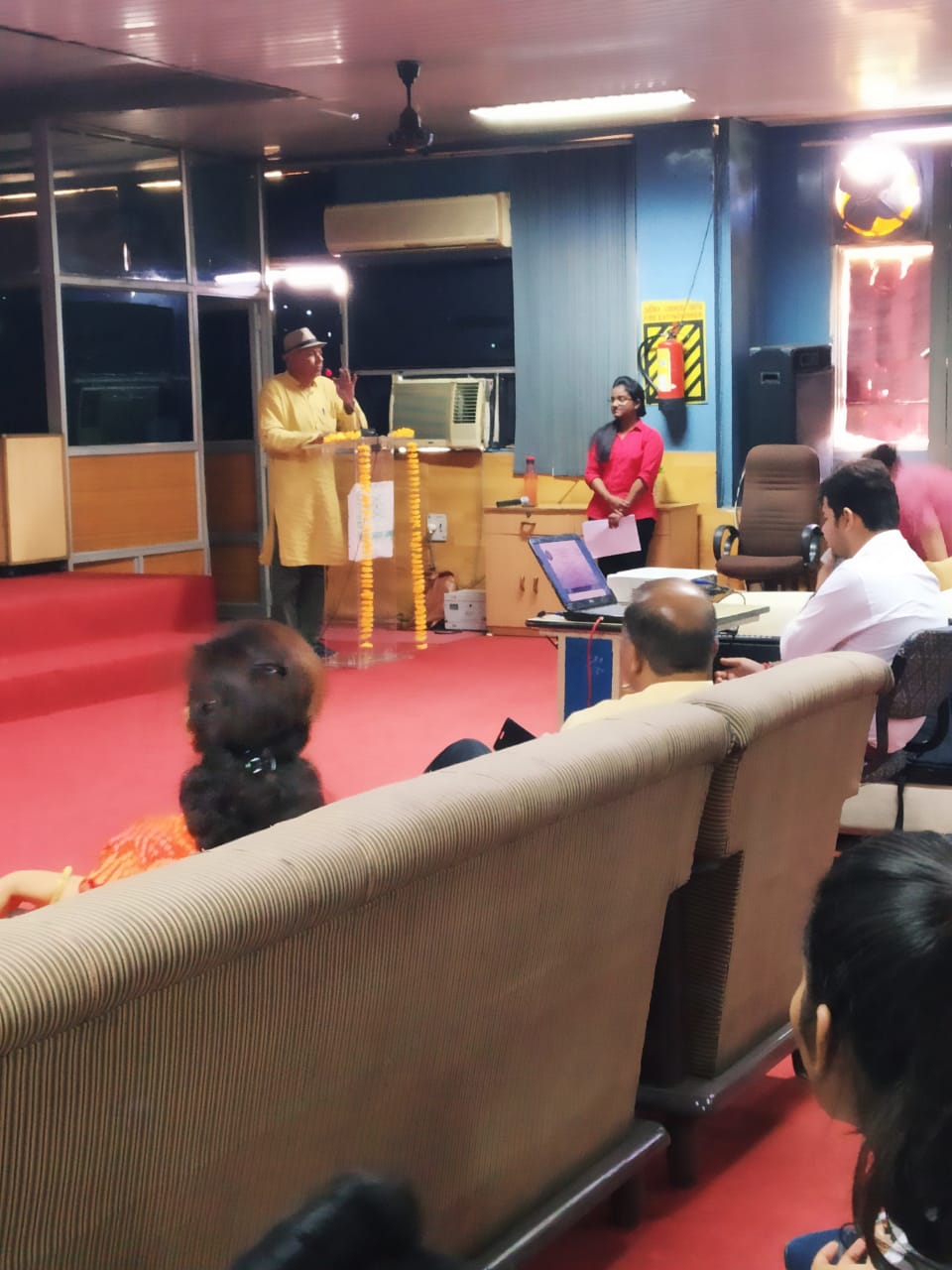 NSS Activities held as well as NSS participation by DAV Institute of Management since it's inception are as follows:-
1. On 1st October 2019 Institute organized a competition to Make "BEST OUT OF PLASTIC WASTE"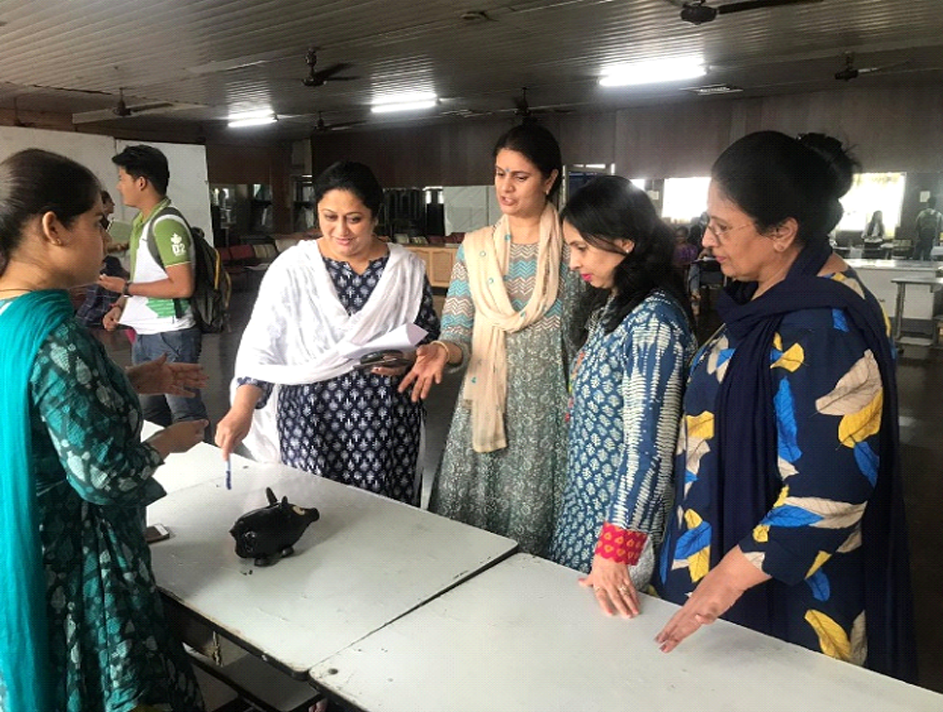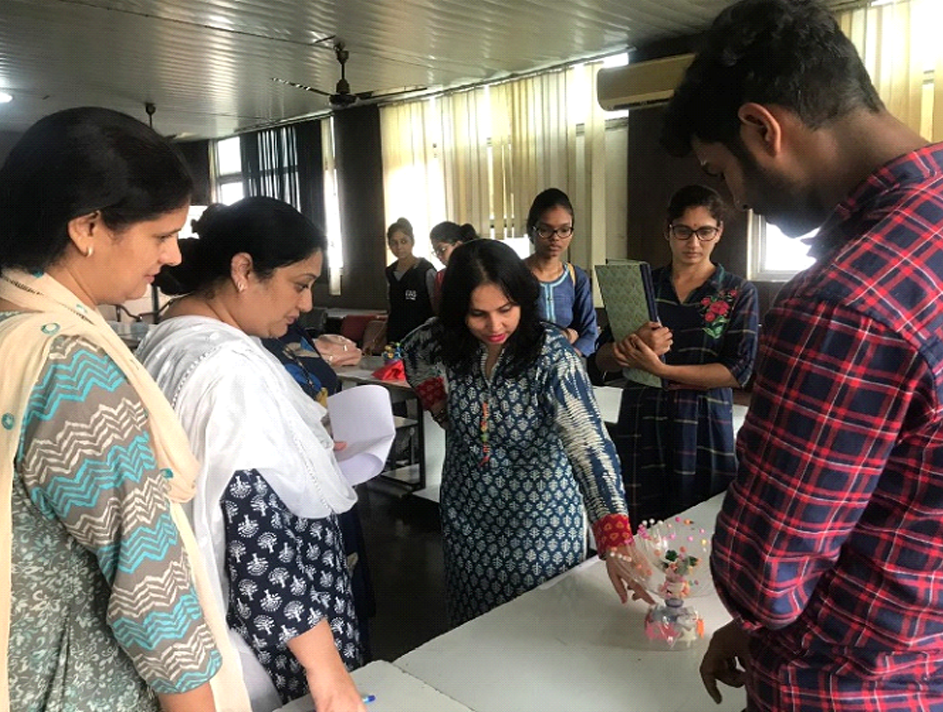 The winner of the Competition were :
a.) Rupali & Shweta from BBA
b.) Goutam Gupta & Daman Deep from BBA
c.) Joint Winner
Neha Nainwal & Charu Sharma from BBA
&Geeta From MCA
2. MD University, Rohtak NSS Department invited students to Participate for competitions held on 2nd October 2019 on Gandhi Jayanti.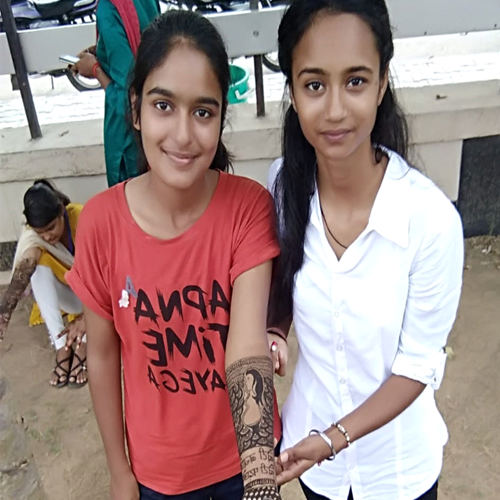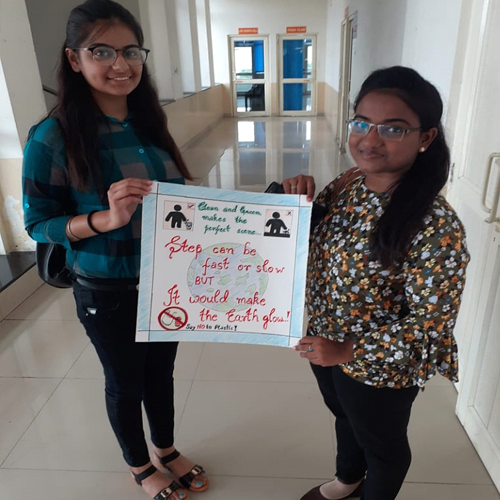 a.) Renu from BBA(BE) participated in Mehandi Competition
b.) Jaspreet Kaur from BBA(BE) participated in Poster Making Competition
c.) K. Anusha Antony from BCA participated in Declamation Competition
3. CHUNAV PE CHARCHA – 2019 (Students Awareness Campaign) was Organised on 10th Ocober 2019 in DAV Institute of Management.
4. NSS Team of DAV Institute of Management organized a Rally on 16th October 2019 for Voting Awareness Campaign at nearby vicinity of the Institute to let people aware not to waste their vote or press NOTA(None of the above) button at Coming Elections in Faridabad.

5. NSS Team of DAV Institute of Management was involved in Cleanliness Awareness Campaign at Dabua Subzi Mandi, NIT Faridabad to let people aware at Dabua Subzi Mandi to make their subzi mandi clean and adopt some of the few measures to make the Mandi, its subzi sellers as well as buyers to be benefitted by adopting suggested ways of making the mandi beautiful, clean as well as well-managed and also let the people aware about the use of Cloth Bags for carrying subzi instead of using Plastic bags which are very harmful for the environment.This campaign was carried out by DAVIM NSS Team and its Students for three days i.e. on 17th December 2019, 19th December 2019 and 7th January 2020.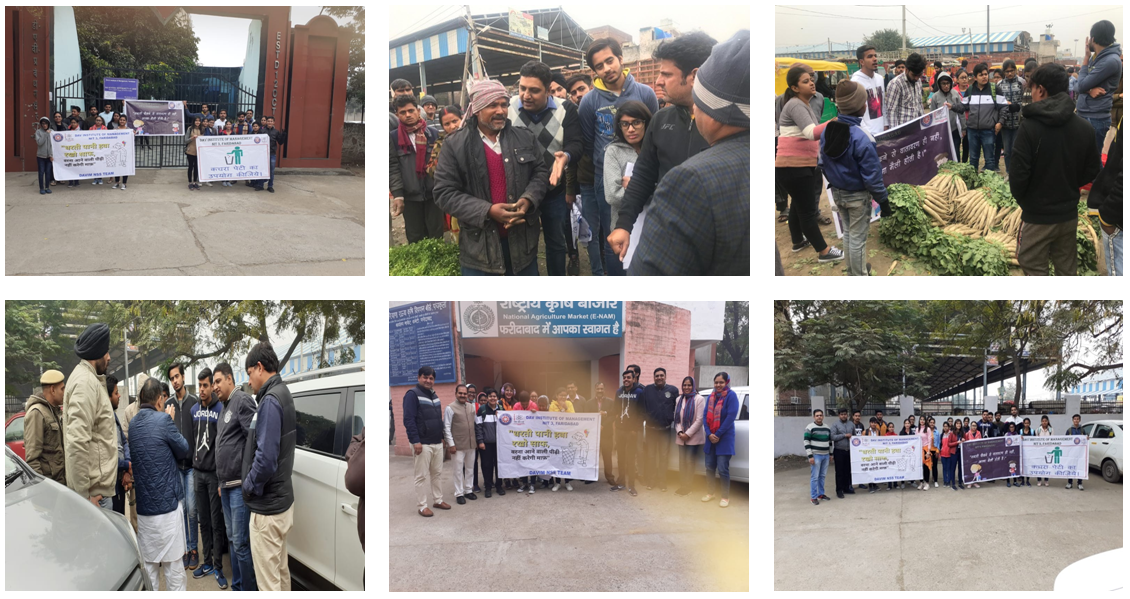 6. DAVIM's Electoral Voter Club (EVC) and DAVIM's NSS Team together celebrated NATIONAL VOTERS DAY on 25th January 2020 where they took Voters oath regarding giving vote to the Candidate without any Partiality and give vote only by their own will.

7. MD University, Rohtak's NSS Team Organised three-day Workshop on Road Safety and Traffic Rules from 30th January 2020 to 1st February 2020 at it's Campus where Mr. Pinkesh from MCA 2nd Year of DAV Institute of Management of NSS Team Participated.

8. NSS Students attended Camps at Manali and Nainital organized by Youth Welfare Department, MDU, Rohtak.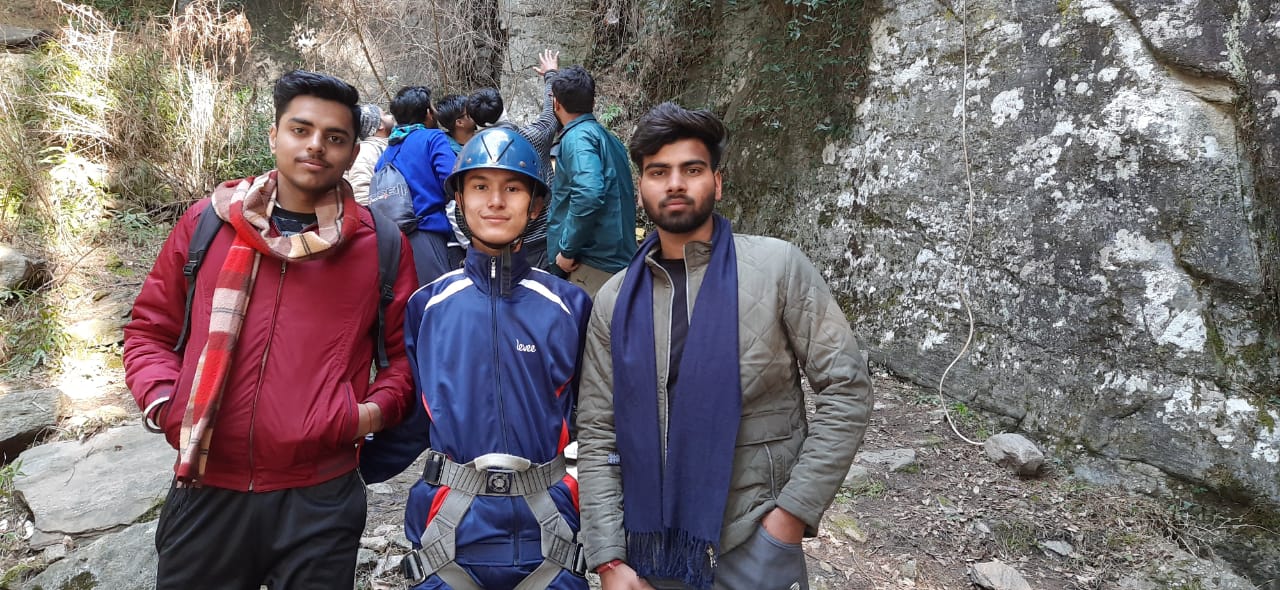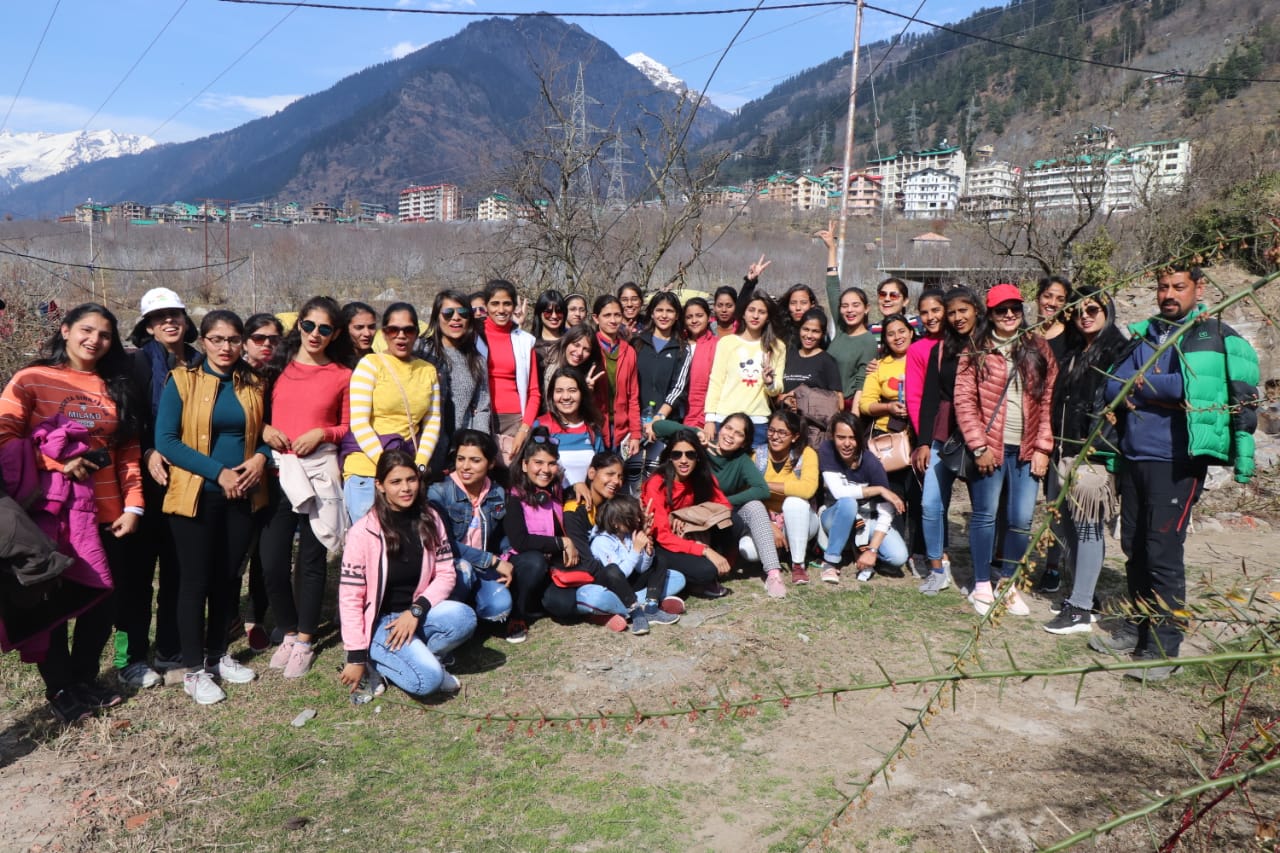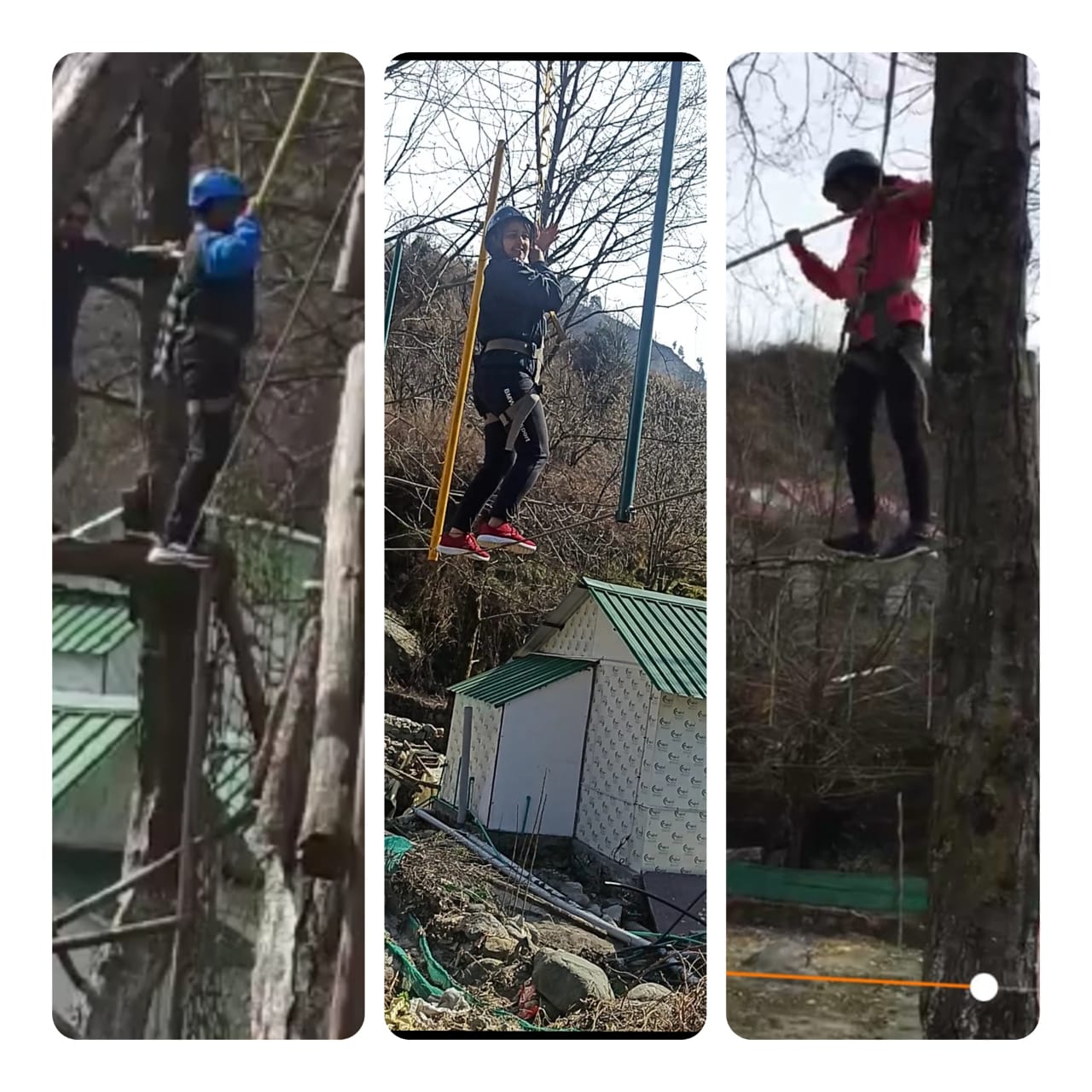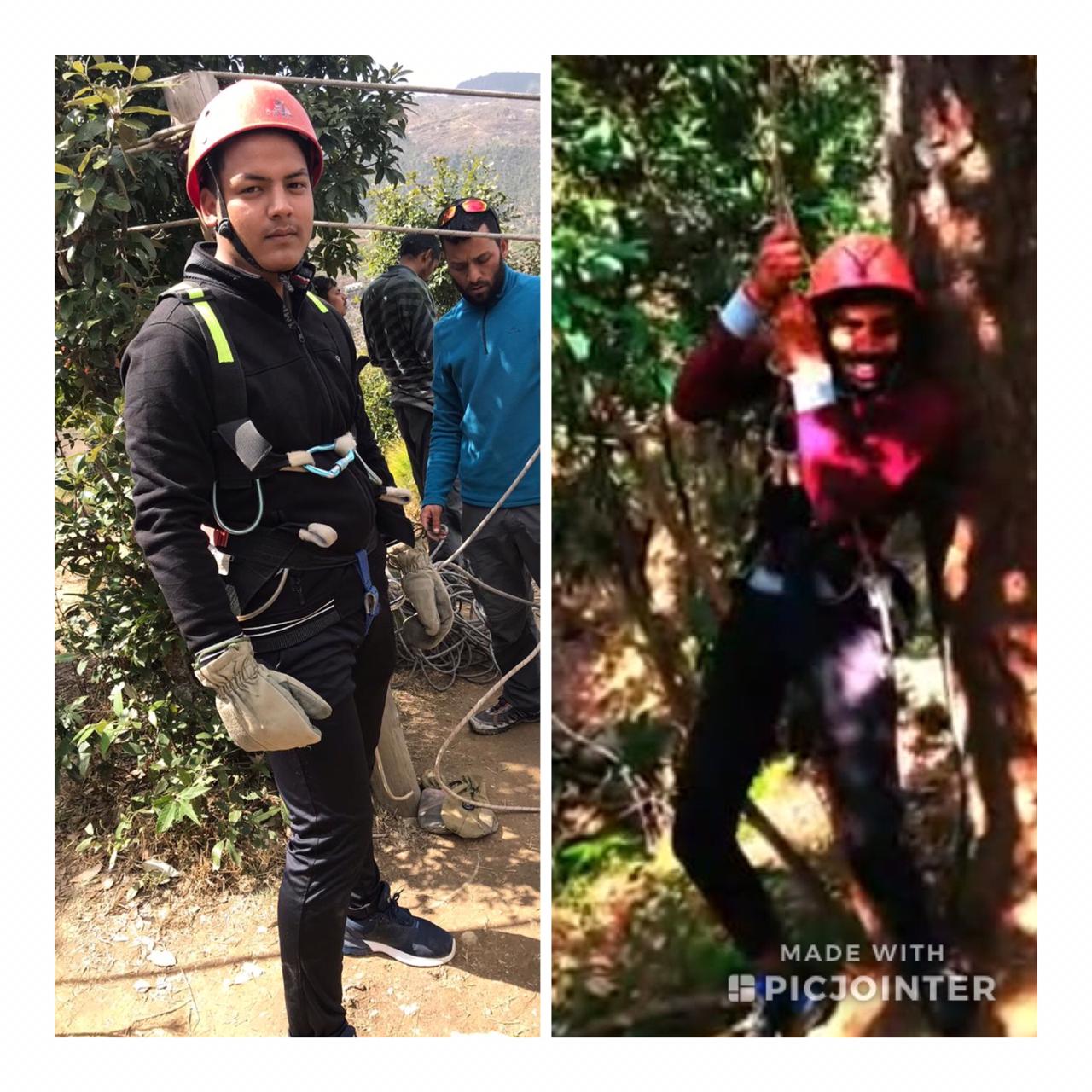 9. DAVIM organized session on E-Waste Management for NSS students on 25th February, 2020.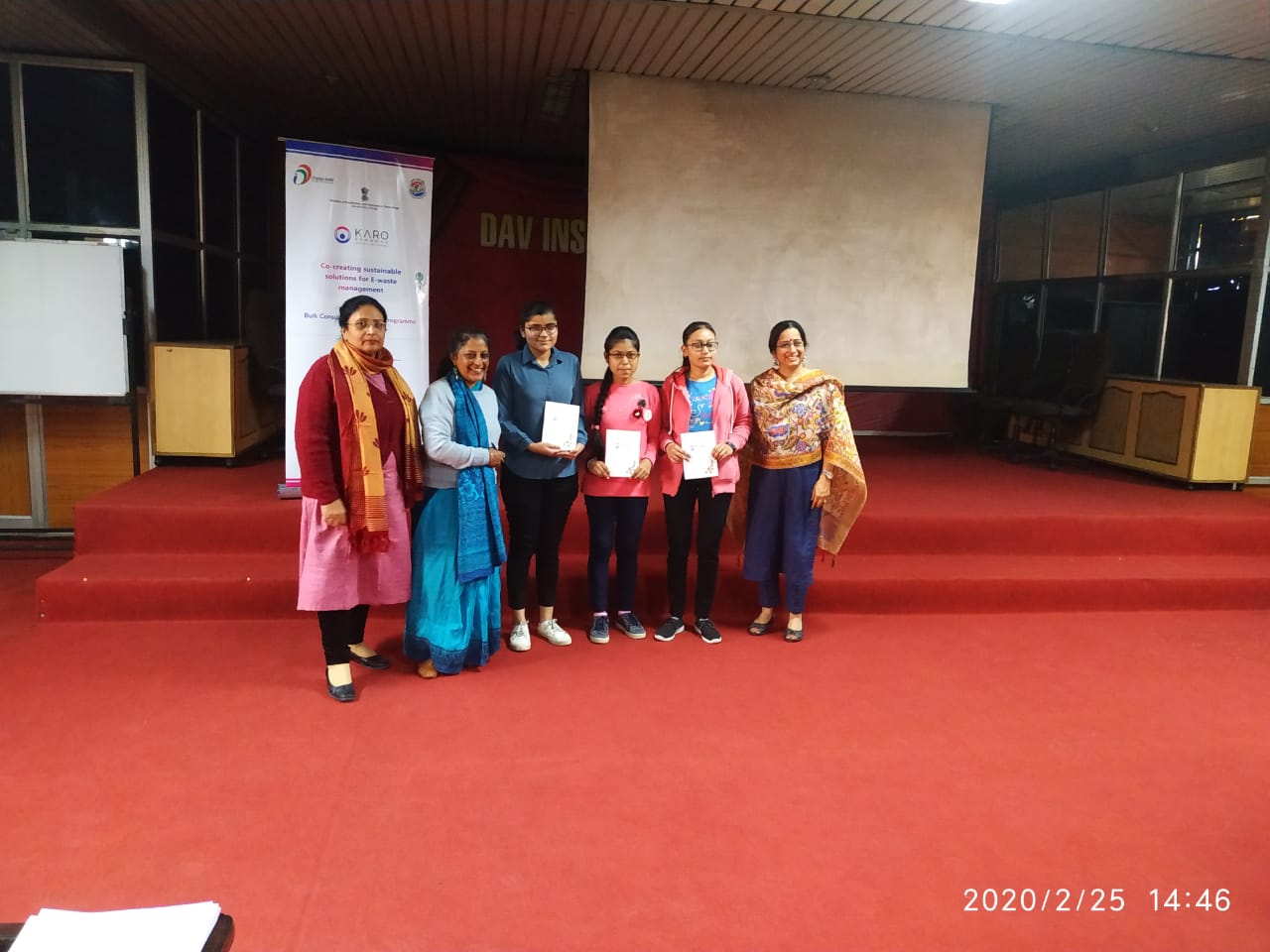 10 During Lockdown NSS students of DAVIM have attended sessions on GoToMeeting organized by MDU NSS Volunteers by inviting some of the Renowned Guests who are representing one or the other way to our Nation in their respective fields.
11 Attended Zoom meeting held by NSS Programme Coordinator, MDU Rohtak for NSS Programme Officers on 12th April 2020 regarding Covid 19 Situation in the Country. In this meeting all Programme Officers are directed to take meeting of their Volunteers on same day describing them about Covid 19 and also alerting and motivating them to indulge in helping the people of the society in fighting against this Corona Virus.
12. Organised and Participated in Zoom meeting held on 12th April 2020 in which Our Principal Director Dr. Sanjeev Sharma interacted with NSS Volunteers of our Institute. He asked the students about their well-being and directed them to indulge in the activities which involve their task of NSS Volunteer-ship. He also directed the NSS Volunteers to follow the Guidelines issued by the Government time to time during Covid 19.
13 NSS MEETING : Attended Interactive Session with Sh. Krishan Kumar Gupta First and Founder Volunteer NSS 1968-69 on Wed, Apr 29, 2020 from 3:00 PM – 5:00 PM on Go To Meeting. Mr. Krishan Kumar Gupta shared his experiences with everyone regarding his volunteer-ship. He also told that no one has the courage to help anyone now-a-days. Now, everyone looks for his or her benefit before helping others or we can say nobody help others if their own benefit does not lie there. People are more self-centered now.
14 NSS MEETING : Goto Meeting on Handling Lockdown with Dr. Jyoti Raj, IG Awardee 2015, President Haryana, Mahila Kavya Manch (Regd.), Associate Professor of English, Govt College for Women, Rohtak on Thu, Apr 30, 2020 from 2:40 PM – 5:00 PM.
15. NSS MEETING : Goto Meeting on Handling Lockdown with Dr. Jyoti Raj, IG Awardee 2015, President Haryana, Mahila Kavya Manch (Regd.), Associate Professor of English, Govt College for Women, Rohtak on Thu, Apr 30, 2020 from 2:40 PM – 5:00 PM.
16 NSS MEETING : Interactive Session with Sh. Ravi Kalra (Karma Yogi, Social Activist and Environmentalist) Founder of The Earth Saviour Foundation was organised by NSS MDU Team on 2nd May from 2:40 PM - 5:00 PM.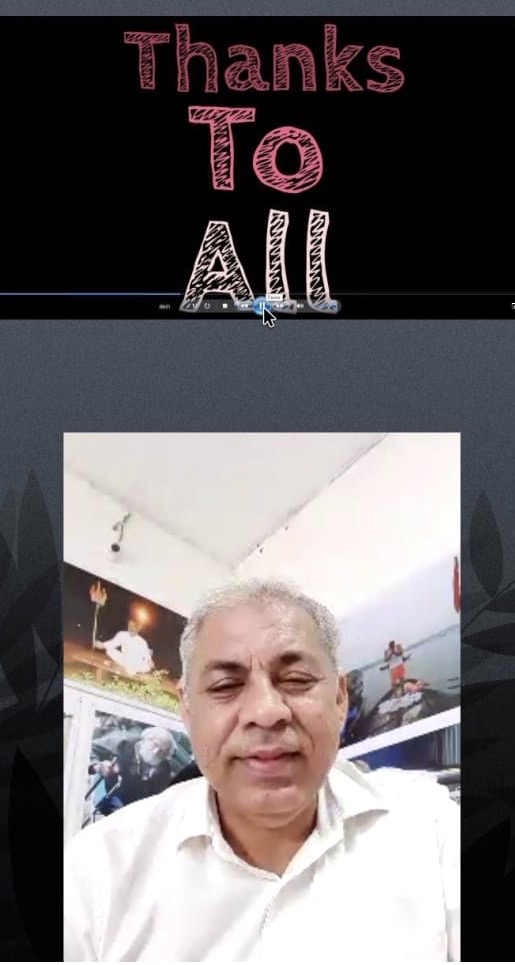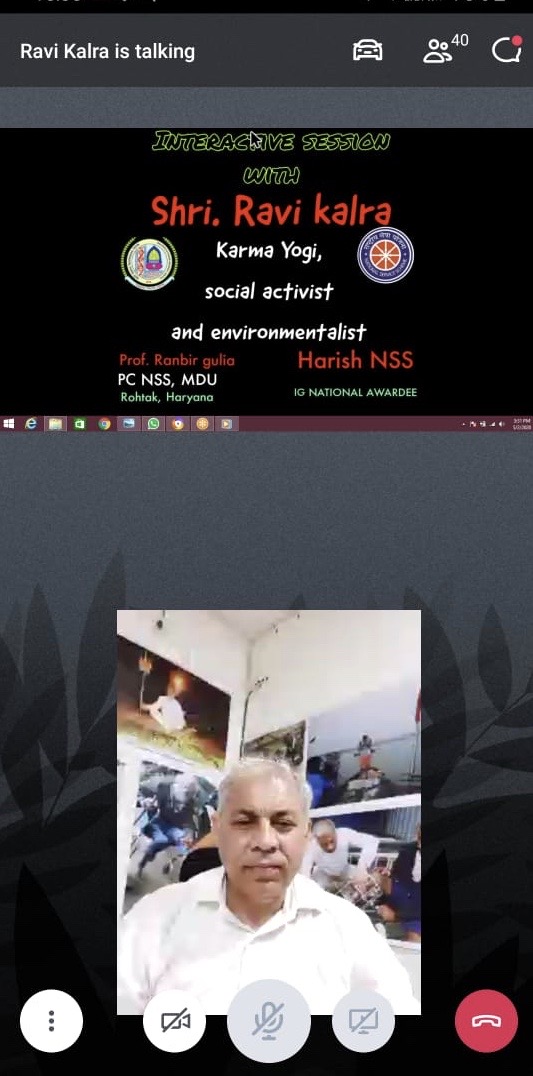 17 NSS Meeting: NSS MDU Team Organised session with Major General Dilawar Singh Ji who is a Former National Director General NYKS, Ministry of Youth Affairs and Sports, Govt of India and President of Para Sports Federation of India on 4th May 2020 from 2:40 PM to 4:00 PM.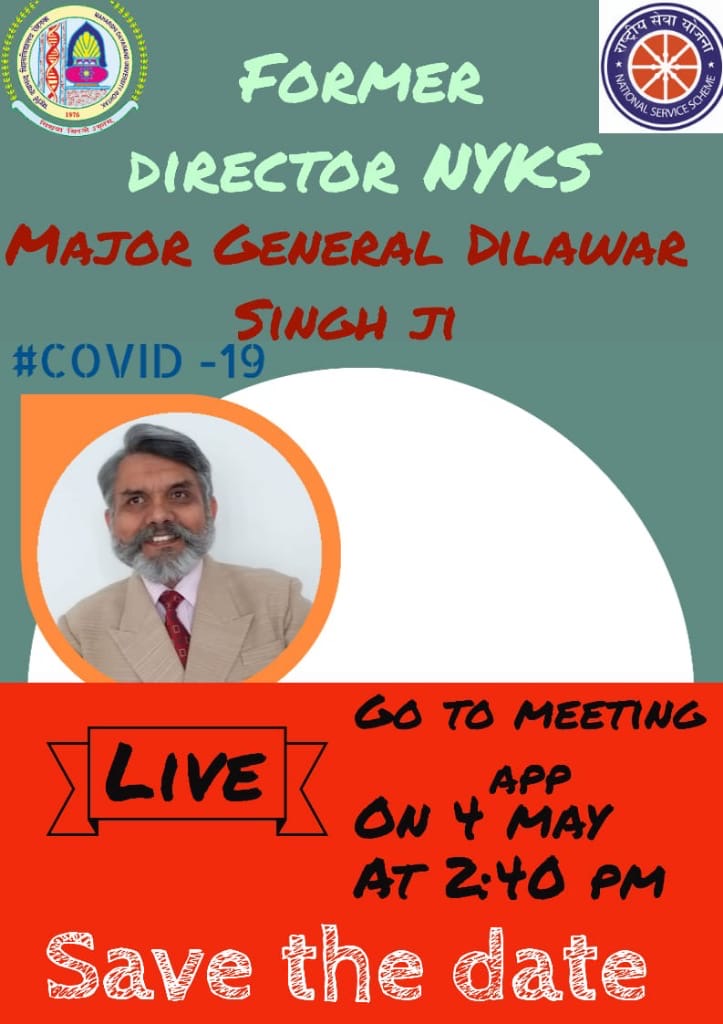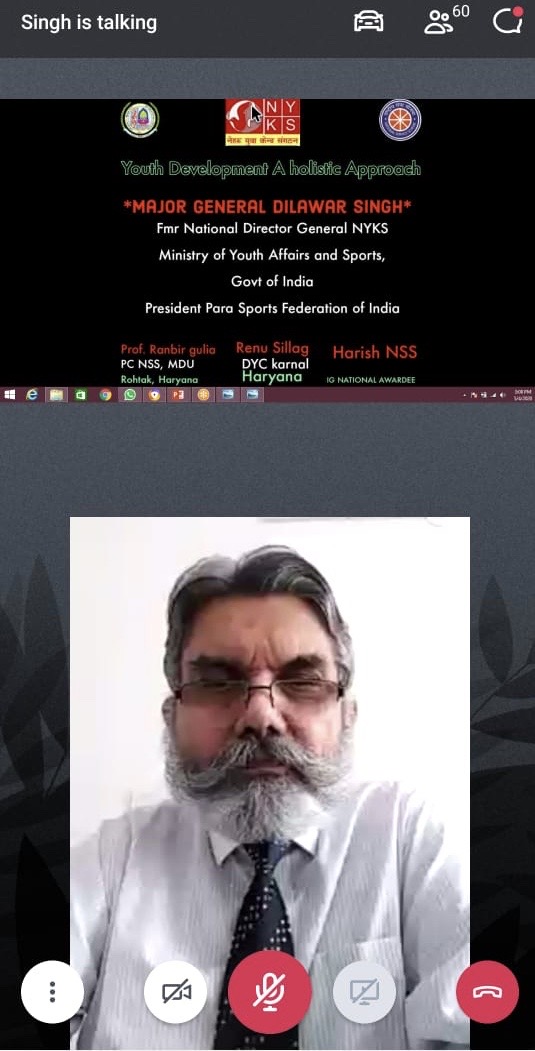 18 NSS Meeting: Megha Parmar joined the NSS MDU meeting on 5th May 2020 from 3:40 PM to 5:10 PM. She is the First Lady to Climb Mount Everest from Madhya Pradesh. She is also a Brand Ambassador of Beti Bachao Beti Padao Abhiyaan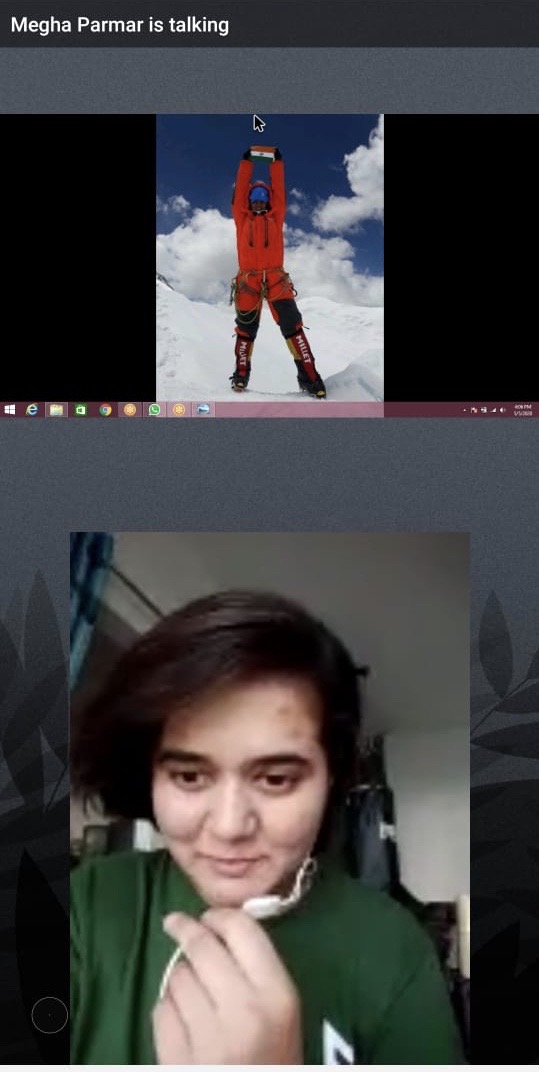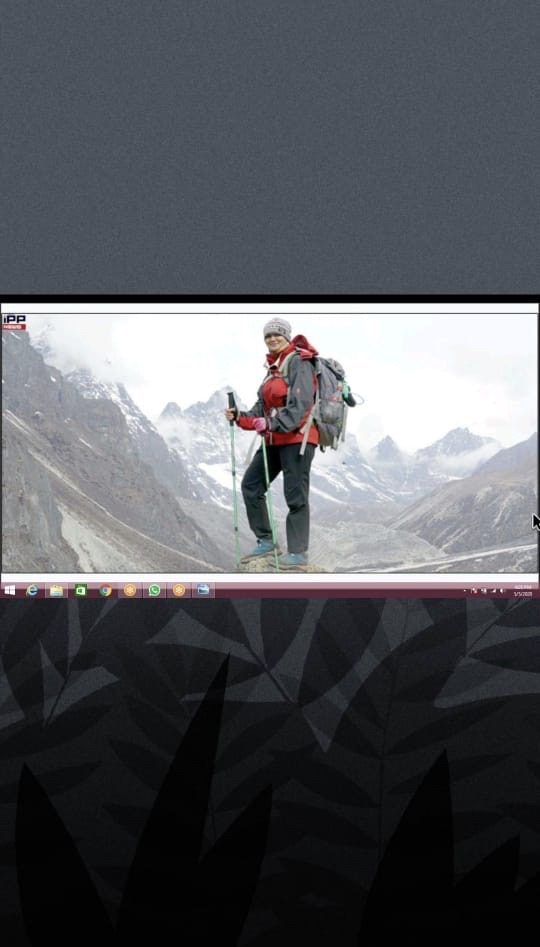 19 NSS Meeting: Meeting was organized by MDU NSS team on Role of Red Cross Youth volunteers community service and the resource person was Sh. R.C.Sharma state, TB Coordinator, IRCS, Haryana State branch on 7th May 2020 from 3:40 p.m. to 5:00 p.m.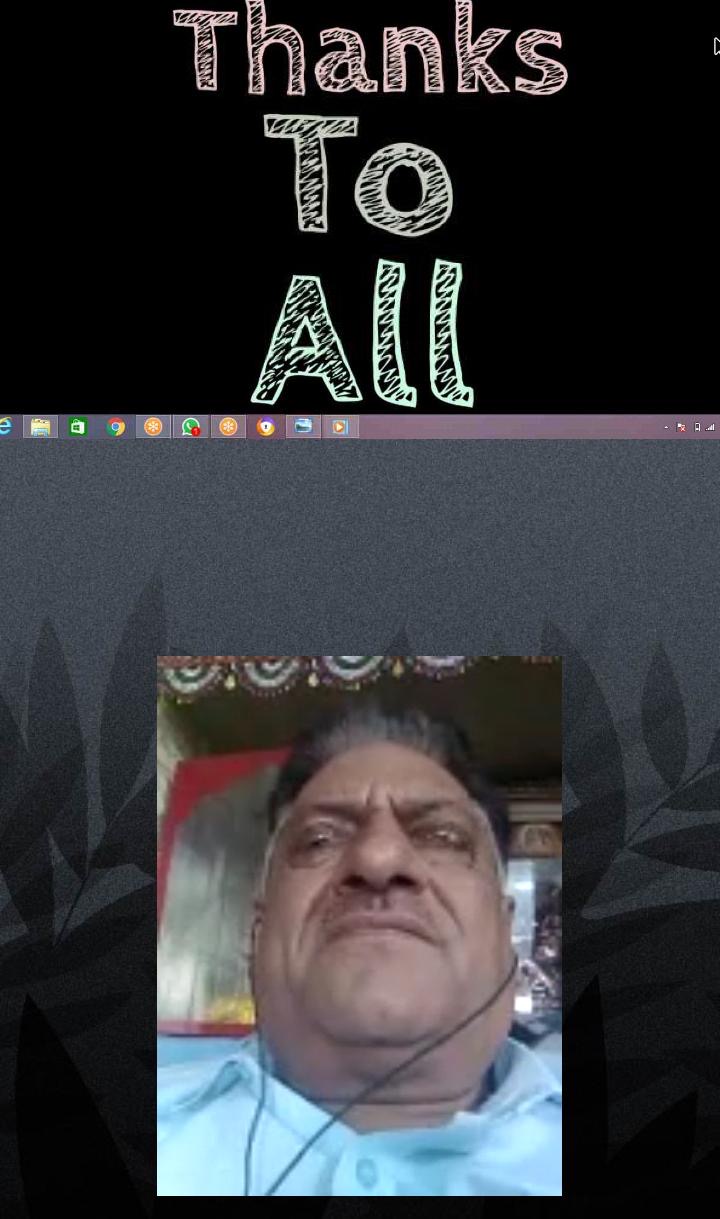 20 NSS Meeting: Dr Girish Tuteja, Former National Director, NSS and Ministry of Youth Affairs and Sports, Government of India, was invited for NSS Meeting by NSS MDU team on 8th May 2020 from 3:40 p.m. to 5:00 p.m.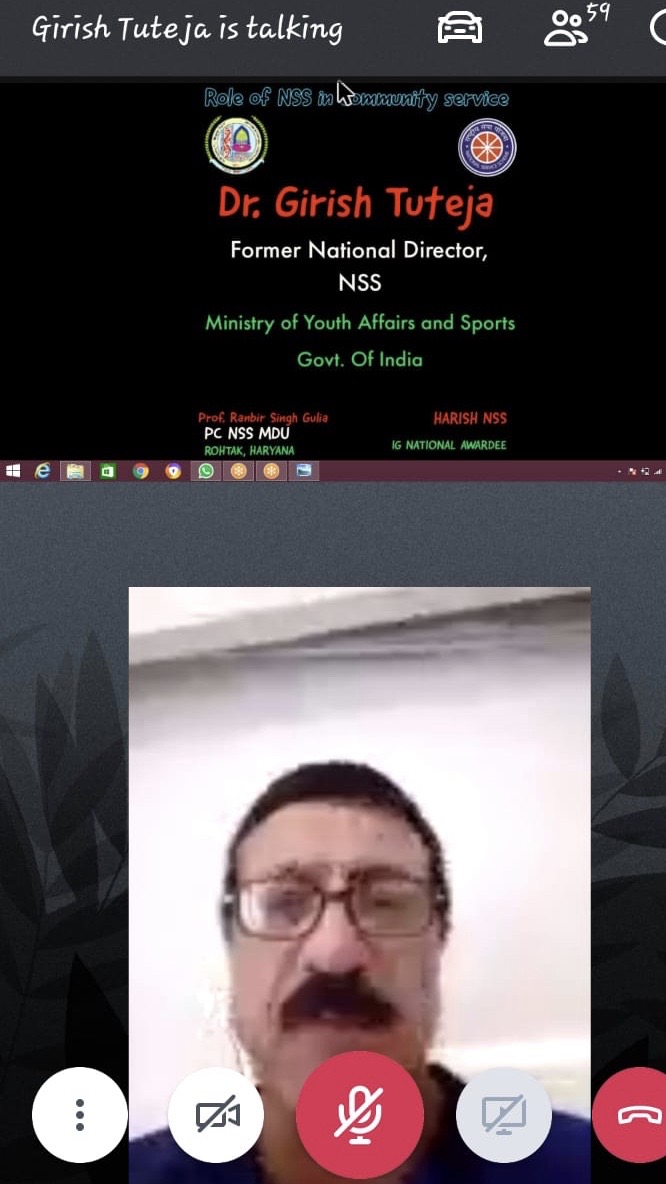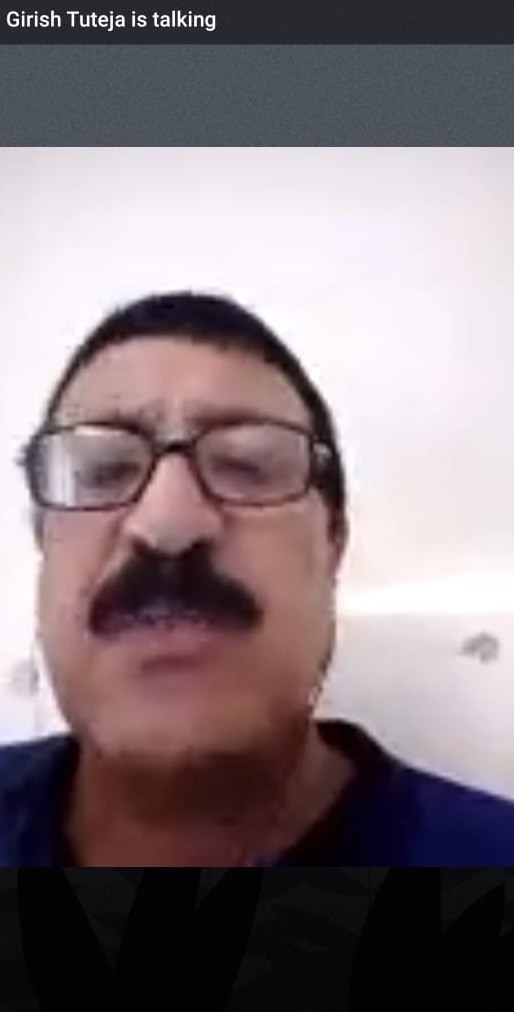 21 NSS Meeting: Dr Jagbir Rathi, Director Youth Welfare MDU Rohtak, was invited on the topic "Bol Tere Mithe Mithe" on 9th May 2020 3:40 p.m. to 5:00 p.m. but unfortunately, he was not able to join the meeting. In place of him Dr Murli Malik was the chief guest of that day.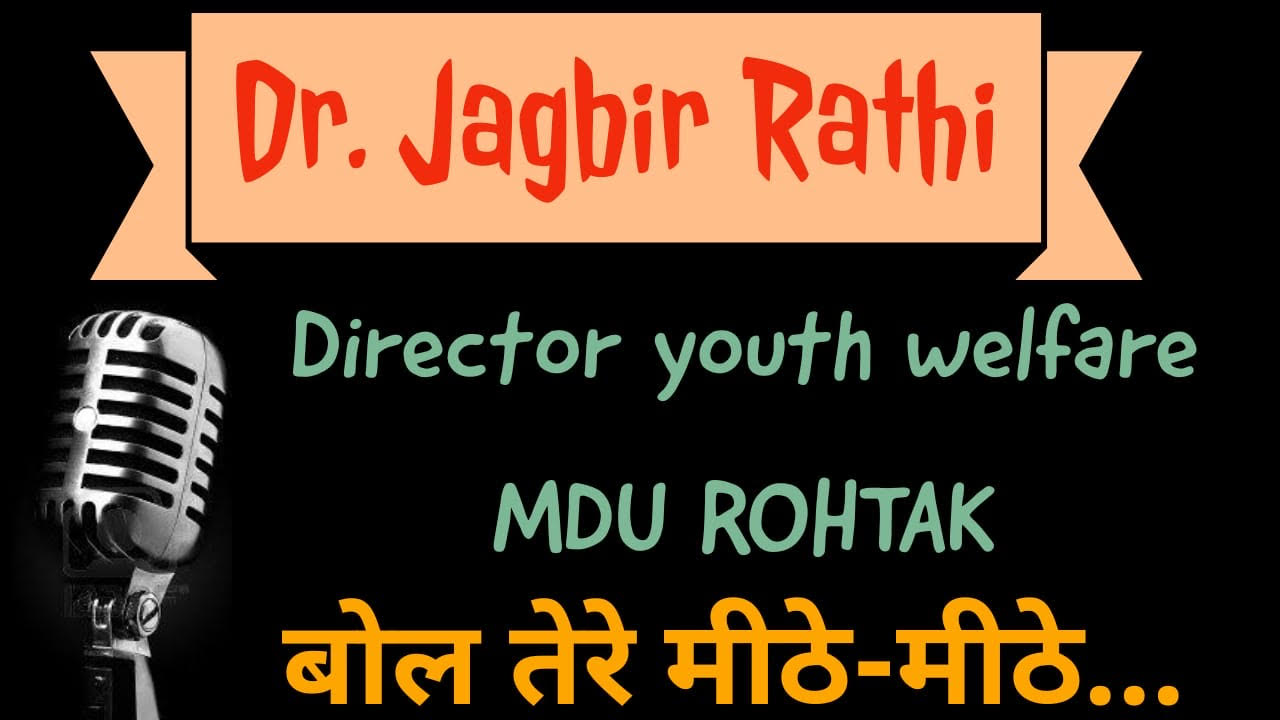 22. NSS and YRC units of Government college sector 9 Gurugram organized a Webinar on "Importance of Blood Donation" on 14th June 2020 which is celebrated as World Blood Donors Day. The keynote speaker of that day was Dr Jaideep Kumar Sharma "AIIMS Alumnus and motivational speaker for Blood and Organ Donation". The Event was presided by Satyamanyu Yadav (Principal, Govt. C0llege, Sector 9, Gurugram) in the august presence of Dr Praveen Phogat (Associate Professor and Veteran Blood Donor)
23 NSS DAVIM Team with the help of its Volunteers Made a Video on International Yoga Day which was the joint effort of Pinkesh, K Anusha Antony and Pooja Verma.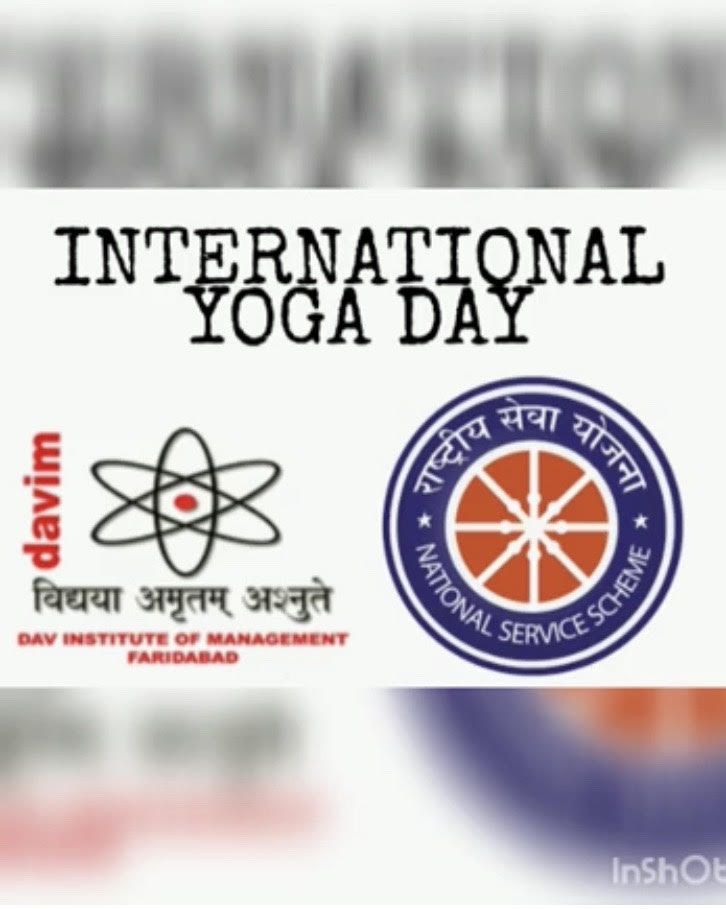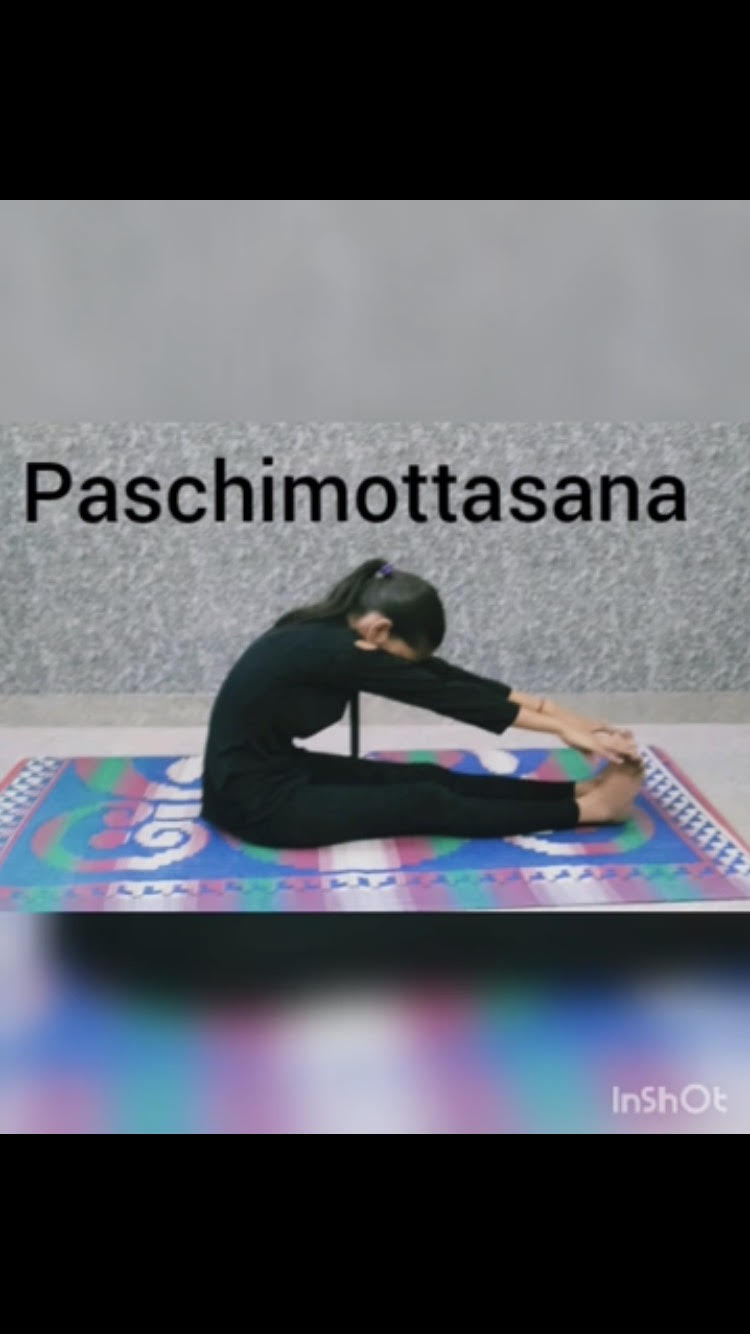 24 NSS MDU organized Yoga at Home and Yoga with Family on 21st June 2020 on International Yoga Day. The meeting was moderated by Dr Ramesh Gupta from New Jersey and was also presided over by Dr Rajbir Singh (Vice Chancellor, MDU Rohtak)
25. DAVIM NSS team has also organized Poster Drawing Competition on International Yoga Day and choose First Three winners of the competition.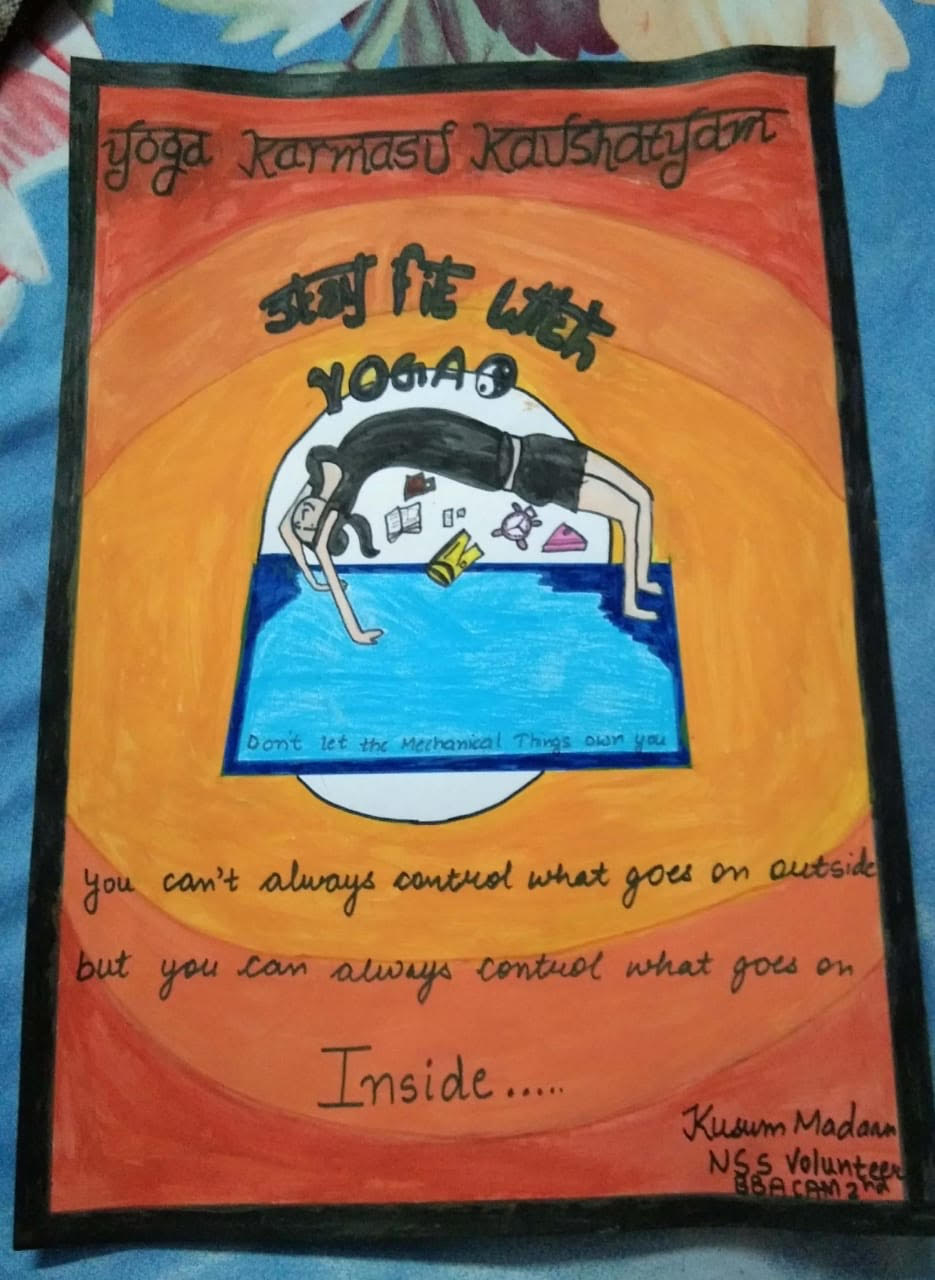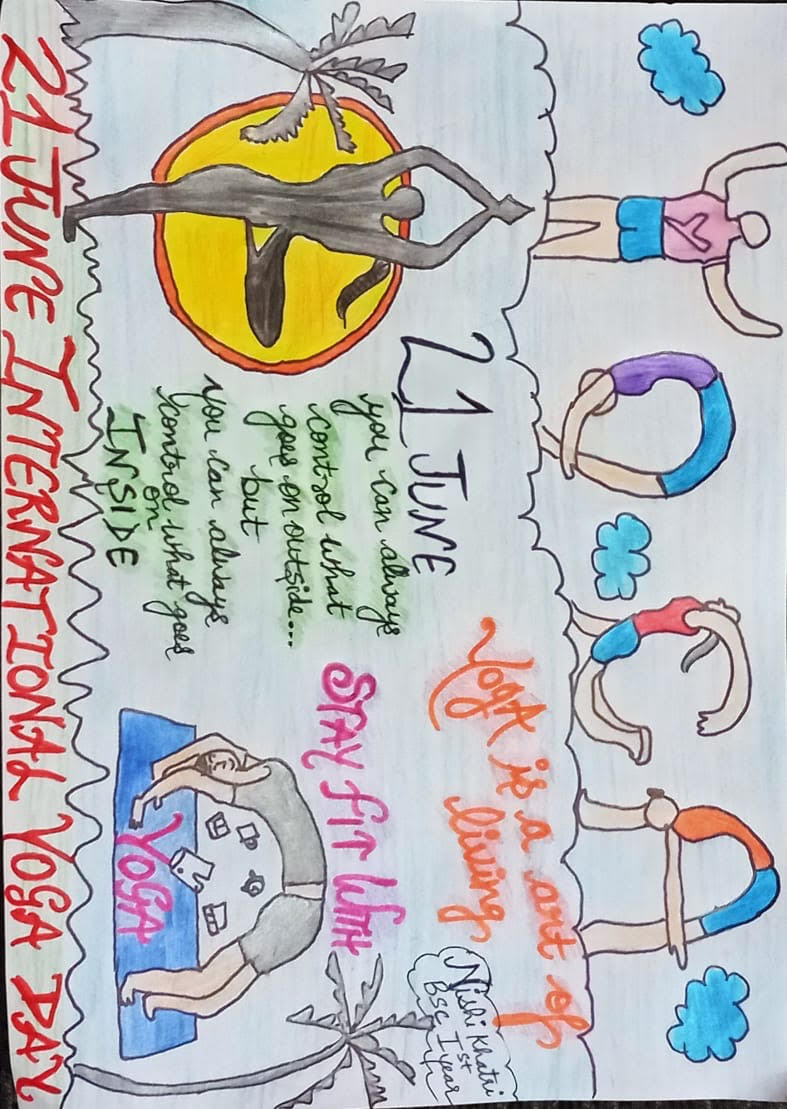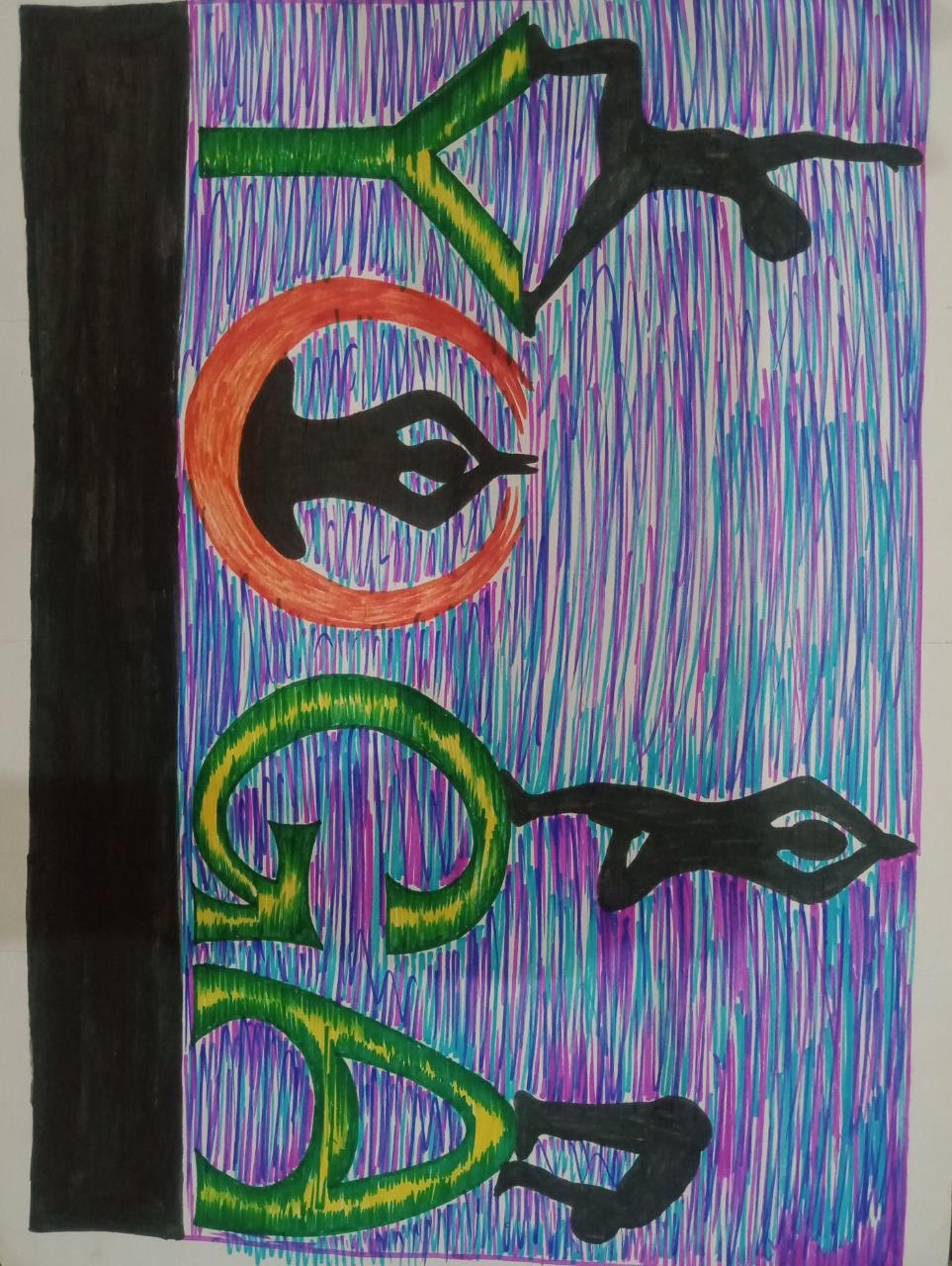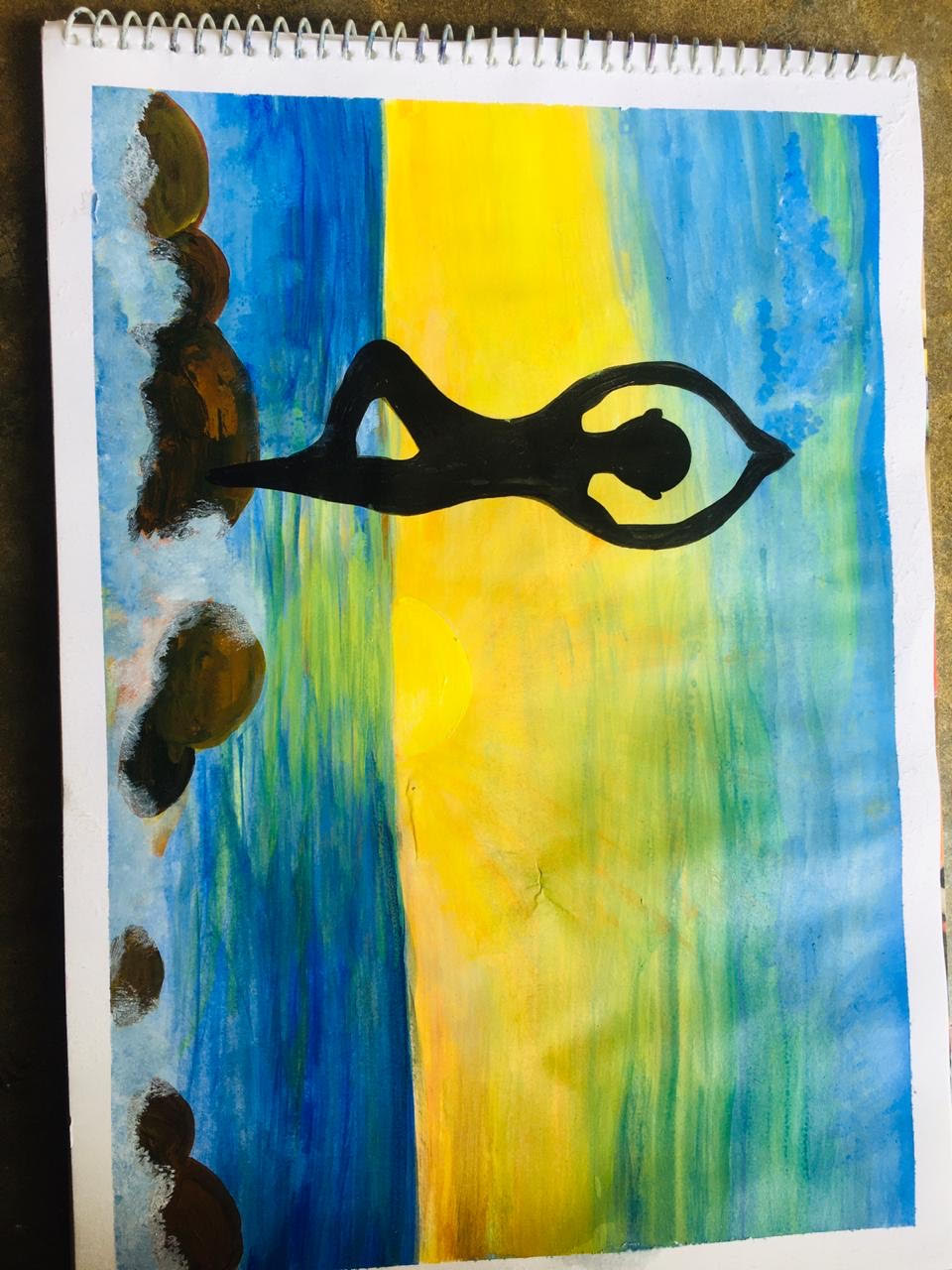 26 Geeta Rani (NSS Volunteer) from MCA won the First prize in Inter College PPT Competition on the topic "STRESS MANAGEMENT UNDER COVID – 19" organized by K.L.Mehta Dayanand College for Women, Faridabad
27 DAVIM NSS Team has participated in "Sankalp Parva" from 28th June to 12th July where Everyone must take Pledge to Plant Trees and by taking pledge the NSS Volunteers also Plant Trees during this period. The "Sankalp Parva" was the initiative of Ministry of Tourism, Government of India.
28 DAVIM NSS Team with the help of its one of the volunteers also made a video on the above mentioned "Sankalp Parva" wherein most of the NSS Volunteers were seen taking the pledge as well as Planting the trees.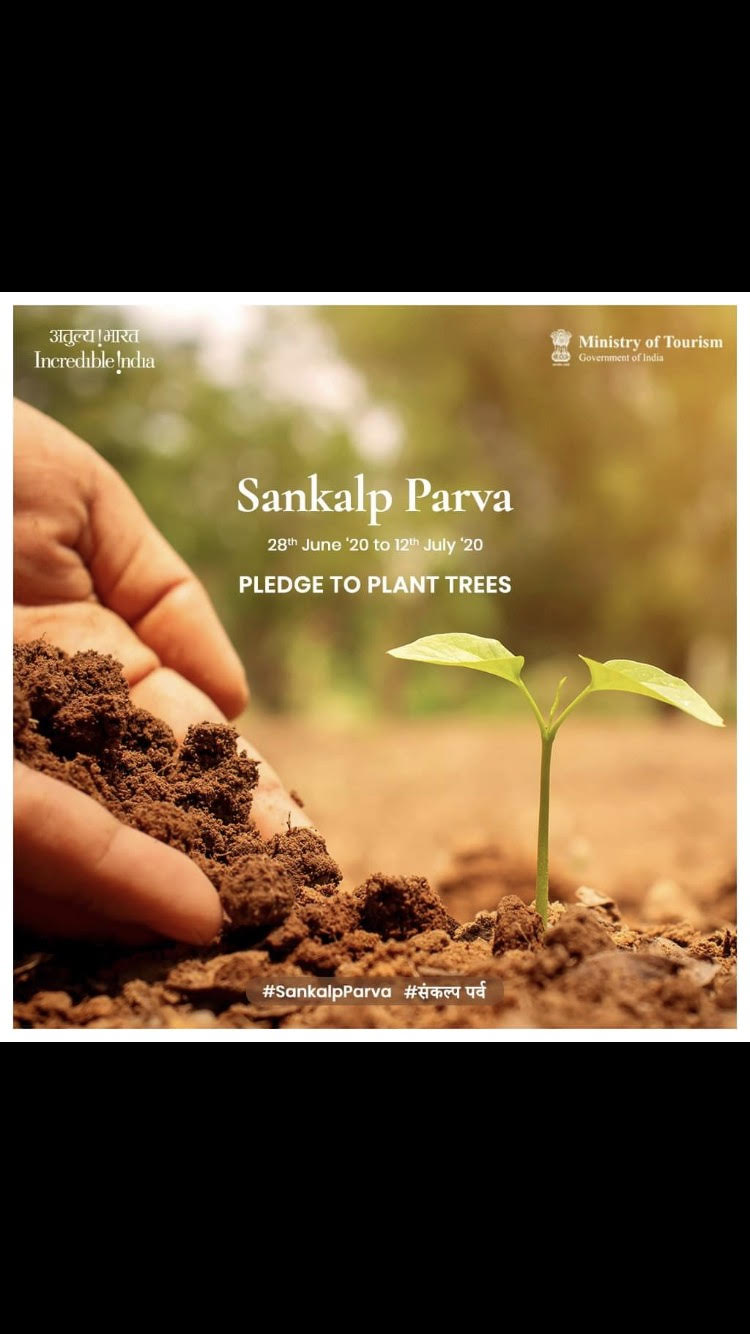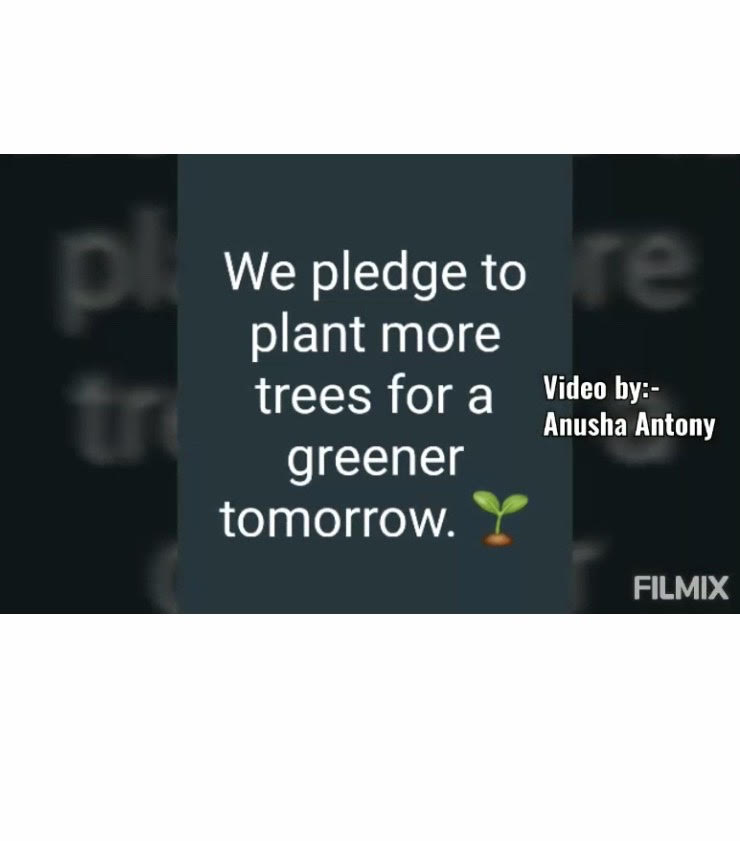 29 DAVIM NSS Volunteers participated in many of the Certifications being organized by one or the other institute during this Covid 19.
30 DAVIM NSS Team also Participated in the event jointly organized by Six Departments of the Institute on 74th Independence Day. They were involved in the Event "Swatantra Se Svavlamban" and also helped in getting the Certificates "Be Vocal About Local". Approximately 15 students got this Certificate and helped the Event to be a successful one.
31 The two students of DAVIM NSS Team (Pooja Verma & Nishi Khatri both from BSc(H)(CS)) made the video regarding how to make Eco-Friendly Ganesha on the Occasion of Ganesh Chaturthi on 22nd August 2020.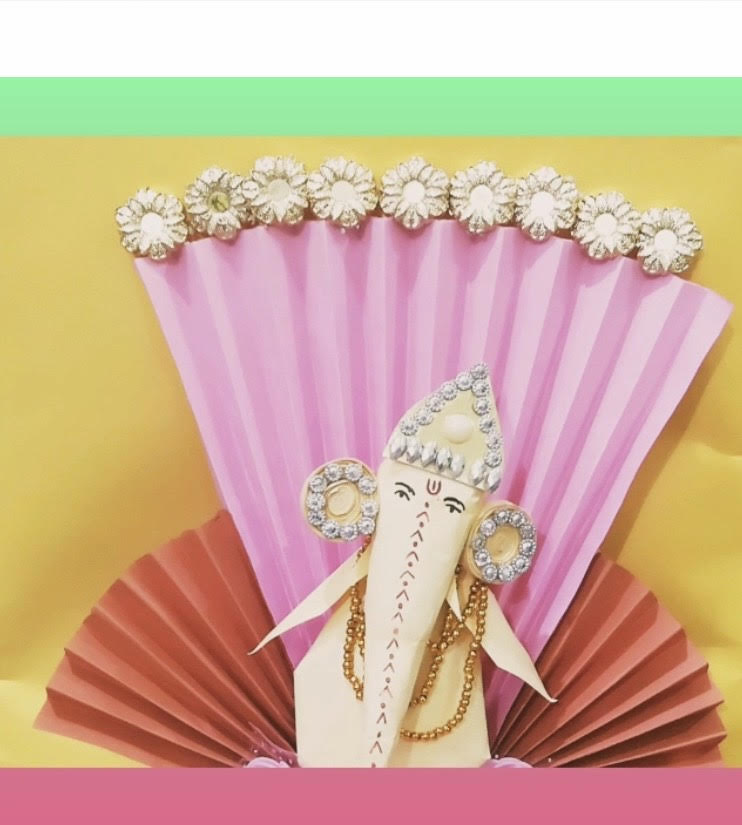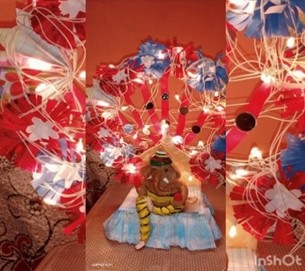 32 DAVIM NSS Team also made one more video for DAV Institute of Management to aware public how to make "Eco Friendly Ganesha" and rotated this video as well as the videos made by the Students in MDU NSS Group on Whatsapp.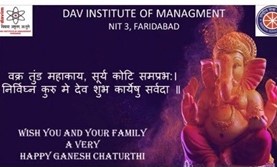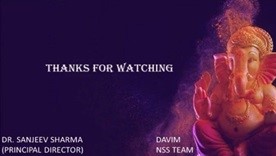 33 NYKS is Organising a Camp on Disaster Management Training for NYKS, NSS and NCC Students and the date of Conducting this Camp is still not Declared. For this they require the NSS Volunteers and DAVIM NSS Team has given 13 Names for the proposed Training to be held in coming future.
34 K.L. Mehta Dayanand College for Women, Faridabad Organised Events on Writing Quotes and Essay Writing Competition for NSS Students where our NSS Volunteer Ms. Geeta Rani got the Consolation Prize in Quotes Writing Competition.
35 DAV Institute of Management organized Blood Donation Camp for Thalassemia Patients with the help of Rotaract Club of DAVIM and DAVIM NSS Team on 26th August 2020. Inspite of this Covid period DAV Institute of Management was still able to collect 24 Units of Blood donated by Rotaract Club Members, NSS Volunteers and by some of the faculty members of DAV Institute of Management.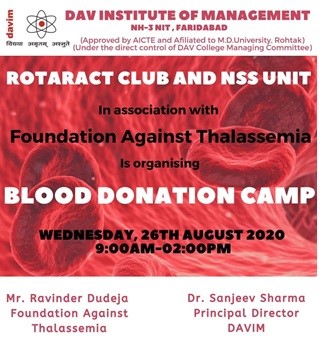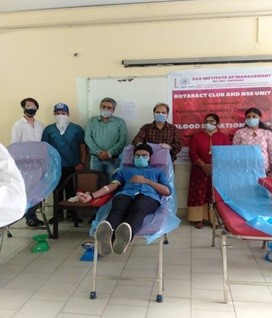 36 On 16th September 2020 NSS Team & Centre for Environment of DAV Institute of Management together organized International Day of Preservation of the Ozone Layer Day by Tree Plantation Drive at Nearby vicinity of the Institute as well as made a video of the Tree Plantation done by the NSS and Centre for Environment. Institute also distributed saplings to the Faculty of the Institute to plant these saplings at their home or at the nearby vicinity of their home.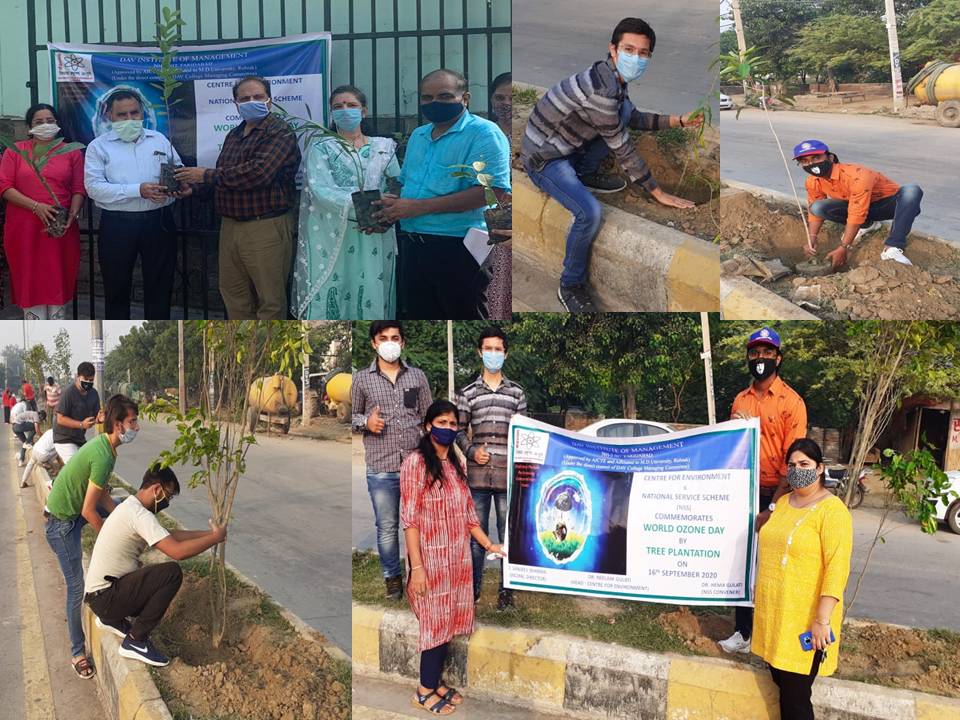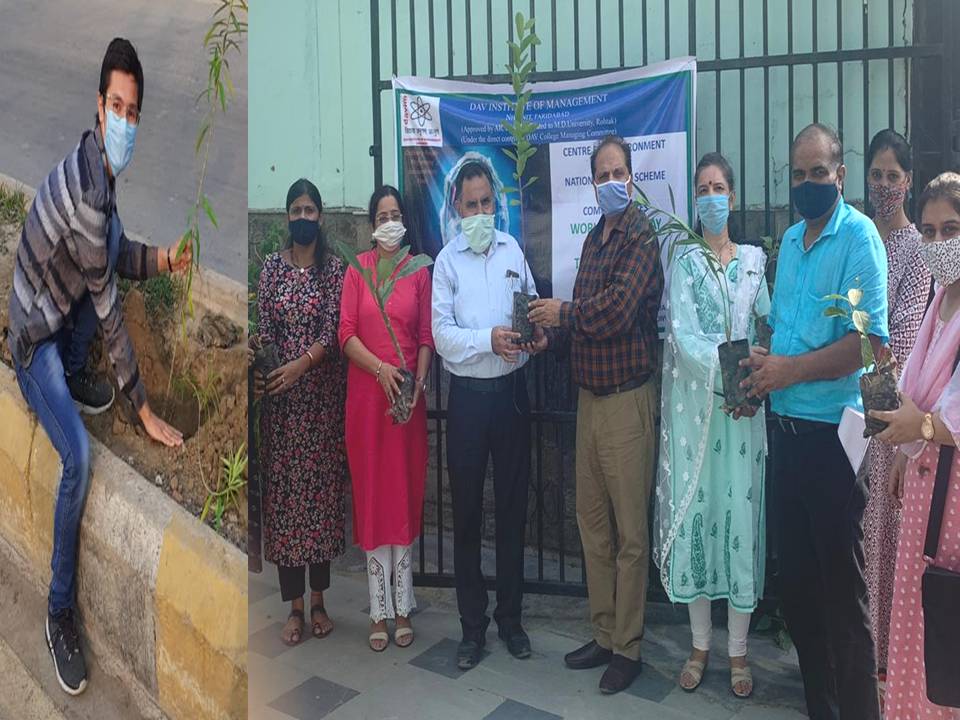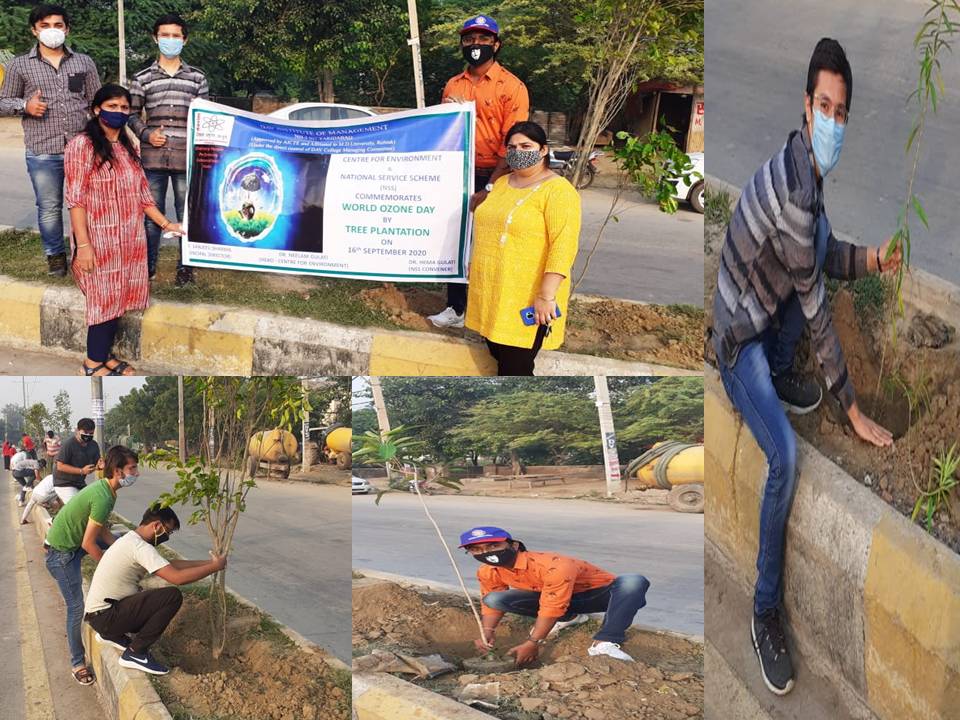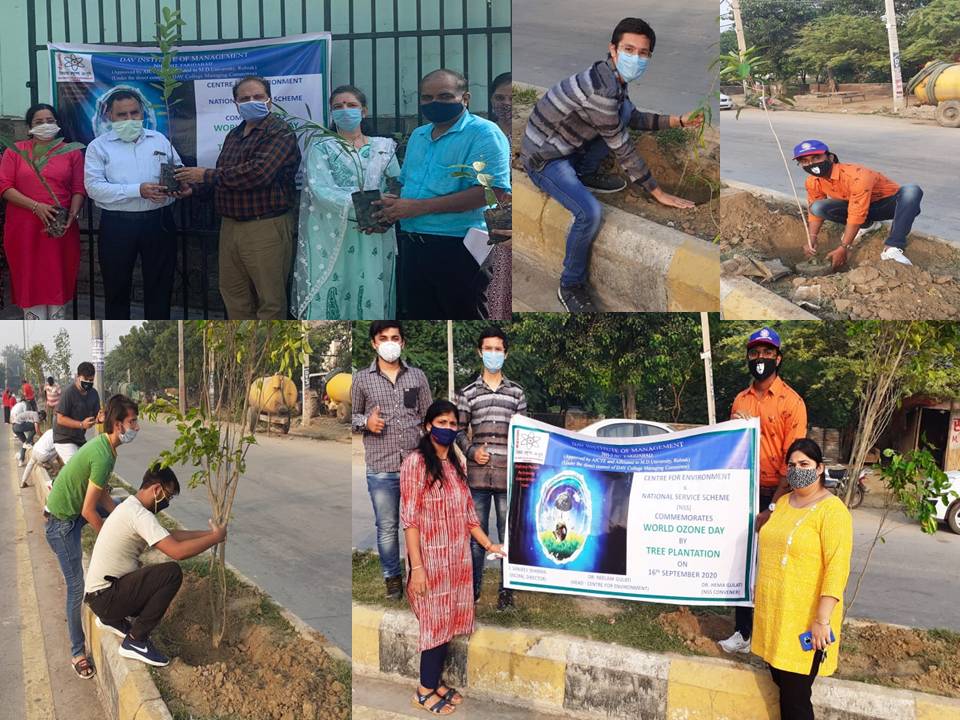 37 NSS Team of DAV Institute of Management has organized Inter College Poem Recitation Competition on 23rd September 2020 on Haryana Martyr Day. The NSS Team was able to get 19 Poem Recitation Entries from the Different Colleges. The Panel of 3 members Team Judged the winners of the competition and the names of the judges are :-
Dr. Sarita Kaushik Dr. Anjali Ahuja Dr. Parul Nagi
Associate Professor Assistant Professor Assistant Professor
Winners of the Competition are :-
1st Position Vikas Silwani DAV Institute of Management, Faridabad
2nd Position Kirti Sharma VASMM, Bahadurgarh
3rd Position Bhavika Saini Govt. College for Girls, Sector 14, Gurugram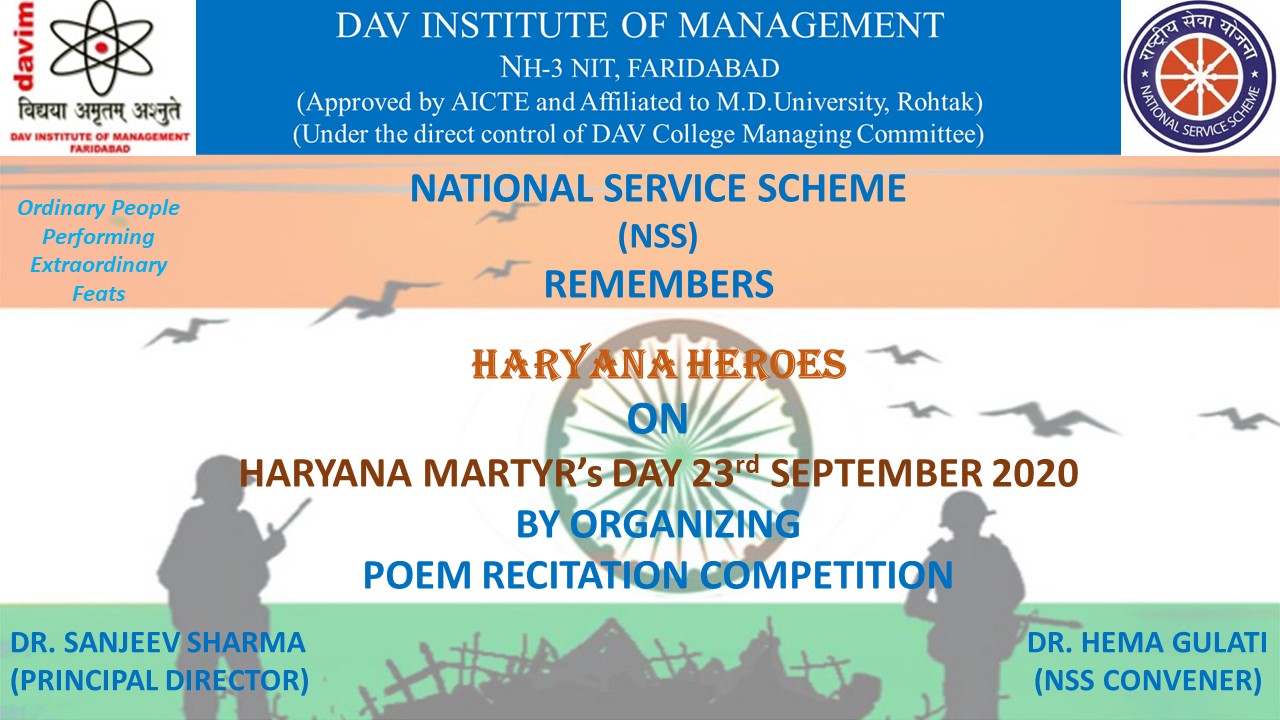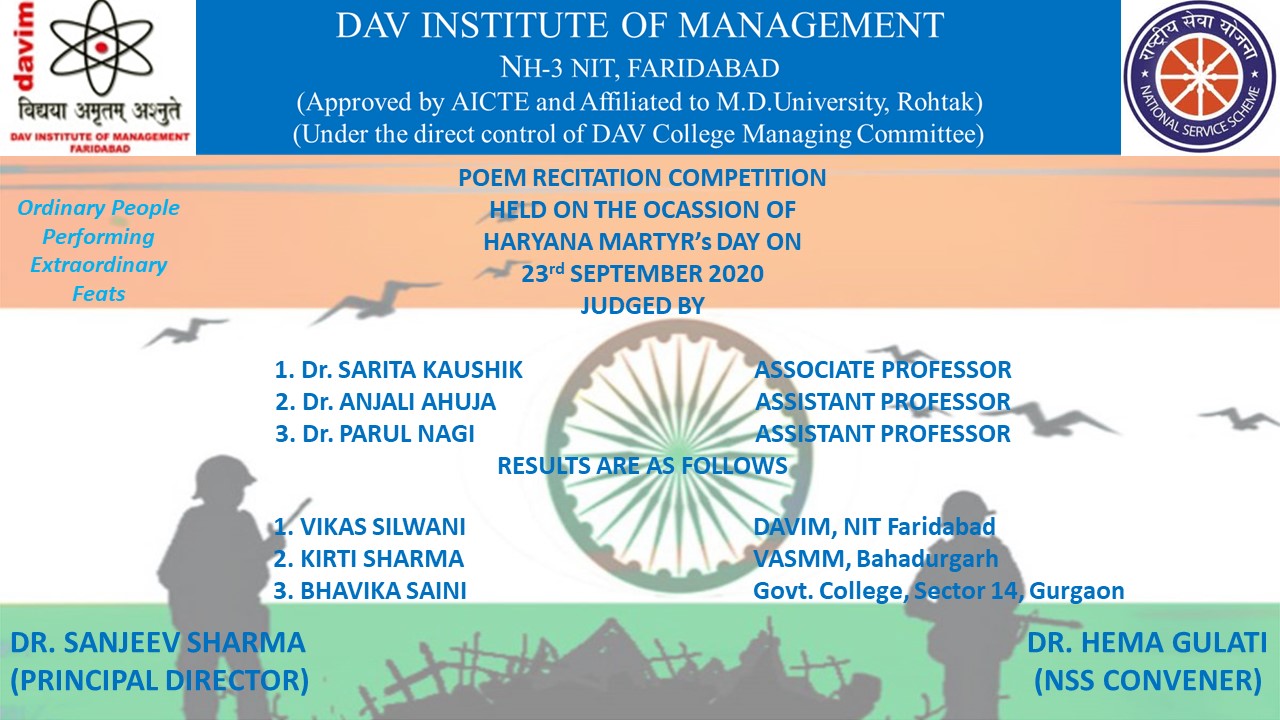 38 National Service Scheme of DAV Institute of Management Celebrated NSS Day on 24th September 2020 by making a video of all the activities organized by the NSS Team of the Institute since its inception on 26th September 2019.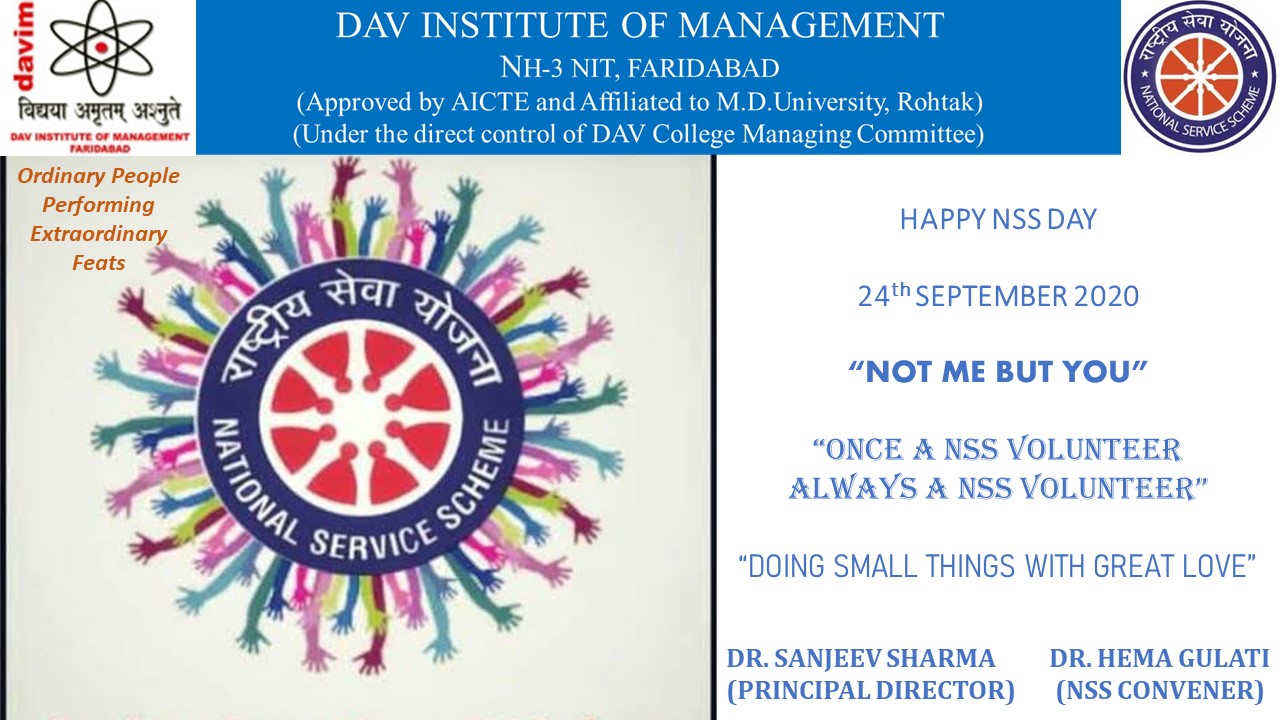 39 On the Occasion of Gandhi Jayanti NSS Team of DAV Institute of Management presented E-Quiz on Gandhi Ji from 28th September to 2nd October 2020. Total 1102 students participated in this E-Quiz from all over the Country and E-Certificates were issued to the students who fulfilled the condition of scoring 60% or more marks in the E-Quiz.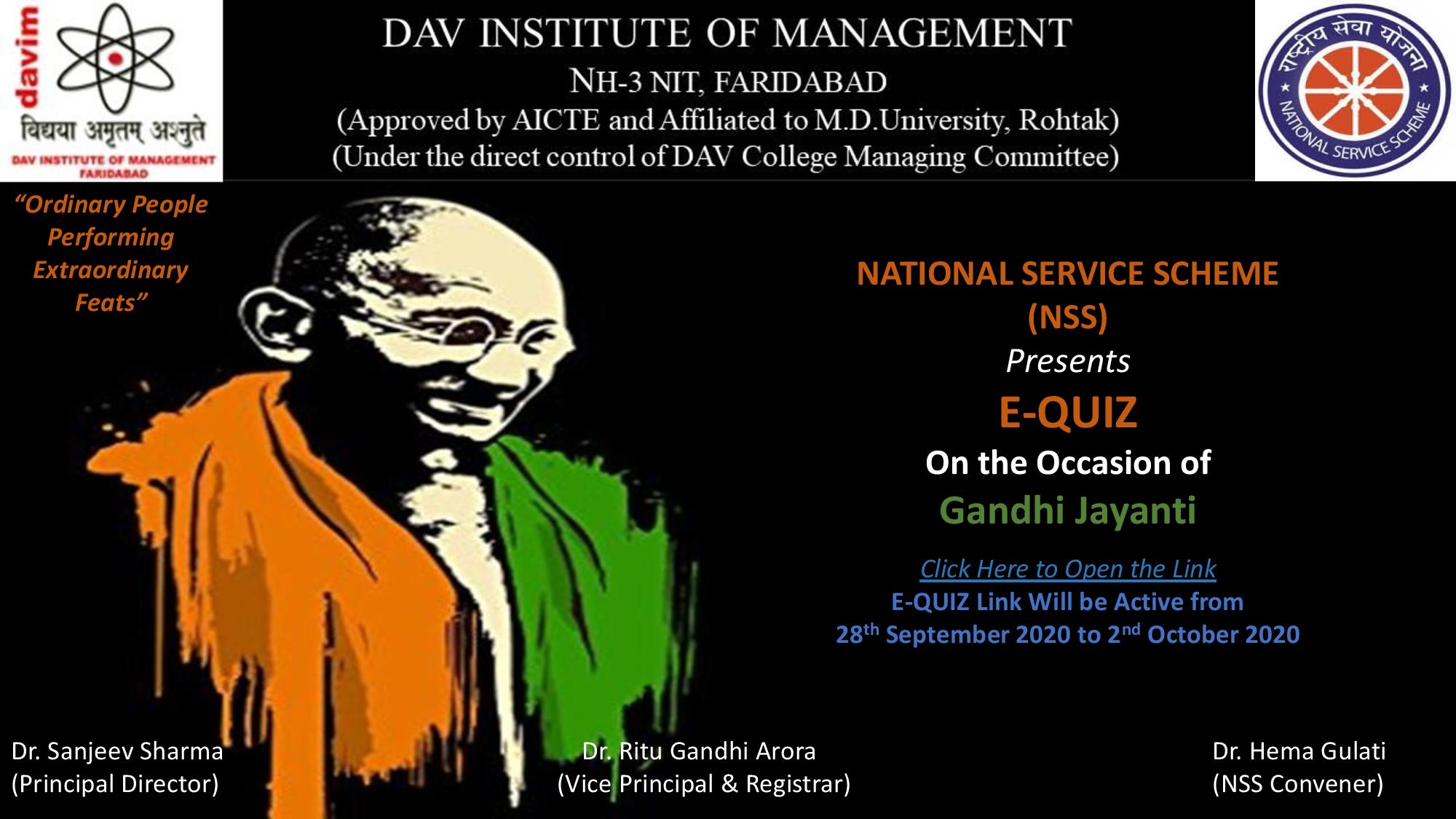 40 NSS Team of DAV Institute of Management has Celebrated International Day of the Girl Child by conducting Inter College Poster Making Competition on 11th October 2020. Total number of Poster received were 51 from the students of the different colleges. Panel of 3 Members Team Judged the Winners of this Competition and the names of the Judges are:-
Dr. Meera Wadhwa Dr. Gurjeet Kaur Dr. Bhawna Sharma
Associate Professor Assistant Professor Assistant Professor
Winners of the Competition are :-
1st Position Chandrakanta Govt. College for Girls, Sector 14, Gurugram
2nd Position Namrata Sharma Saraswati Mahila Mahavidyalaya, Palwal
3rd Position Aarti Tagore VASSM, Bahadurgarh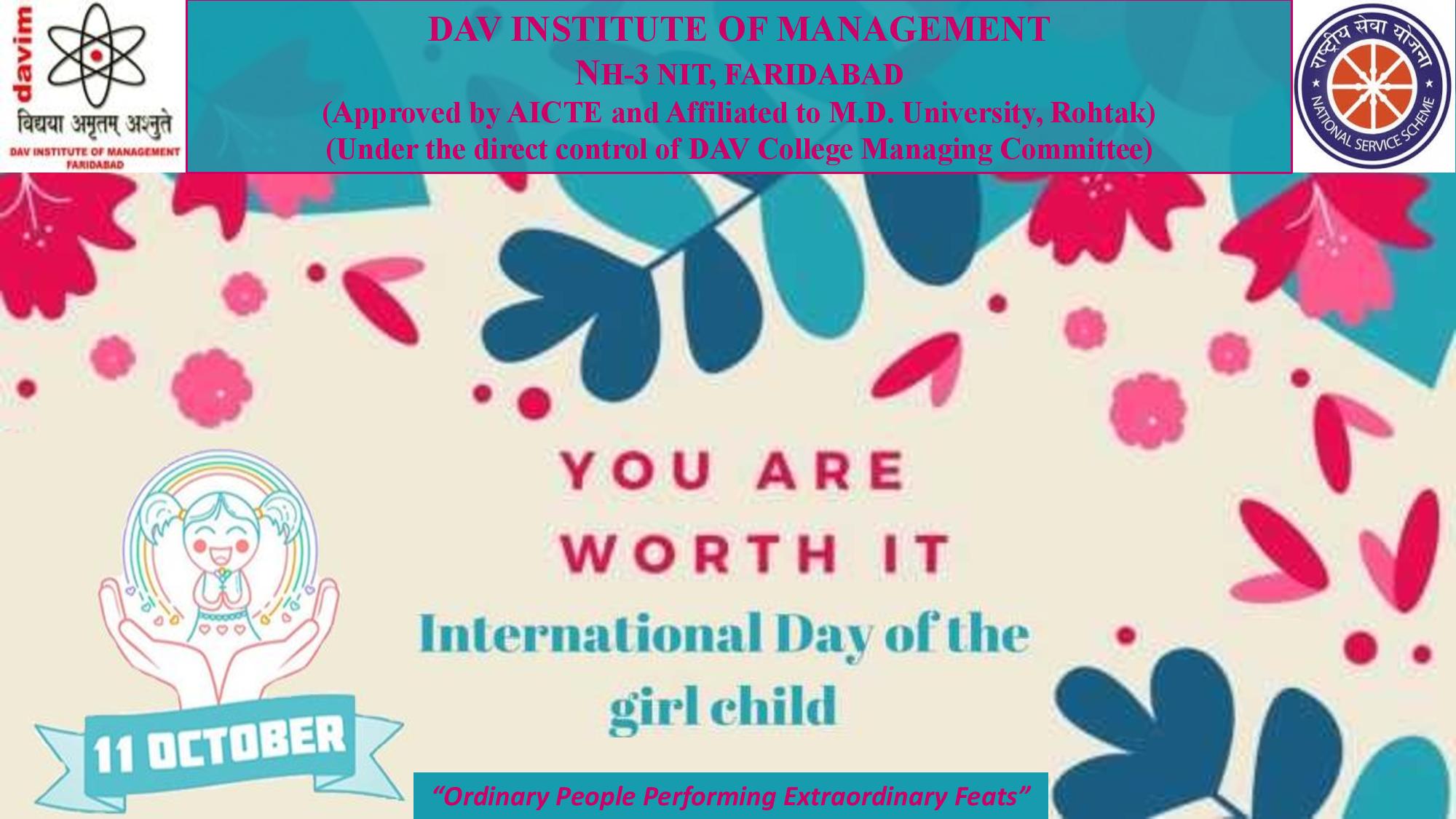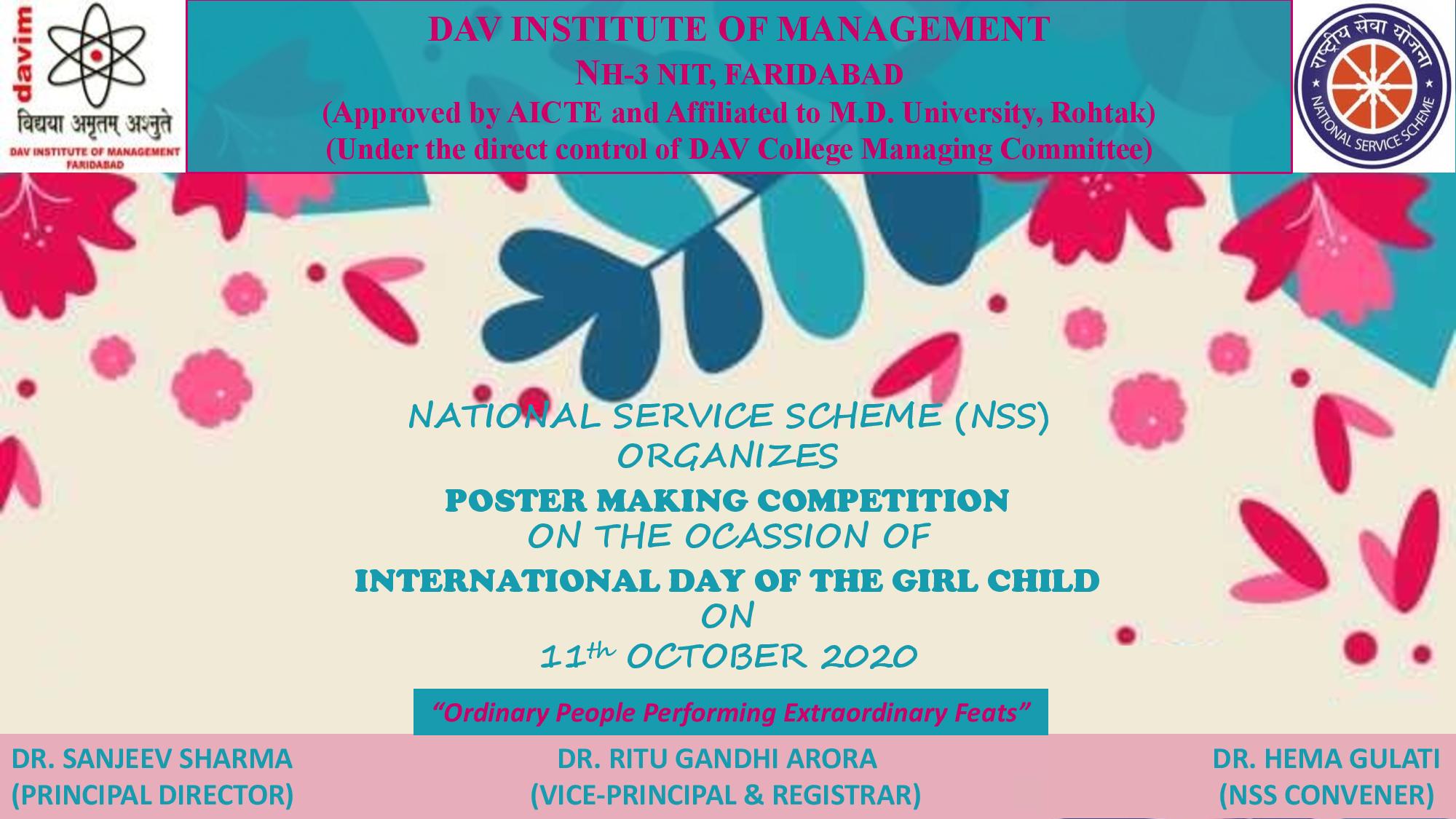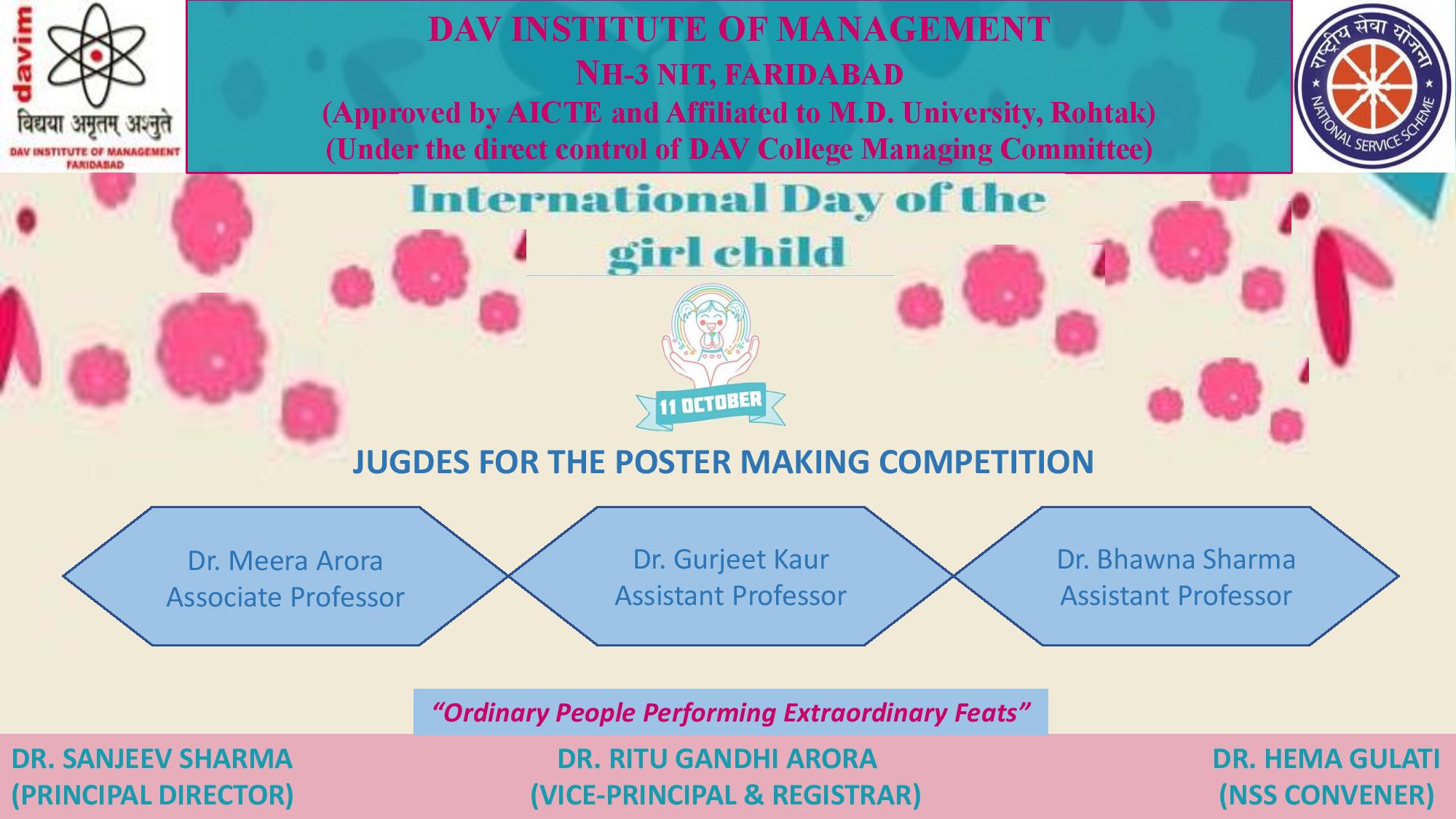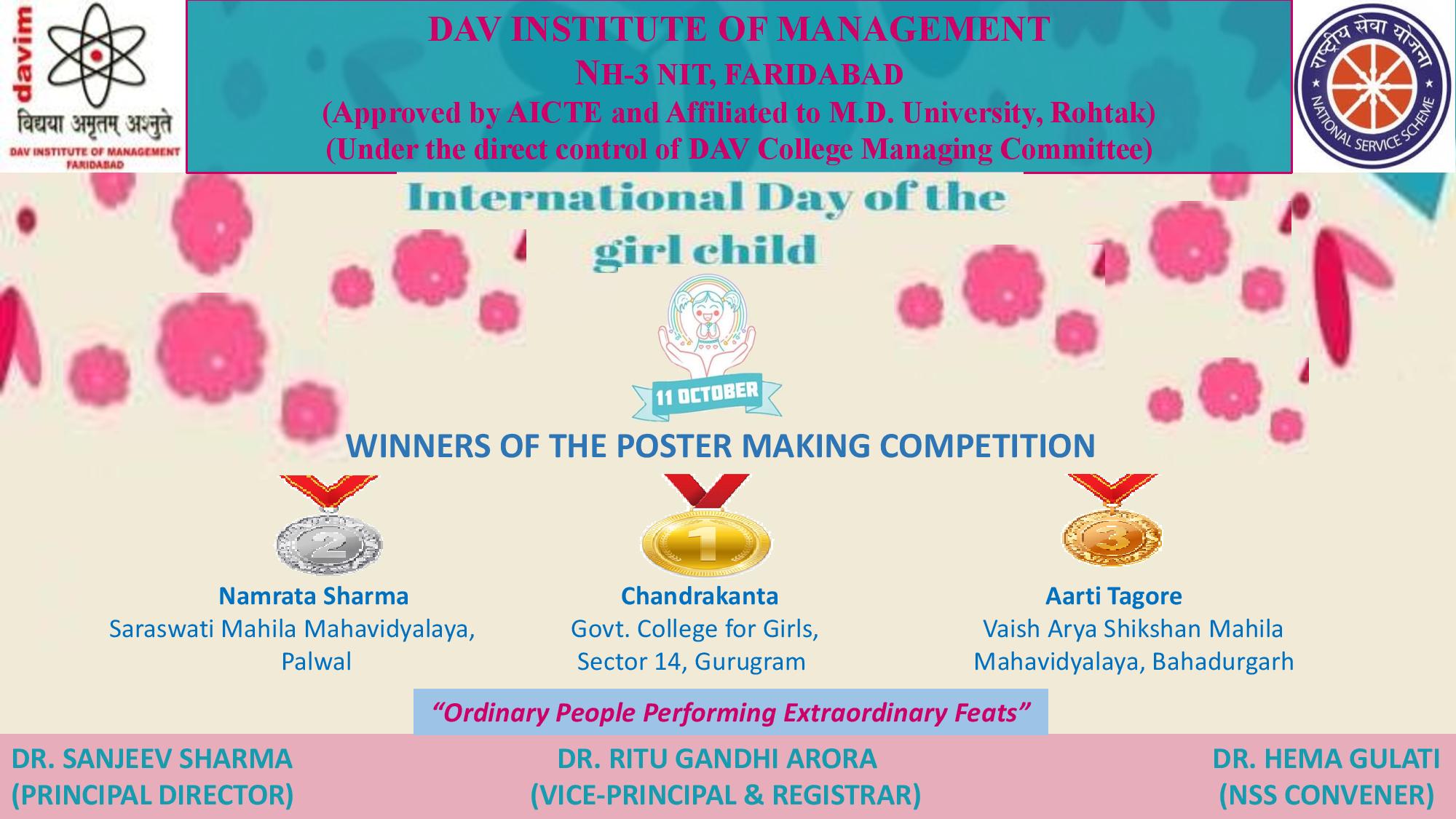 41 International Day for Disaster Risk Reduction was celebrated by DAV Institute of Management's NSS Team by presenting Inter College E-Collage Making Competition on 13th October 2020. Total number of E-Collage received on Disaster Risk Reduction were 26. Panel of 3 team Members Judged the Winners of the Competition and the names of the Judges are :-
Dr. Pooja Kaul Dr. Ashima Tandon Dr. Juhi Kohli
Associate Professor Assistant Professor Assistant Professor
Winners of the Competition are :-
1st Position Rajan Rawat DAV Institute of Management, Faridabad
2nd Position Krishan Garg Aggarwal College, Ballabgarh
3rd Position Urvashi Garg DAV Institute of Management, Faridabad