Induction Program for Post Graduate Students
This year the , DAV Institute of Management, stepped into its 20th glorious year. DAVIM always conducts theme based induction programmes. The induction of M.B.A and M.C.A, was conducted from 21st Aug to 24th August 2016.This year's theme was "Life Beyond Campus". It was power- packed with learning on the various aspects of Management and Life Skills. The learned people from the Industry, who enriched the minds of the budding managers, were Mr. Harshvardhan Pant, Head HR, Tikam shah Faridabad Pvt. Ltd., Mr. Prabhakar Tiwari, CMO of "Pay You" Payments Pvt. Ltd. And Mr. Manoj Kumar Bhatt and Mr. Sanjay Pandita from CASI Global New York who promote research and education in CSR and sustainability. The In-house faculty, Dr. Himanshu Singh and Ms. Deepali Grover, took sessions of Aptitude Tests and Self - Esteem and how to overcome the shortcomings, if any. Equally beneficial was the Induction of the MCA students, when IT Professionals opened up different insights of working in the IT organizations.
The Head of the Institute, Dr. Neelam Gulati, gave a stirring speech in which she encouraged the students to leave no stone unturned in putting in efforts to excel in academics and also to keep themselves apprised d of the happenings around them so as to be able to become effective future managers. The Head of M.B.A and M.C.A. departments, Dr. Meera Wadhwa and Dr. Sarita kaushik, presented the vote of thanks and encouraged the students to build soft as well as technical skills as the world today requires people with both skills and knowledge.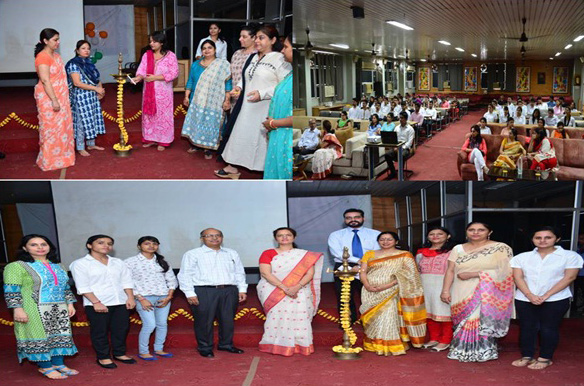 ---
Induction of Under Graduate Courses
For the Training and Development of the UG students, learned people from various fields like Management, IT, Entertainment and Event Management were invited from 14th July 2016 to 30th July 2016 to make the students aware of the need of the job industry and also how to carve out a niche for themselves in the coming years in various industries. In this way DAVIM aims to make the students employable even before completing their Post Graduation. They suggested that the students should work with dedication and go in for skill development. The students took the learning seriously and were motivated to take steps towards becoming indispensable for their prospective organizations.
The in-house faculty members also conducted fruitful training sessions for the new students, thus enhancing their knowledge of various areas like Finance, Body Language, Whatsapp Satsang, IT and many more. The students were eager to turnover a new leaf by beginning their professional studies and in real earnest knowing more about the corporate world.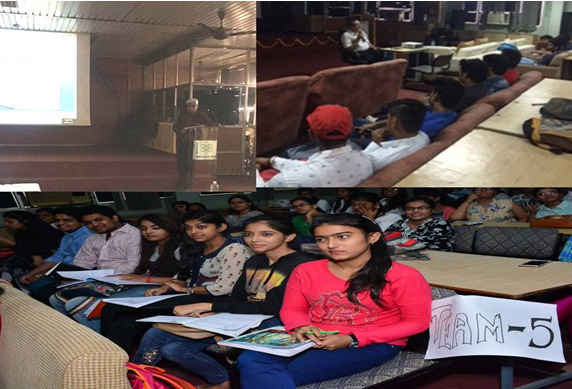 ---
Digital India Workshop in Collaboration With National-E Governance Division
DAVIM believes that the ordinary performs the extra ordinary. And keeping in mind the interest of their zestful students, the team of Research and Development Cell of the Institute, Dr. Anamika Bhargava, Ms. Preeeti Bali and Ms. Pooja Kaul, organized a Digital India Workshop in collaboration with National-E Governance Division Ministry of Electronics and Information technology, Government of India, on 5th November 2016.DAVIM took ahead the revolutionizing innovative idea of Digital India, initiated by our honorable Prime Minister Shri. Narendra Modi. Dr. Hanif Qureshi, Commissioner of Police, Faridabad, was the Chief Guest, accompanied by Mr. Aman Goel, BJP Youth leader, Mr. Manjeet Nath, the representative of National-e-Governance Division, theguest of honour Dr. N.P. Singh, Professor, MDI Gurgoanand Shri Sant Gopal Gupta, Social Worker. They all postulated that Digital India and its aligned activities would give a staggering boost to E-Governance in the country. Mr. Manjeet Nath, the representative of National-e-Governance Division, "also conducted Digital India Quiz".Dr. Neelam Gulati, encouraged the students to present skits on various themes depicting Digital India and motivated all to become techno- friendly. She also appreciated the faculty behind the successful culmination of the workshop. The day, when so many distinguished guests adorned the auditorium and graced the occasion with their presence was a red letter day in the history of DAVIM.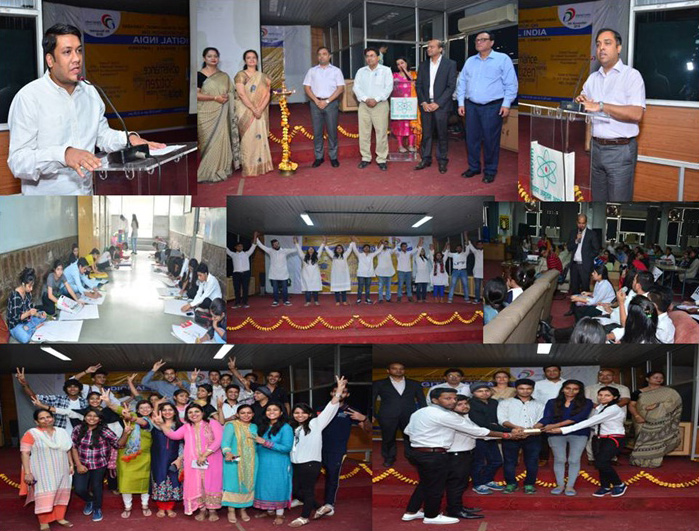 ---
Awareness Workshop on Information Security
A workshop on "Information Security" was organized under the Research and Development Cell by its member, Ms. Poja Kaul, on 8th February 2017. Ms. Neha BajpaiTechnical Officerat Centre for Development of Advanced Computing (CDAC), Noida, was the Chief Speaker. She lectured the students on the growing need for learning about Information Security to safeguard their documents, personal and professional, from hackers. Ms Priyanka Jain, a Project Engineer in CDAC and Ms. Ashu, Technical Officer in CDAC, accompanied her. The students of M.C.A interacted well with the speaker. Dr. Neelam Gulati appreciated the efforts of Ms. Poja Kaul and hoped that more such sessions in future would benefit the students a great deal.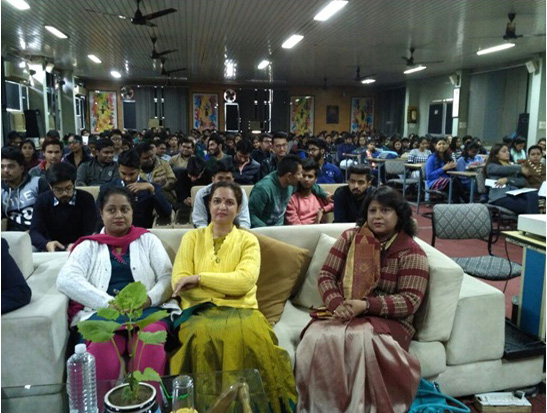 ---
App-A-Thon - An Application and Game Developing Competition
The B.C.A Department of DAVIM organized "App-a-thon" – an Inter-College-Application and Game Developing Competition on 12th November 2016 . The participants from various colleges presented their apps depicting car rental, crime logger, purchase of electrical appliances, food delivery, social networks, video downloading and other games. The participants also showcased the usability of their apps. Professor Dr. Naresh Chauhan, Professor at YMCA, was the Chief Guest and the guest of honor was Dr. R. N. Rajotia, Professor at JIIMS, Delhi. The judges, Mr. Rahul Nagar, DGM Business Paytm, Ms Ashima Girdhar, Project Manager TCS and Ruchika Goyal, Team Leader HCL, appreciated the efforts put in by all the participants. The guests and the judges also gave some tips to the students to improvise their apps. The Head of the institute, Dr. Neelam Gulati, applauded the efforts of the organizers and the students in coming forward with such a rare idea and help in making India Digital.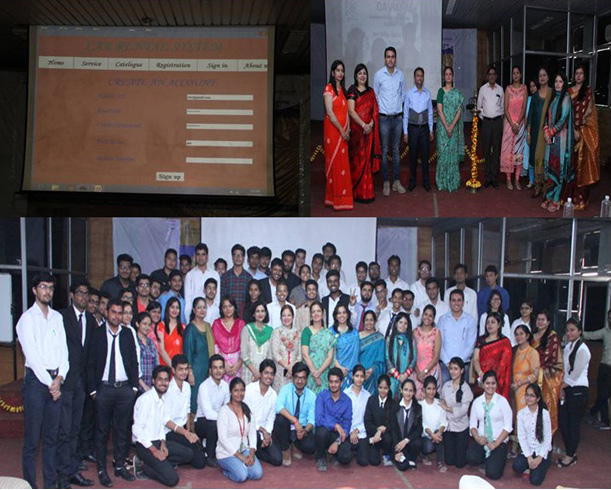 ---
On 3rd March' 2017, a Presentation Competition was held where 15 groups from the MCA course participated. The competition was Inaugurated by Dr. Sarita Kaushik (Head of the Department, MCA) ,Ms. Priti Bali (Program Director, MCA) , Dr. Anamika Bhargav , Ms. Pooja Kaul and all faculty members of the MCA .Ms. Monica Khatri was the Convener of the event. The organizers of the event were Ms. Geetika, Ms. Poonam and Ms. Akanksha. The purpose of organizing these events is to bridge the gap between Industry and Academia. The winners of the competition were: - Hitesh and Alka (MCA 2nd Year)- 1st Prize, Sakshi Bhatheja& Manju Tanwar(MCA 2nd Year)- 2nd Prize, Vinay & Priya (MCA 2nd Year)- 3rd Prize, Komal Sharma- Consolation Prize.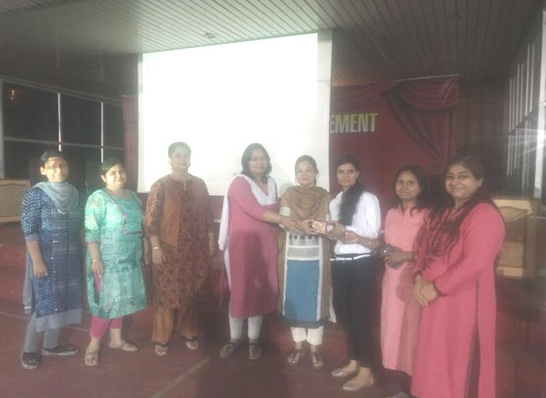 Induction Program for Under Graduate students
"Coming together is a beginning; keeping together is progress; working together is success." Henry Ford
DAVIM organized an Induction Week for its new students and provided them with essential information about their chosen programmes. DAVIM welcomed its new students with complete zeal and enthusiasm and paved new paths of success for its students by making them under go various training sessions by inviting people from various industries, Personality Development Institutes, professionals etc. Col. Gaur, an ex-army man, took the session on Self- Motivation and its implications in one's life. Mr. Kamal Kalra, a freelance Trainer, took the session on self confidence and what it takes to excel in life. Mr. Himanshu Singla from Techno Shiksha ,took the session on how the youth can become more Self -Reliant and also talked to the students about Cyberoism. The in house faculty of DAVIM also took the sessions with the students on myriad topics such as Team work, Discipline, Hardwork, Self Awareness, Whatsapp Satsang, SWOT analysis, Happiness Index, Marketing Prowess, Positive Attitude, Body Language etc. and many took sessions on IT and Communication. To bring out the inner talent like, dance, singing, mimicry and others, 'Talent Fiesta' was organized .The winners were awarded with prizes and certificates. To motivate the students to excel in life and set ambitious goals for themselves, an autobiographical movie on the life of "BhudiyaSingh "was shown .To make the students know more about Yoga and its benefits, Yoga sessions were organized in which the trainer trained the students in various asanas of Surya Namaskar. The Head of the Institute, Dr. Neelam Gulati, welcomed the students and talked to them on various occasions in the two weeks training programme. She postulated that these three years constitute the time when the students can overcome their inhibitions and widen their horizons and move ahead on the new path of Self Awareness. She tried to instill in the students the need to do their bit for saving the environment so as to give a better world to the generation younger to them. The two week session culminated successfully and the students were eager and ready to embark on a new journey – Campus Life.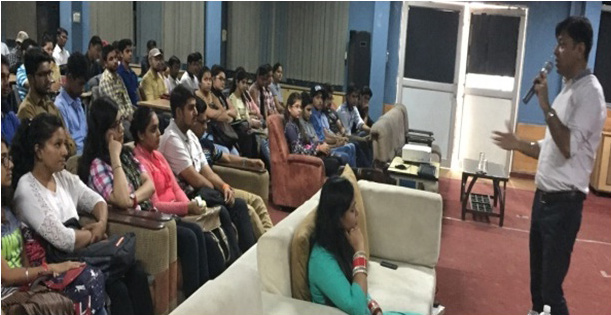 ---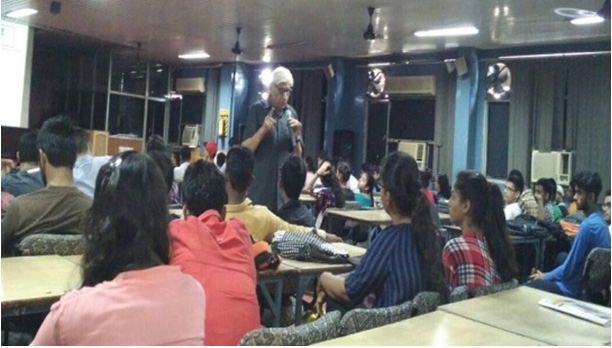 National Conference- NCIEEMand Inauguration of Environment Sensitization Magazine – 'Prithvi'
Research and Development Cell (IT) of DAV Institute of Management organized a National Conference on Information Technology, Engineering, Environment Science and Management- NCIEEM and DAVIM Centre for Environment inaugurated 'PRITHVI', an illustrious magazine, on 'burning environment issues' on 7th April 2018. Prithvi was inaugurated by the Honorable Chief Guest, Dr. Priya Ranjan Triwedi, President, Confederation of Indian Universities, in the presence of Dr. Neelam Gulati, the Head of DAVIM and the Chief Patron of DAVIM Centre for Environment, Shri J.P.Malhotra,President DLF &Haryana Productivity Council, Dr. Nasib Singh Gill, Professor at M.D.U, Rohtak, and Dr. Vikram Goel, Professor at IIIT, Delhi, Dr. Ritu Arora , Director of FDP Cell & Publications of DAVIM, Dr. Ashima Tandon , Associate Director of FDP Cell & Publications and DAVIM Centre for Environment Team , Dr.NidhiTuran, CFA Vandana Jain, Ms. Neha Sharma, Ms.Geetika Khurana and Ms. Archana Mittal. Prithvi is an intriguing amalgamation of myriad research papers, articles and posters stating and depicting that life on earth is in danger. In his speech, Dr. Triwedi encouraged the youth to come forward for making various development break throughs in their country and also in their institutes and channelize their energy in a positive direction. The confident team of Research and Development Cell (IT) of DAVIM behind the National Conference comprised of Dr. Anamika Bhargava, Ms. Pooja Kaul and Ms.Preeti Bali. The conference was an opportunity to bring together academicians, leading engineers, industry researchers and scholars to exchange and share their experiences and research results about numerous aspects of the current growth and developments in the related fields. The eminent Panel Chair persons in the conference were Prof.(Dr.) Parul Khanna from IMT Faridabad, Prof.(Dr.) Manpreet Kaur from NGFCET, Palwal, Prof.(Dr.) Urvesh Chaudhary from AITM , Palwal, Dr. Archana Bhatia from DAVCC, Faridabad, Dr. Rashmi Aggarwal, MRIIS, Faridabad, Dr. Anupama Chadha from MRIIS, Faridabad, Dr. Karina Bhatia from G D GoenkaUniversitry , Gurgaon and Mr. Neeraj Chopra NGFCET from Palwal. It featured fifty original research papers, industrial papers and poster presentations on theory, design and implementation. In the conference young students and researchers got the opportunity to interact with the subject experts in their research areas. The participating Institutes in the conference were Jamia Milia Islamia University, Delhi, M.D.University, Rohtak, Baba Mast Nath University, Rohtak, Amity University, Noida, MRIIS, Faridabad, Singhania University, Rajasthan, Lingaya's University, Faridabad, M.V.N.University, Palwal, G.D.Goenka University, Gurgaon, YMCAUST, Faridabad, D.A.V.University, Jalandhar, Gautam Budha University, Noida, Bhagwant University, Rajasthan, Ansal University, Gurgaon, Maitreyi College, D.U, Govt. College for Women, Faridabad, DAV Centenary College , Faridabad, Jawahar Lal Nehru College, Faridabad, Govt. College for Women, Gurgaon, Institute of Management Technology, Faridabad, Tikaram Girls College, Sonipat and N.G.F. College of Engineering and Technology, Faridabad. The Impressive Times of Faridabad were the media partner. The Head of the Institute, Dr. Neelam Gulati, thanked the esteemed guests in her speech and motivated the audience to adhere to the learning of the day to be successful in whichever field of life they would venture into. She urged them all to be crusaders along with DAVIM to make the environment better and safer for all.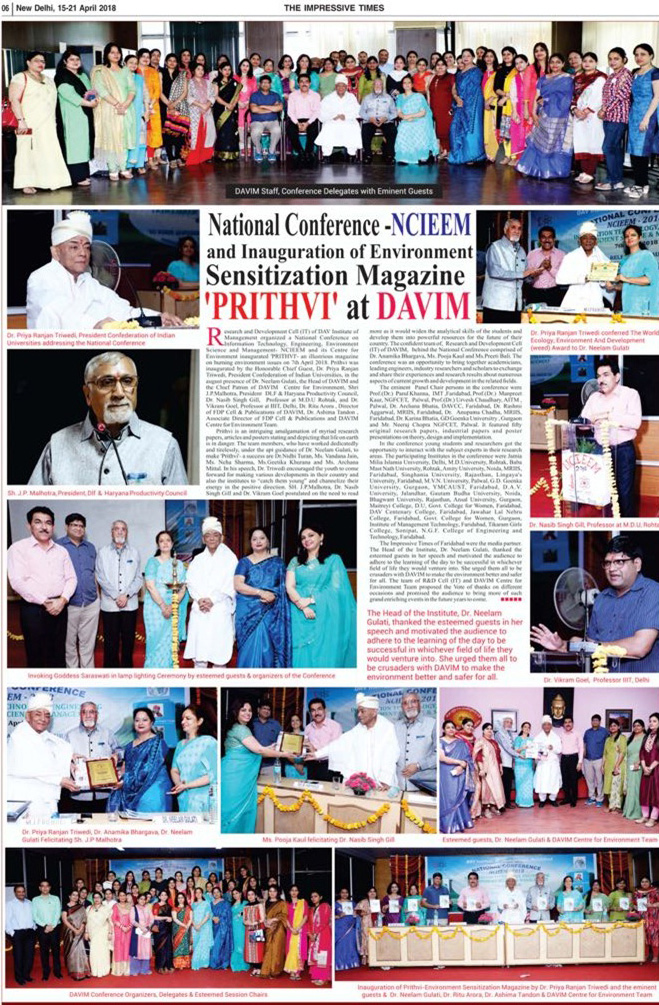 ---
APPATHON-2 App Development Competition
APPATHON 2- an application based gaming competition- was organized at DAVIM on 10th March, 2018. Dr. Vikram Goyal from IIIT, Delhi, was the Chief Guest who shared his vast knowledge of myriad new applications and their benefits. Dr. PreetiSethi from YMCA University of Science and Technology Faridabad, was the guest of honour. The judges were Mr.Rahul Nagar DGM, Paytm, Mr. Susheel Sharma, Sr. Project Manager, 3i Infotech Ltd., and Ms. Ruchika Goyal, Sr. Team Leader- HCL Technologies. The participating colleges were YMCA UST FBD, Manav Rachna College of Engineering, NGF College of Engineering Palwal, TITS Bhiwani, DAV Centenary College, Dronacharya College of Engineering Gurugram, BSAITM, FBD, and AITM, FBD. Appathon -1 was organized in 2016 and this year the franchise was taken a step ahead by organizing Appathon-2 at a higher level. All the participants had taken the initiative and came up with brilliant ideas by making user friendly applications and games. It was a moment of great pride when Devanshu Sehgal, BCA student, was immediately offered jobs in Paytm and 3i Infotech by the respective judges. Devanshu had made a novice application which was also patented by the Head of the Institute Dr. Neelam Gulati. Dr. Neelam congratulated the organizers, the BCA Department of DAVIM and motivated the students to think out of the box and come up with innovative ideas. The winners were Deepanshu, VibhorVinisha and Heena from TITS Bhiwani. The second position was bagged by Devanshu Sehgal from DAVIM and there was a tie between Binigya, Preeti Deepak Bheshaj Pratap from NGF and Rohit,Akansh Parveen and Manvee from DAVIM.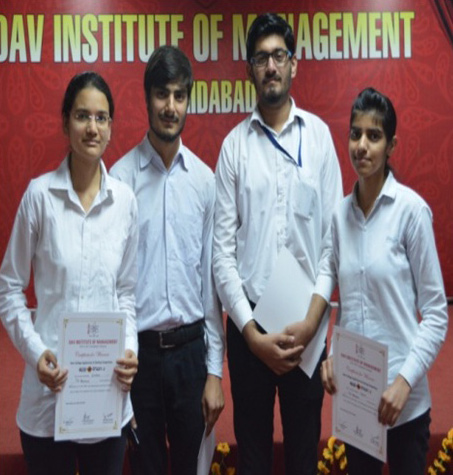 ---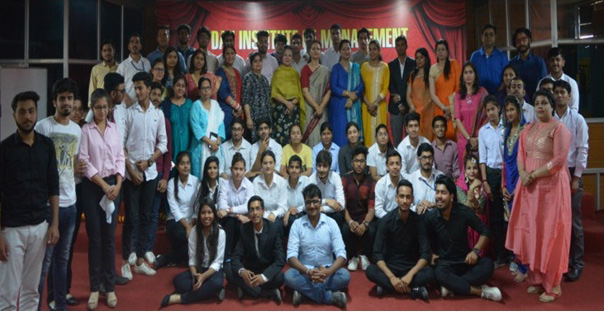 Digital Marketing – Professional Grade
DAVIM organized a Management Development Programme on "Digital Marketing on 25th July 2017, to make the faculty Digitally upgraded. The students of M.B.A and M.C.A also attended it. The workshop incorporated the basics of SMM, SEO, PPC etc. as well as advanced strategic inputs on mobile marketing and overall digital marketing. The speaker of the day was Mr. Prabhakar Tiwari, an alumnus of IIM, Bangalore and a Marketing Gold Medalist. Currently he leads his own strategy consulting and business solutions firm The MargDarshakInc.
---
Digital Marketing – Professional Grade
The new academic session commenced with the regular 5 day induction programme from 23rd-27th July, 2018 for Undergraduate Management and IT courses for Batch 2018-2021 organised under the guidance of Dr. Anjali Bhakhar(Dean UG Management courses) and Dr. Rashmi Bhargava(Dean UG IT Courses). At the beginning of the new session the institute organized auspicious Havan ceremony for Faculty members and students to help them understand the values of Dayanand Anglo Vedic Culture in the campus.
The Head of the Institute Dr. Neelam Gulati welcomed the students to the institute and motivated them to work with focus towards their life goals. Ms. Bhumika Pahwa and Ms. Esha Khanna, while delivering the welcome address focused on the DAV philosophy and shared the three piece advice to students to work towards the new phase of life i.e To take the responsibility for your learning, Make the most of your time at the college and Embrace the Difference as 'Knowing others and understanding others will help to develop as tolerant individuals'. The session was followed by the address of Ms. Neha Sharma and Ms. Archana Mittal from Centre for Environment, DAVIM, to acquaint the students with the activities performed by the Centre for Environment and Rotary Club to inspire students to take a step towards the society. They also provided them essential information regarding their chosen programmes. The first day concluded with an audio-visual session comprising the videos on value of time and focus towards their future. The band performance by zestful students Shashank, Arshdeep and Rohandeep entertained them. The induction programme was divided between Management and IT courses and made them undergo various training sessions on the second day through in house faculty of DAVIM, Ms. Priti Bali took a session on Cyberspace security, Dr. Sarita Kaushik on Information Technology, Dr.Ritu Arora on Chanakya Niti and Management and Dr. Anjali Ahuja on Team building . They enlightened the students and make them acquainted with the recent topics and also shared various tips for a good professional beginning. On the third day of the programme students of all UG courses were taken to watch the movie 'Soorma' @INOX, EF3 mall, Faridabad. On the fourth day of the programme sessions were conducted by Dr. Ashima Tandon and Dr. Deepak Sharma on the topic ICT and Reasoning & Aptitude respectively. On the fifth and concluding day various activities like singing, poster making, IT games, management games and indoor games were organized for students to discover the new talent at DAVIM. Students keenly participated in these activities.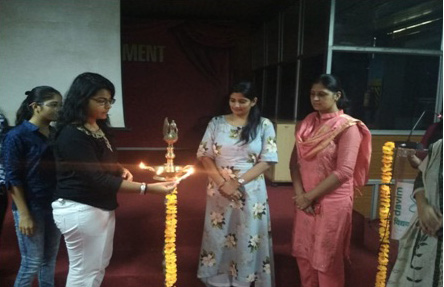 ---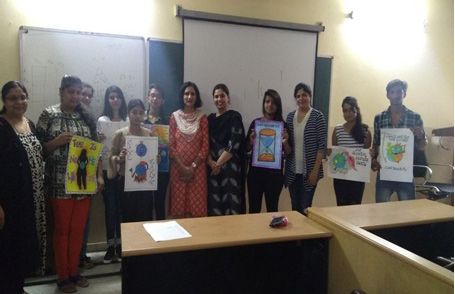 ---
Induction Program For Post Graduate students
The new academic session commenced on 23rd with induction program which will continue till 28th August 2018 for MBA 22nd and MCA 20th batch respectively. On 23rd August a Hawan Ceremony was organized by the institute for faculty members and students in the campus for peaceful and positive environment and for seeking blessings of Almighty. On 24th August Dr. Neelam Gulati, Head of the Institute began the session with the welcome address and encouraged the students for putting in efforts, in excelling in academics and also keep themselves aware of the happenings around them and be able to become effective future managers in future. She also advised the students to be environment friendly by adopting some of the nearby areas as practicing an eco- friendly life style and having greener environment is a small step towards addressing the environmental crisis. Ms. AnubhaWalia, founder director of Prism trainings, international trainer and facilitator shared various strategies with the students related to ABC for successful life i.e. Appearance, Behavior and Confidence. She also gave them knowledge regarding Corporate world and suggested them to work with dedication. The session was followed by the address of Mr. Nishant Bansal, Vice Chairman of Geeta Group of Institutions, Panipat encouraged the students for social service and shared the needs and requirements of the companies. He also told students to respect parents, teachers and Institute as it will give them sense of belongingness throughout their life. He also advised them to learn one new thing everyday. Another speaker Mr. Praveen Arora from Automative Industry also Chief Manager at Escorts Limited addressed the students through presentation related to motivation and made them learn how to adapt according to situations. The second day concluded with the hope that students were motivated and took the learning seriously.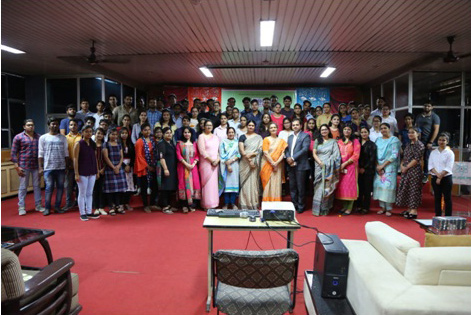 ---
Seminar on Digital Marketing
On 7th September, 2018 a seminar was organized by Dr. Anjali Ahuja, Director Academics (Management) alongwith BBA (General) department in association with NIIT on Digital Marketing. The speaker informed the students about the digital marketing as it is the most popular strategy these days to promote business online for Brand Awareness and Business Development. They also taught them the use of digital marketing for better targeting, better return on investment as it is cost effective. Students enthusiastically participated and solved their queries.
Two days Certificate Course on Digital Marketing by Webhelpy Technologies
Two days Certificate Course on Digital Marketing by Webhelpy Technologies was attended by MBA students on 30th January-31st January 2019. The workshop aimed at developing an overall understanding of the students about digital marketing, online marketing platforms, social media tools, mobile marketing and email marketing etc. The objective was to educate students in the area of digital marketing analytics.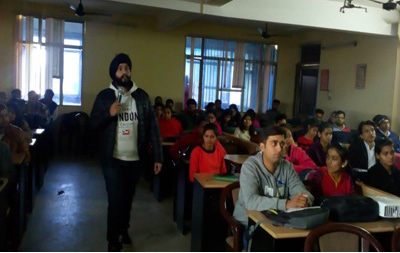 ---
WORKSHOP ON "BUSINESS ANALYTICS AND MACHINE LEARNING USING PYTHON"
Two days workshop on Business Analytics and Machine Learning with Python was conducted by MCA Department on 30th Jan & 1st Feb 2019. The workshop was taken by Mr. SumantaBishwas from Rinfoline. In this workshop, Mr. Bishwas taught various concepts of Data Analytics and Advance Excel to the students. He explained how to display a Web document, Ms-Word file into an Ms-excel file. He also explained various advance excel formulas used in data analytics. He also threw lights on the demand of data analytics and python in IT industries these days. Mr. Bishwas explained each and every thing to the students practically and briefly. The students had implemented almost everything practically. It was a great learning session for the students.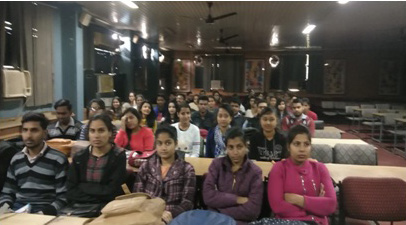 ---
Workshop on Digital Marketing
A workshop on "Digital Marketing" was organized under the Research and Development Cell by Dr. Anamika Bhargava and Ms. Priti Bali on 8th February, 2019. Mr. Shashank Sharma and Mr. Pratik Sharma from Croma Campus, Noida were the resource speaker, wherein they lectured the students on the upcoming need of digital marketing and related technologies are helping in online promotion and sales of products. They told about the job opportunities in the related fields. Dr. Sanjeev Sharma, Principal Director DAVIM, motivated the students and appreciated the efforts of the faculty and hoped that in future many more sessions would be conducted for the students benefit.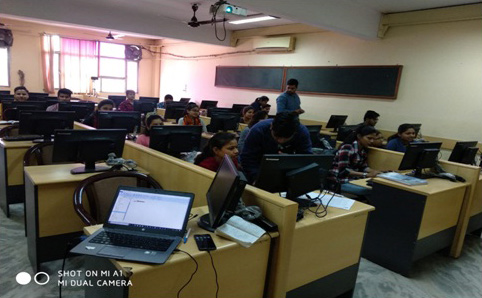 ---
Cloud Sever and Communication for smart cities" at NPTI
MBA Students and faculty attended one day session on "Cloud Sever and Communication for smart cities" at NPTI on 11th March 2019. Sh.KrishanMurari, DGM,Power grid Finance Institution discussed on Model framework for smart cities and objectives of cyber security. He also discussed the sector specific issues and cloud service models. Mr. Anshul Prabhakar, Lucideus Technology talked about the challenges of smart cities and technology and how to overcome it. Dr.SomayyaMadakam , Assistant Professor (IT),Fore School of Management discussed the basic concepts of smart cities and model of smart cities.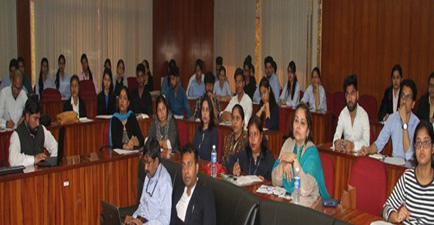 ---
Entrepreneurship Awareness Camp by DAVIM in association with MANAV Rachna under DST-NIMAT Scheme and NSTEDB
DAVIM in association with MANAV Rachna under DST-Nimat Scheme and NSTEDB has oragnised" Entrepreneurship Awareness Camp"for MBA and MCA students and faculty from 27th to 29th March 2019.Dr.Monika Goel ,Head business incubator MRIS discussed the historical framework of the entrepreneurship and told about various initiatives of Government of India for new start-ups. Dr.SanjeevSharma,Principal Director DAVIM thanked Dr.Monika Goel, Vice-principal DAVIM-Dr.Ritu Gandhi Arora, Dr.Meera Wadhwa Head MBA and Dr.Pooja Kaul for organising the program. He infused new energy into students and asked them to unleash their potential .Ms.Sonal Shah, Director Woman Entrepreneurship Association talked to students about identifying gap and generating idea and also start believing in themselves.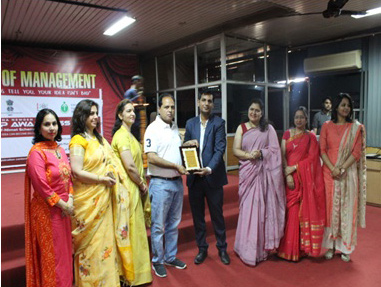 ---
A CCNA work shop was held on 22nd Jan'2020 organized by MCA Department organized by Add on Courses Dean Dr. Pooja Kaul. All the students of MCA 2nd Semester and 4th semester students attended this workshop. There were 40 students of MCA who attended the same. KVCH Team Mr.Manish and his team members share the information about Employability and career opportunities' after CCNA. They also shared the link of e -certificates to the students who have been attended the workshop. The speaker of this workshop was Mr. Manish from KVCH. The main Objective of this one day workshop was to introduce basic knowledge of CCNA course, and also explain its future prospects and to emphasize on networking. Learners will gain the working knowledge needed to start programming, debugging and using Networking for their career. CCNA (Cisco Certified Network Associate) is an information technology (IT) certification from Cisco Systems. CCNA certification is an associate-level Cisco Career certification.The Cisco exams have changed several times in response to the changing IT trends. In 2013, Cisco announced an update to its certification program that "aligns certification and training curricula with evolving industry job roles. There are now several different types of Cisco-Certified Network Associate, with "CCNA Routing and Switching" being closest to the original CCNA focus; other types of CCNA focus on security, cloud, collaboration, security operations, design, data center technologies, industrial plants, service providers, and wireless. The main Objectives of this workshop was to teach students about
1. Operation of IP Data Networks.
2. Recognize the purpose and functions of various network devices such as Routers, Switches, Bridges and Hubs.
3. Select the components required to meet a given network specification.
4. Identify common applications and their impact on the network.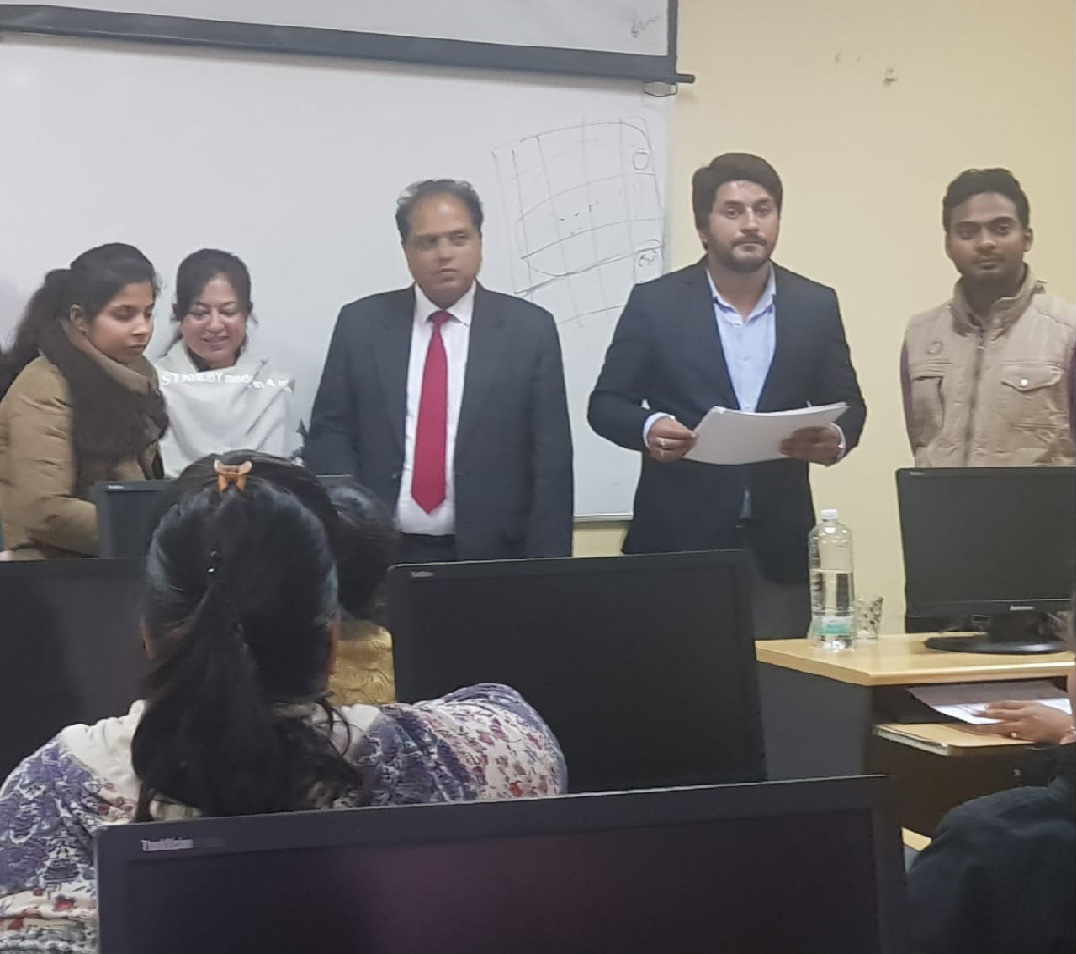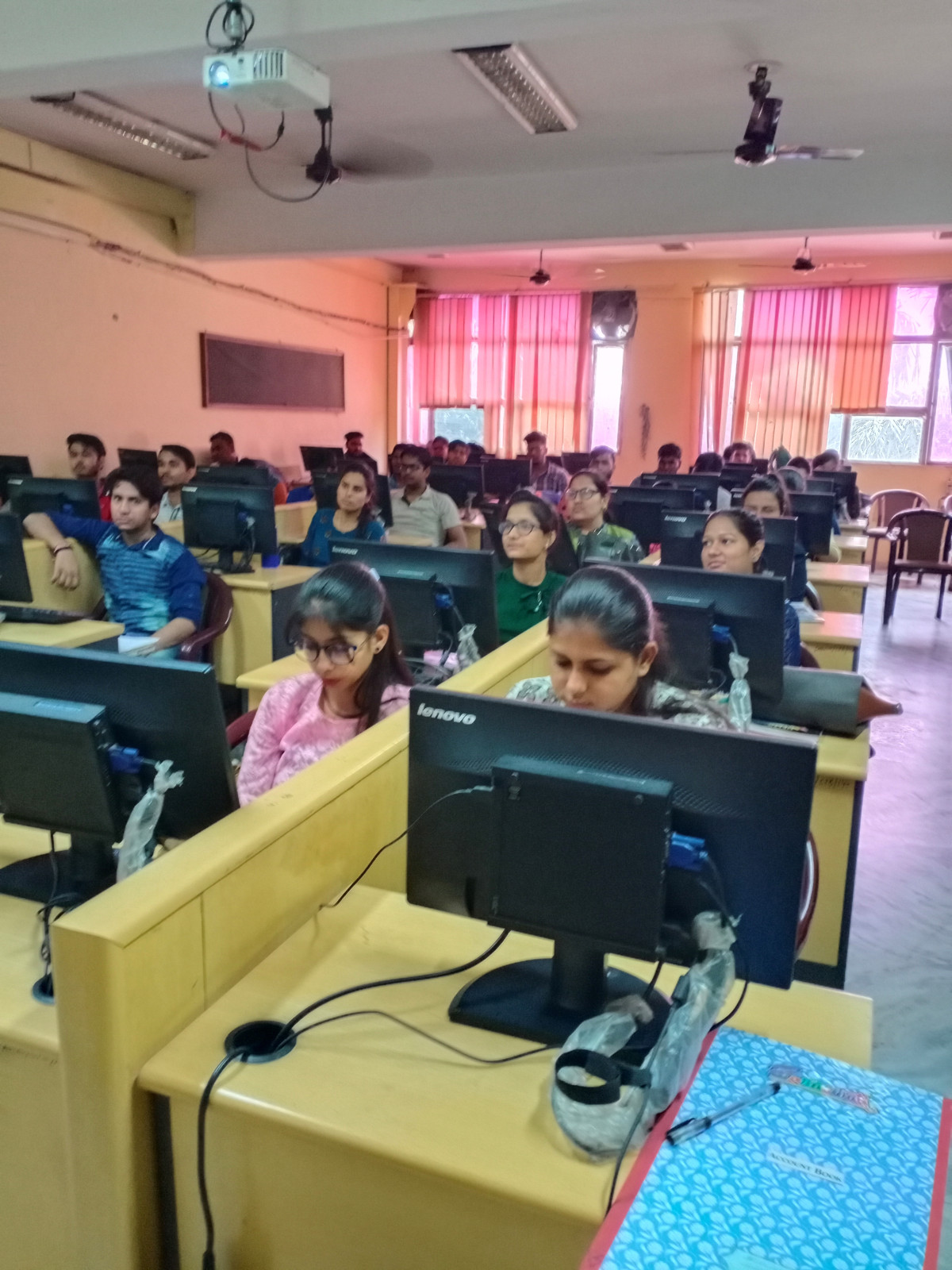 ---
A Mean stack work shop was held on 6th September, 2019 organized by MCA Department. All the students of MCA 1st Semester, 3rd semester and 5th Semester students attended this workshop. There were 60 students who attended the same. Ducat Team Mr. Sandeer Singh and his team members distributed the certificates and appreciated the significance of the workshop. The speaker of this workshop was Mr. Sandeer from Ducat. The main Objective of this one day workshop was to introduce Mean stack, Technology designed to emphasize code readability. Learners will gain the working knowledge needed to start programming, debugging and using Mean stack in everyday tasks. Mean stack refers to a collection of JavaScript technologies used to develop web applications. Therefore, from the client to the server to the database everything is based on JavaScript. Express JS is a framework used to build web applications in Node. Angular JS is a JavaScript framework developed by Google.
---
Induction Programme for Post Graduate Students
The new academic session commenced on 19th August'2019 with induction programmew.e.f 19th August - 21st August 2019 for MBA 23rdand MCA 21st batch respectively. On 19th August - Dr. Ritu Arora, Registrar and Vice Principal of the Institute addressed the students and encouraged them for putting in efforts their best efforts, excelling in academics and keeping themselves abreast with the happenings around them to become effective future managers in future. The resource person of Technical Session-I was Ms. Charu Smith Malhotra ,CEO and Co-Founder TAPDC . She motivated the students to develop into professionals that the corporate world requires and advised the students to be aware of digital trends, create networking with right people, learn entrepreneurial skills and develop creative thinking. Dr.Meera Arora proposed Vote of thanks to Ms. Charu Smith Malhotra for her valuable inputs to the students.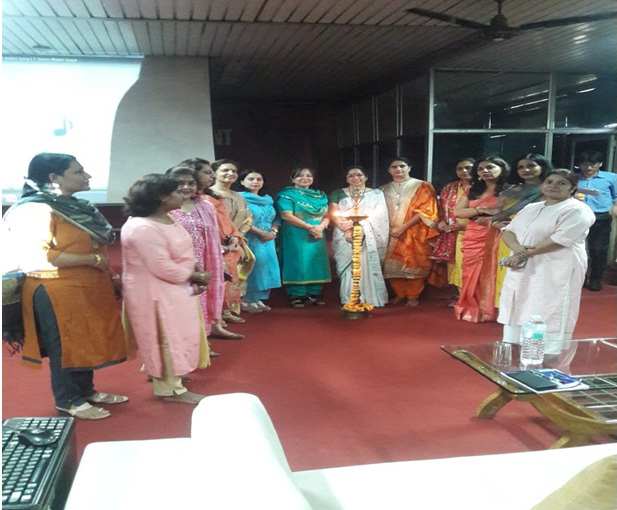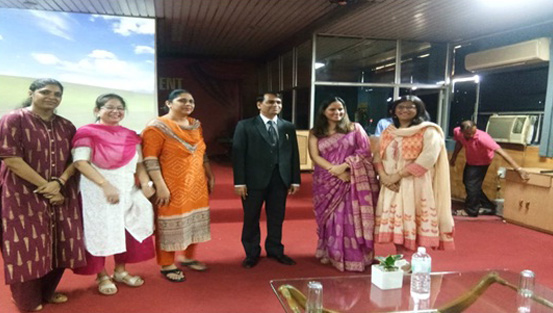 ---
Induction Program: Genesis 2019 for Under Graduate Students
New academic session commenced with the induction programme on 22nd July, 2019 for Undergraduate courses of Management. The Principal Director, Dr. Sanjeev Sharma welcomed the students to the institute and shared DAV philosophy with them. After formal start of the induction program, two sessions were conducted for students. The first session was taken by Mr. Vikram Dhawan who is a motivational speaker and alumni of DAVIM. Then another session was taken by Prof. Monica Bajaj from IBS, who talked about communication and soft skills. On the second day, training sessions were conducted by in- house faculty of DAVIM, Dr. Hema Gulati, Dr. Anjali Ahuja, Dr. Rashmi Bhargava and Ms. Archana Mittal. Talent fiesta was organized on the third day of Induction Program. Students participated with a great zeal in various activities like Dancing, Singing and poetry etc. On day four, Dr. Meera Arora, CA Bhawna, Ms. Rajnipriya and Ms. Esha Khanna conducted training sessions for students. On the last day, a motivational session by CA Tajender Bhardwaj was conducted for the students. In the end Rotaract Club members interacted with the students.