Sarfarosh - The Patriots Club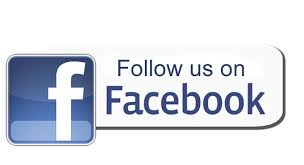 The formation of club was announced on 26th March 2019 on occasion of Inter-College Quiz Competition on the theme 'Zara Yaad Karo Qurbani'. The club functioning is taken care of by the faculty members of BBA, BBE and BBA (II) Department, Ms. Neetu Juneja, CA Alka Narula, Dr. Nidhi Turan, Dr. Dhirty Gulati, Ms. Akanksha Arora, Ms. Kanika Duggal, Mr. Prince Ahuja, Ms. Archana Mittal along with the student volunteers. Dr. Anjali Ahuja is Convener and Dr. Rashmi Bhargava is Co-convener of the club. The motive behind establishment of this club is to spread the feeling of nationalism among the youth. We need to inculcate this spirit among the youth so that everyone contributes to nation-building. Every youngster should come forward and contribute for society and for the development of the country. The club conducts various activities which promote national values and thus helps in creating a good and responsible citizen. Various activities conducted by Patriots club are given in the following section.
---
Video Blogging Competition On The Occasion Of Republic Day
DAV Institute of Management, Faridabad celebrated the 72nd Republic Day by organising "Video Blogging Contest" on the topic "True meaning of celebration of Republic Day". The initiative was taken by Patriots club in association with IQAC. Students showcased their talent with full enthusiasm. They made creative videos presenting their views on true meaning of Republic Day which were uploaded on YouTube. The first position was jointly shared by Sneha Kapoor of BCA and Sachin Kathuria of BSc (Hons) CS, second position was also jointly shared by Yatinder Singh of MBA and Gautam of BBA(BE) and third position was bagged by Priyanka Sharma – BBA(II). E Certificates were given to all winners. The day marked a successful celebration of republic day and due homage and honour expressed towards the people who played their part in making the country secular. Dr. Sanjeev Sharma, Principal Director and Dr. Ritu Gandhi Arora, Vice Principal, DAVIM appreciated the efforts of Patriots Club and IQAC for successfully organising such a wonderful event which has created a feeling of patriotism among the students.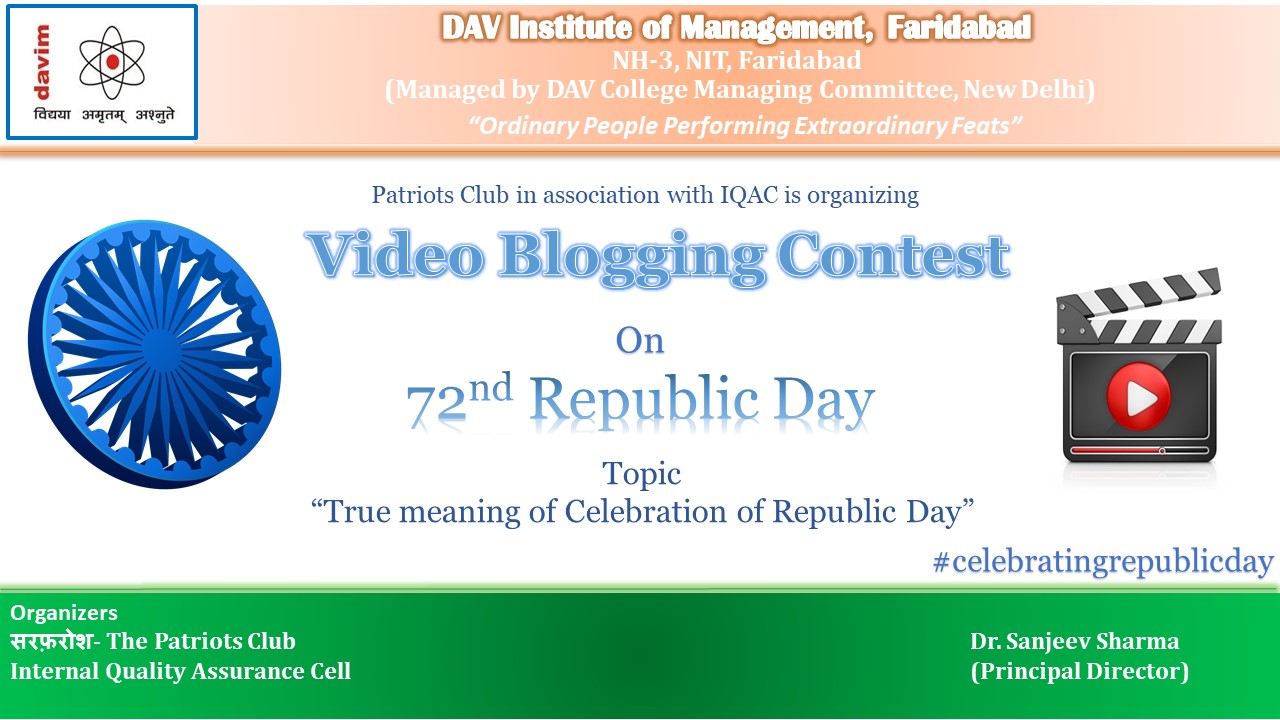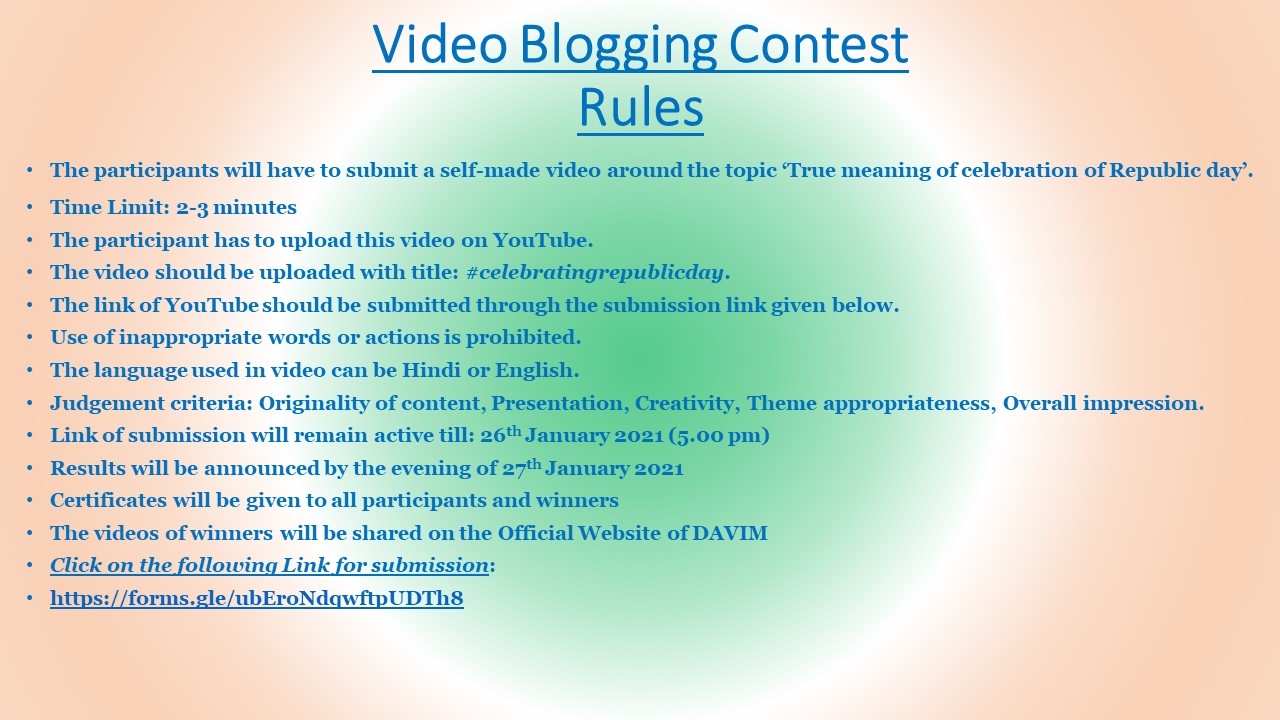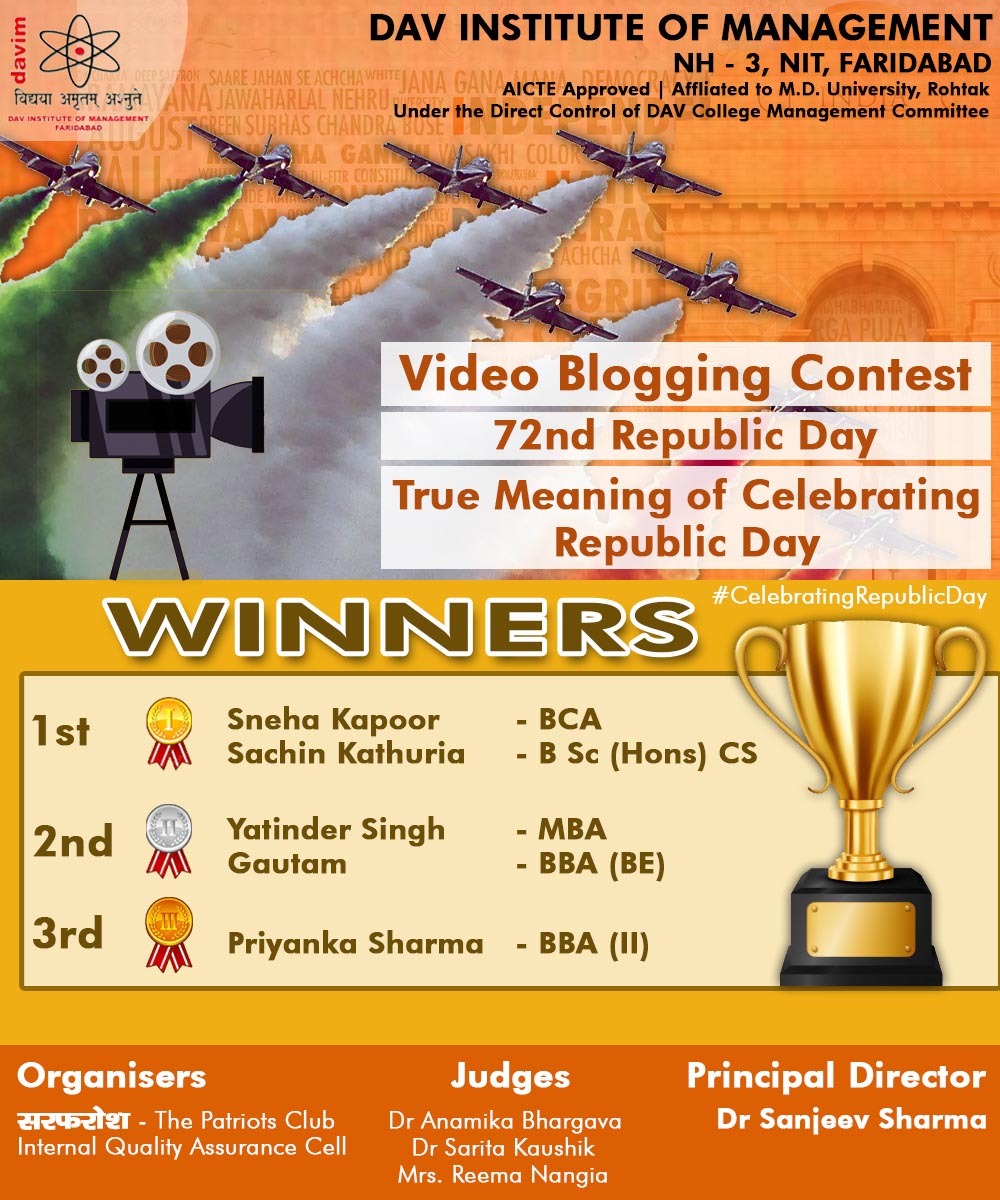 ---
"INDEPENDENCE TO SELF- RELIANCE" – INDEPENDENCE DAY CELEBRATION
It was a red letter day in the history of India when the country got her freedom on August 15, 1947. It is a grand occasion calling for impressive celebrations throughout the country that inspires sentiments of nationalism and patriotism. The occasion is celebrated with great zeal and gusto across the country and the official celebrations take place at the Red Fort in New Delhi. Due to the unfortunate pandemic, DAV INSTITUTE OF MANAGEMENT, Faridabad, virtually celebrated the occasion with unprecedented patriotic fervor on August 14, 2020 in the form of a Valedictory session of National Online Slogan Writing (Abhivyakti) and Collage Making& Presentation (Zara Yaad Karo Qurbani) Competition. Dr. Dhrity Gulati vigorously initiated the programme which was followed by showcasing the mesmerizing video of Indian Flag prepared by Mr. Sachin Narula. Principal Director of DAVIM, Dr. Sanjeev Sharma congratulated the stakeholders on such an auspicious occasion and uplifted their spirit with his words of wisdom. Introduction to the theme of the event was given by Dr. Anjali Ahuja, Convener – Patriots Club. Dr. Rashmi Bhargava, Dean - Holistic Growth, welcomed the Chief Guest and proceeded the programme further. The honorable chief guest, Captain Akhilesh Saxena, Kargil War veteran and corporate icon graced the occasion with his presence. Apart from being a veteran in army, Captain Saxena is a versatile speaker and is also excelling in the corporate world. Sir reflected on the hardships faced by the defense personals and success stories of the Kargil War. The results of the competition were declared by Dr. Parul Nagi, Dean – Cultural & Extra-Curricular Committee. For Slogan Writing Competition, Yashika Aggarwal (Aggarwal College) secured the first position, Preeti Sharma (DAV Centenary College) secured second position whereas, third position was bagged by Renu Kumari (Govt. College for Women, Faridabad). On the other hand, for collage Making Competition, Nishi Khatri (Revolt of 1857) bagged the first position, second position was shared by Pooja Verma (Kheda Satyagraha) and Simran Bhatia (Partition of Bengal)whereas, Charu Gandhi (Champaran Satyagraha) secured third position. The organizers of the event were SARFAROSH – The Patriot Club, Holistic Growth Department, Student Support Department, Extra Curricular Activities Department, NCC & NSS. The team members who managed the event behind the curtain were CA Alka Narula, Dr. Nidhi Turan, Ms. Neetu Juneja, Ms. Archana Mittal, Ms. Esha Khanna, Ms. Kanika Duggal, Mr. Prince Ahuja, Ms. Maya Verma, Ms. Akansha Sharma, Dr. Deepak Sharma, Ms. Poonam Singh, Mr. Ashish Goyal, Dr. Hema Gulati, Mr. Sachin Narula, Ms. Kavita Goyal, Ms. Vandana Jain, Ms. Ritu Gautam & Mr. Harish Rawat. The judges for Slogan Writing Competition were Dr. Neelam Gulati, Dr. Pooja Kaul, Dr. Ashima Tandon & Ms. Priti Bali. Whereas, Judges for Collage Making Competition were Ms. Reema Nangia, Dr. Meera Wadhwa, Dr. Sunita Bishnoi & Dr. Gurjeet Kaur. The closing remarks for the event were given by Dr. Ritu Gandhi Arora, Vice Principal & Registrar (DAVIM) and a formal vote of thanks was extended by Dr. Meera Wadhwa, Dean – Student Support. The event concluded with National Anthem.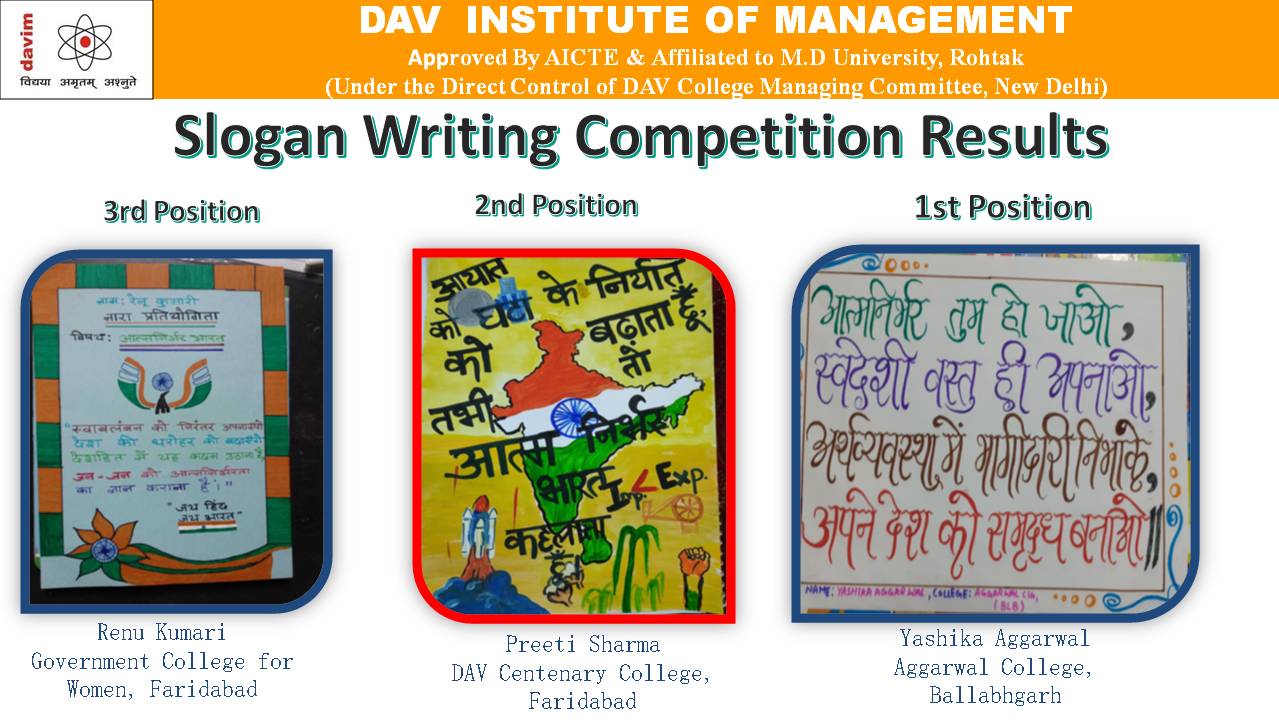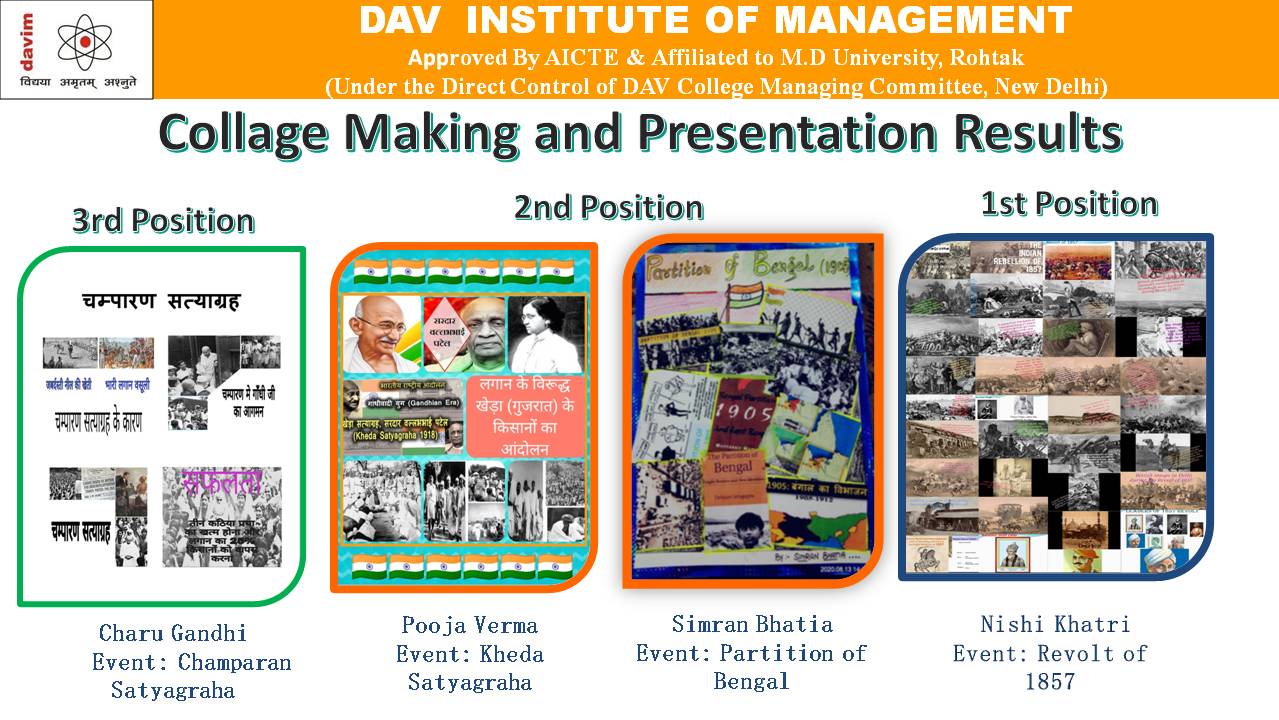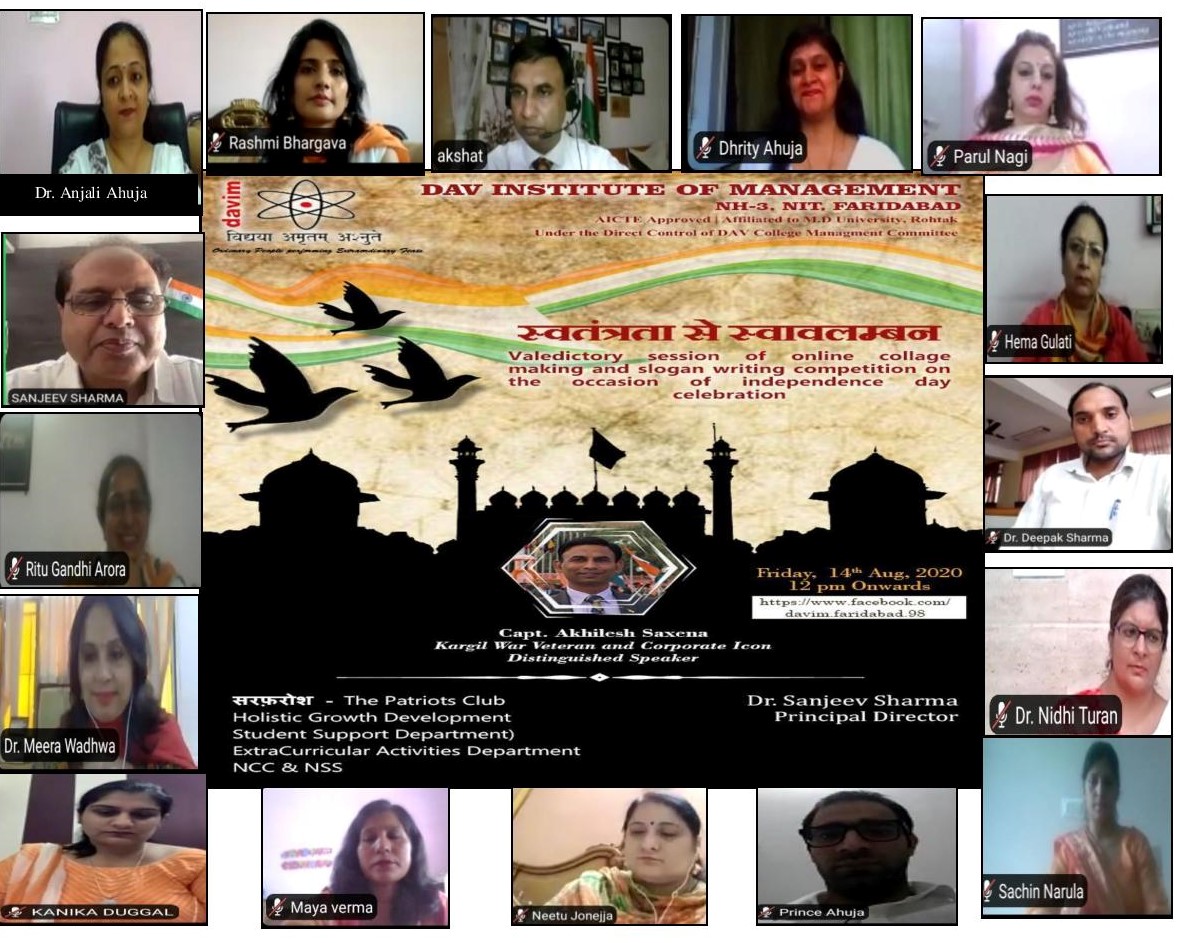 ---
Commemorating Kargil Vijay Diwas (26th July 2020) Webtalk "Know Your Real Heroes"
Every year July 26 is celebrated as 'Kargil Vijay Diwas' to remember the success of Operation Vijay in 1999 Kargil War. This year marked 21st anniversary of India's victory and it is a moment of great pride for every citizen of this country. To pay respects to the Jawans who sacrificed their lives on the battlefield, SARFAROSH – The Patriots Club of DAV INSTITUTE OF MANAGEMENT, FARIDABAD organized a Web talk on "Know Your Heroes". The esteemed speakers of the day who illuminated the event with their intriguing experiences were Col. D V Sheoran, Col. Deepak Singh, Sqn. Ldr. Ankur Naik and Major Vikrant Khare. Col. D V Sheoran shared the life experiences of a soldier and motivated students to join Indian Army. Col. Deepak Singh focused on his bitter sweet experiences of Kargil War 1999. Sqn. Ldr. Ankur Naik motivated the viewers by sharing his experiences through riveting stories. Whereas, Major Vikrant Khare astonished the virtual audience by connecting Army experiences with civil life. 1000 plus viewers within an hour and chat box flooded with queries were the evidence of event's success.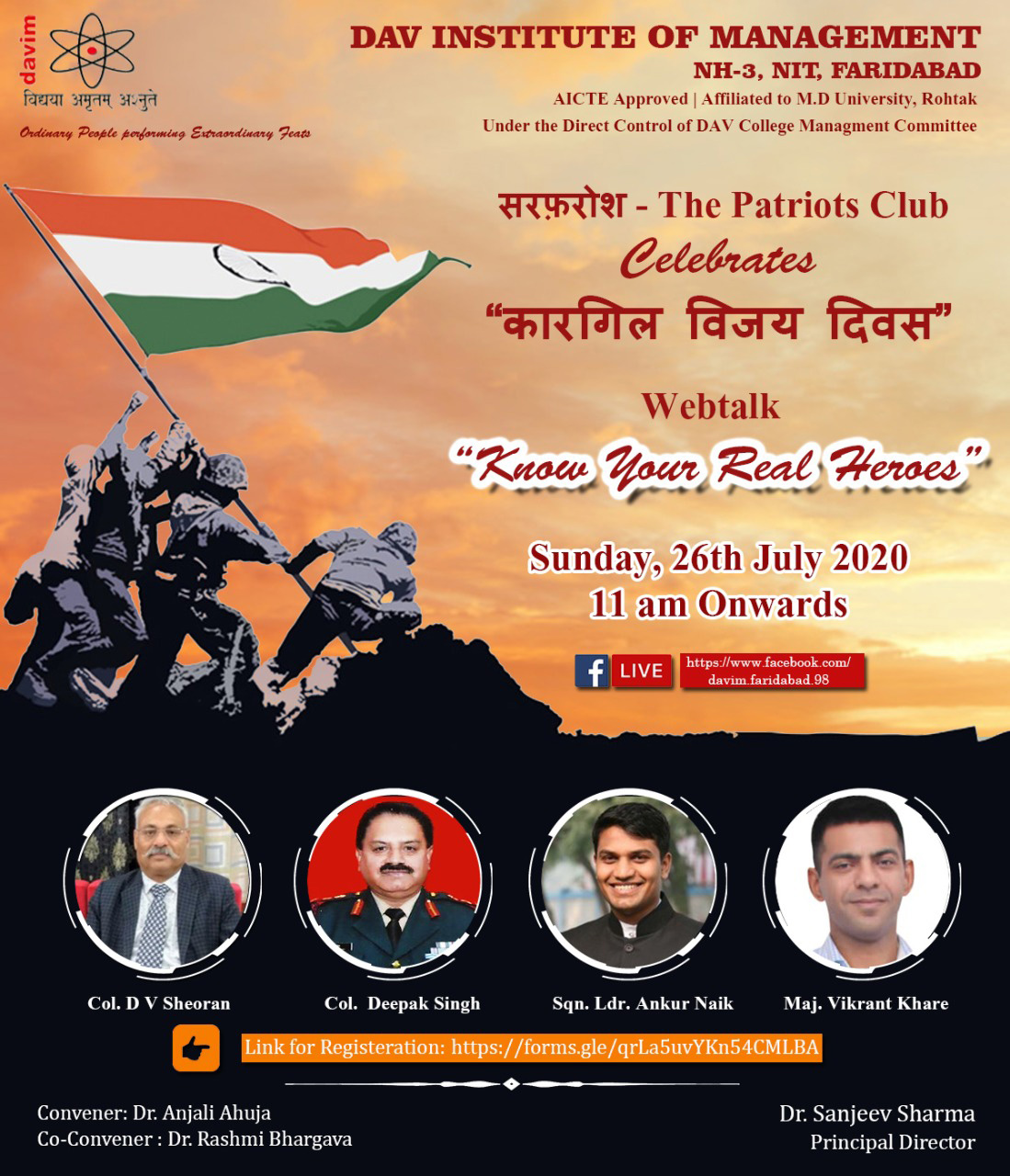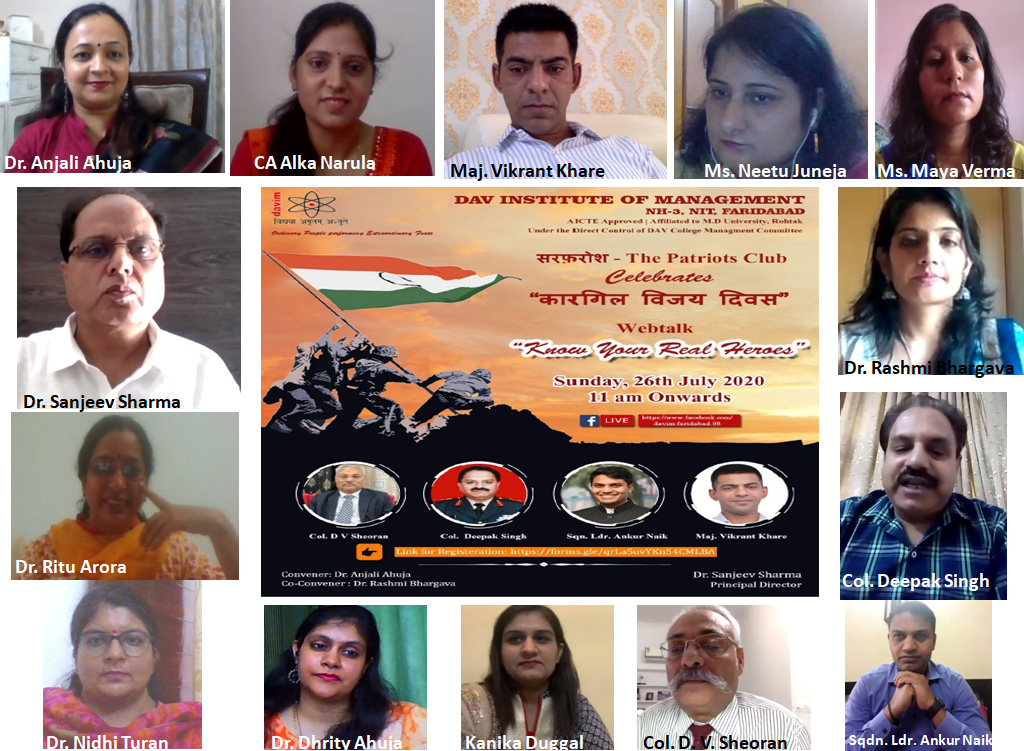 ---
Commemorating Kargil Vijay Diwas (26th July 2020) 'Reminiscence' an Inter College Competition
To commemorate Kargil Vijay Diwas, 'Reminiscence' an Inter College Competition was organized in which events like Poster Making Competition (Srijan) and Hindi Poem Recitation Competition (Kavyanjali) were held. Plethora of entries from all over the North India were received which levelled up the competition. The theme of both the competitions was Kargil Vijay Diwas. In Poster Making Competition (Srijan) Heena Kapoor (DAVIM) bagged first prize, Mehak Gaur (DAV Centenary) and Pushpanjali Choudhary (DAVIM) were the first and second runner up respectively. Whereas, in Hindi Poem Recitation (Kavyanjali) there was a tie for first position which was bagged by Aashika Garg (DAVIM) and Vikas Silwani (DAVIM). The second and third position were held by Yugi Gupta (Lloyd Institute of Management & Technology) and Sweety Kashyap (DAV Centenary) respectively.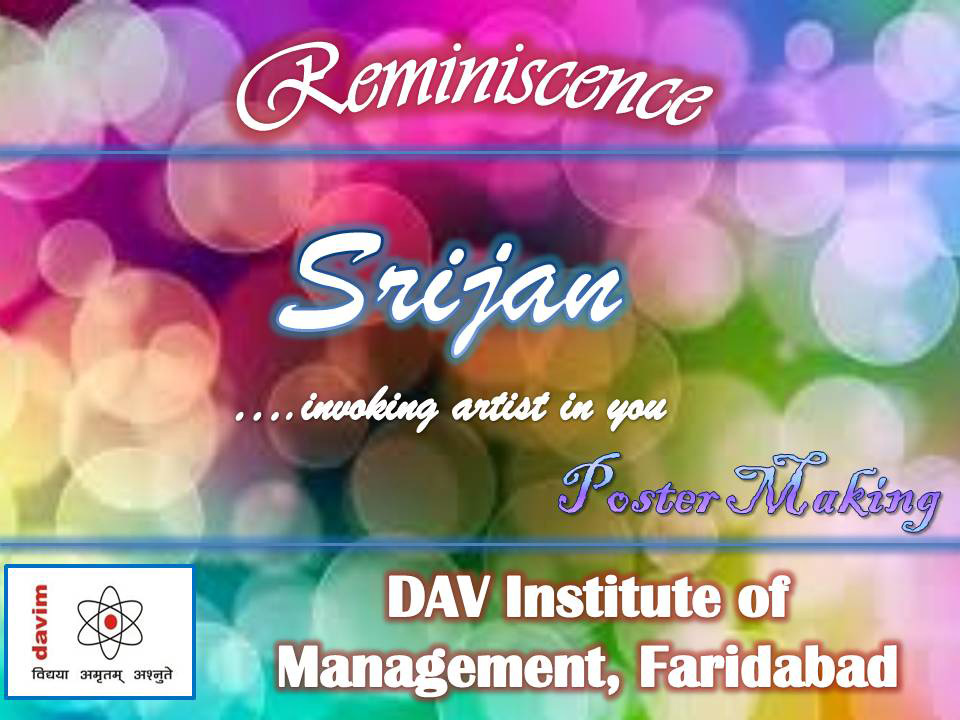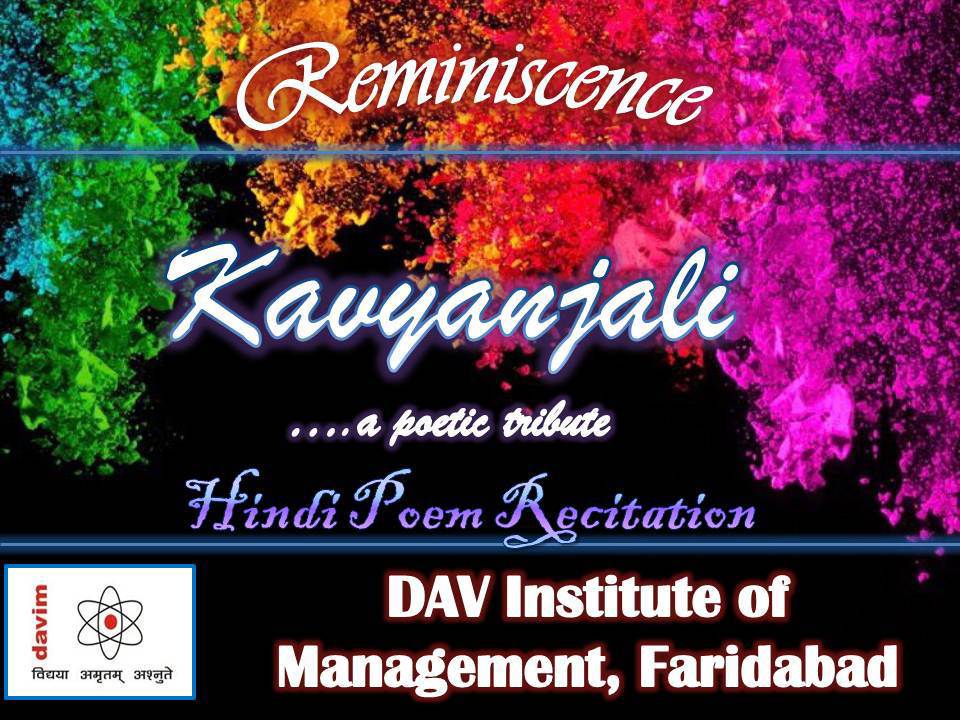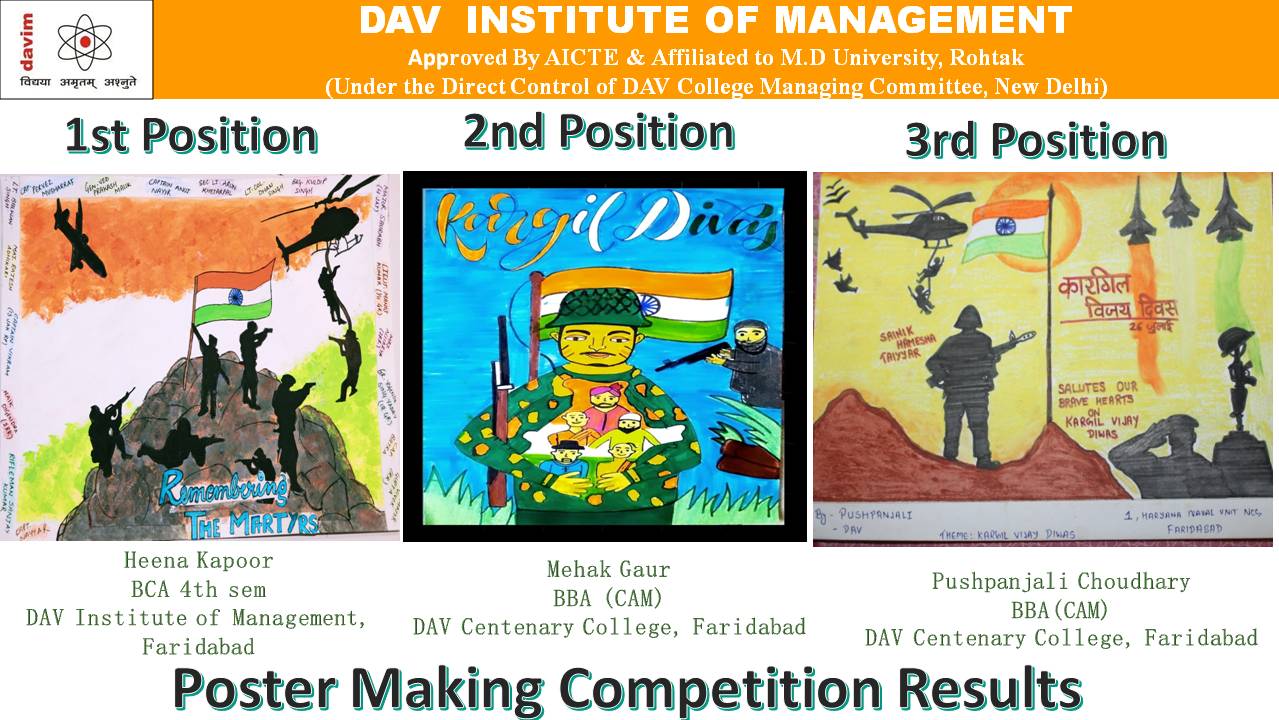 ---
A Tribute to Pulwama's Braves (14th Feb 2020)
India will not forget the sacrifice of CRPF soldiers in Pulwama Attack. 14th February marks the day on which 40 CRPF personnel were martyred in an attack on their convoy in Jammu and Kashmir's Pulwama last year. They were exceptional people who had devoted their lives for their nation. Patriots club members, faculty and students of DAVIM paid tribute to the real heores by observing a 2 minute silence followed by National Anthem.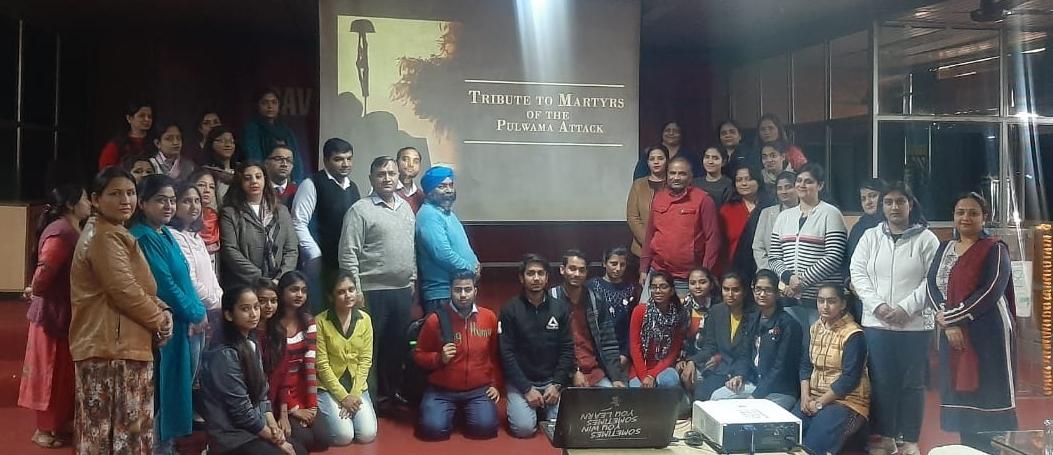 ---
Street Play (25 Jan.2020)
Patriots club organized a street play in collaboration with Rotract club, DAVIM on 25th Jan. 2020 on the occasion of Republic Day. The street play was performed by the students in Town Park, Sector-12, on the topic 'Fundamental Rights'. The students made people aware about their right to equality and right to education.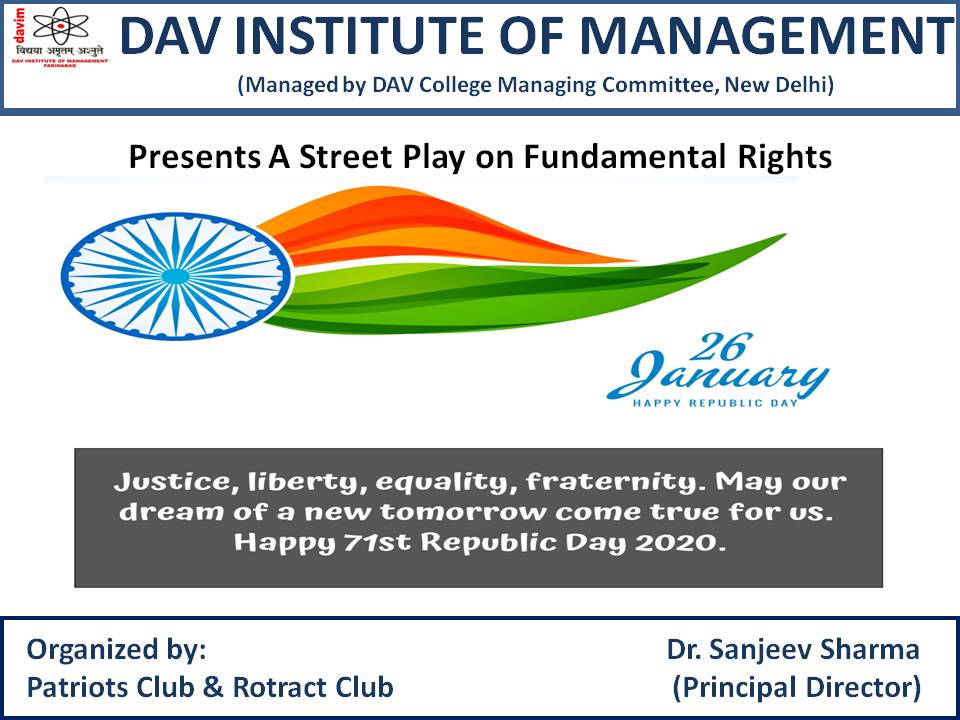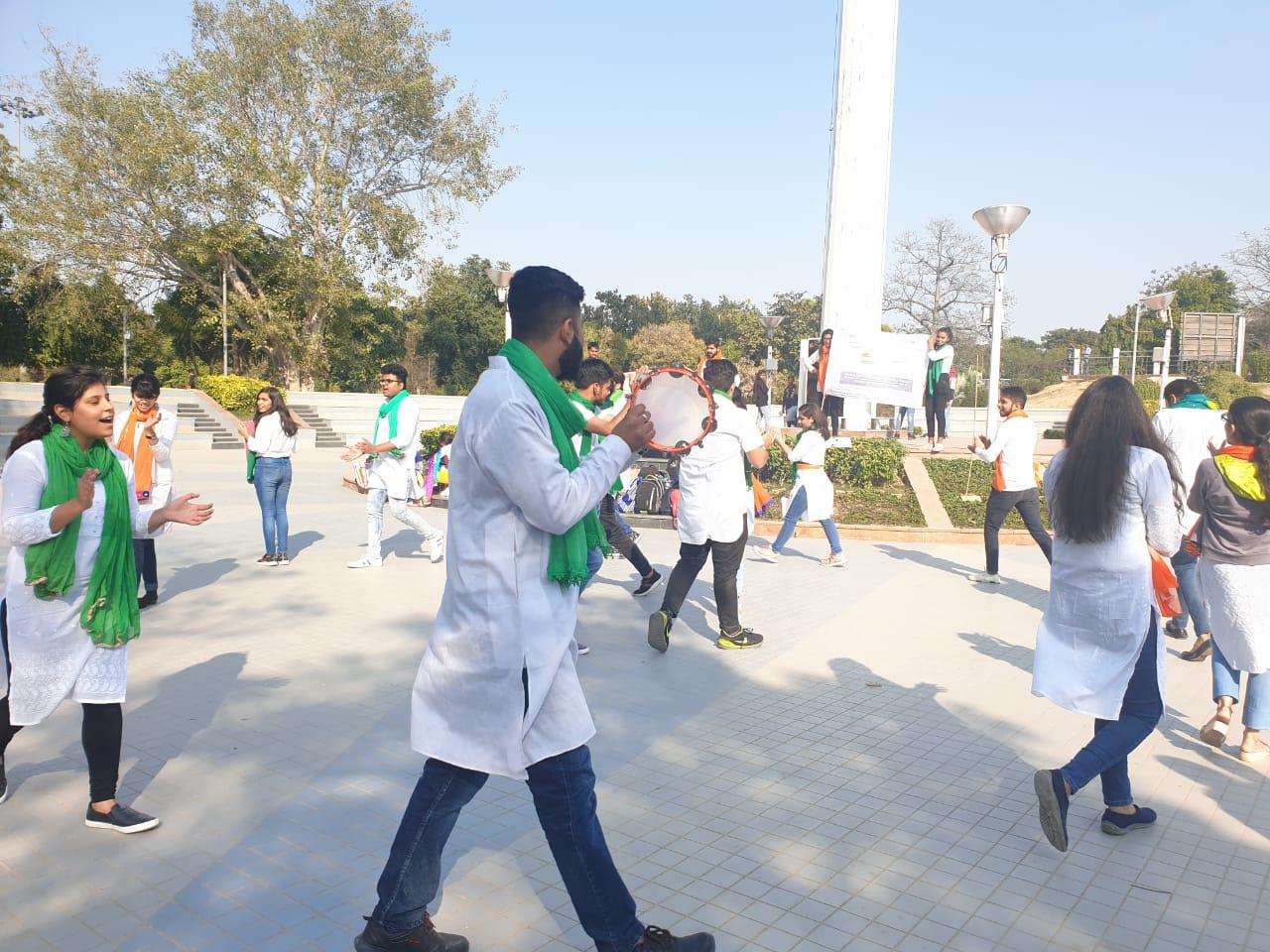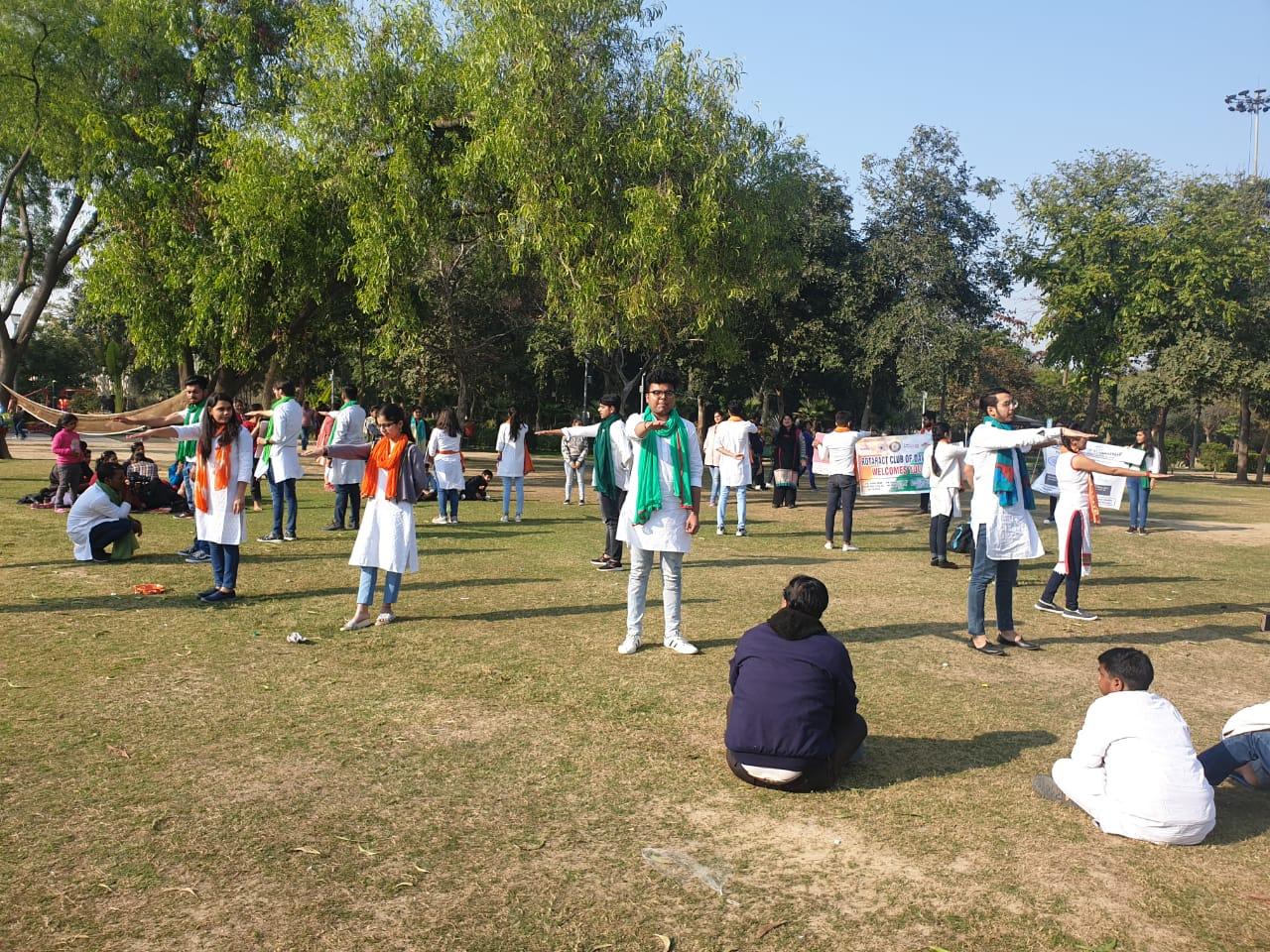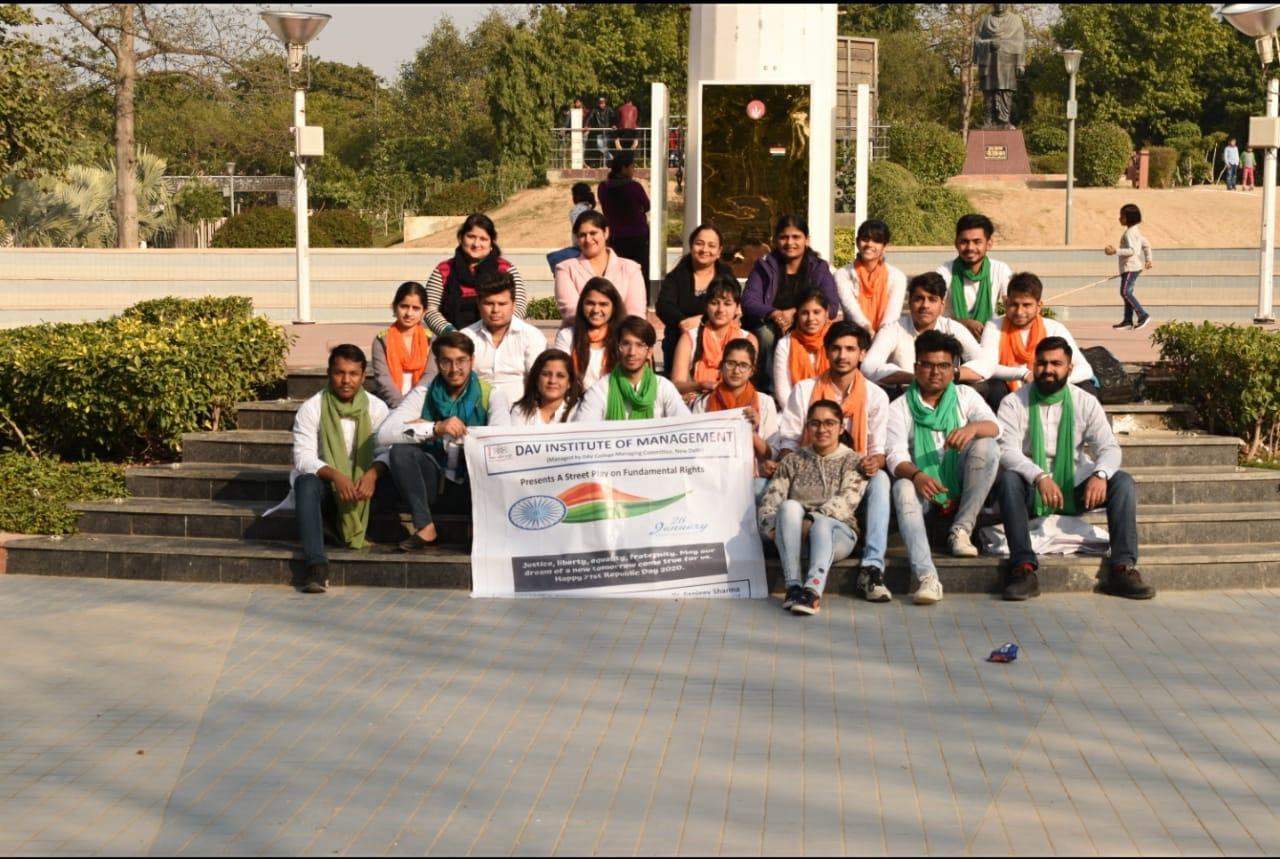 ---
Jashan-e-Azadi (14 August 2019)
The Independence Day was celebrated with full energy, thrill and vigour in DAVIM on 14th August 2019. On this occasion, "Jashn-E-Azaadi" was organized by Patriots Club in collaboration with Extracurricular Activity Department. The Chief Guest was Ms. Nupur Adhlakha (Principal, Gold Field School) and Guest of honour was Retd. Major B.S.Yadav. He shared his real life experiences with the students which were really inspiring and motivating for the students. A series of theme based events like face painting, Rangoli competition, best out of waste competition, solo singing competition, solo folk dance competition, poster making competition and group dance competition took place. In the end, the results of various competitions were announced by the organizing team and certificates were distributed to the winners. The day marked a successful celebration of Independence Day.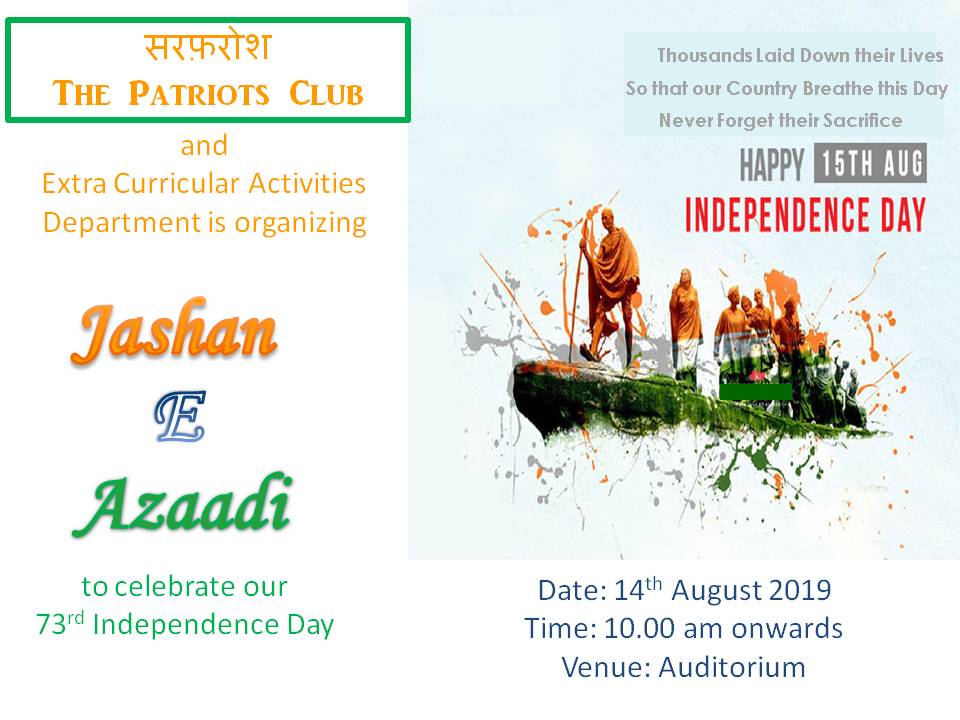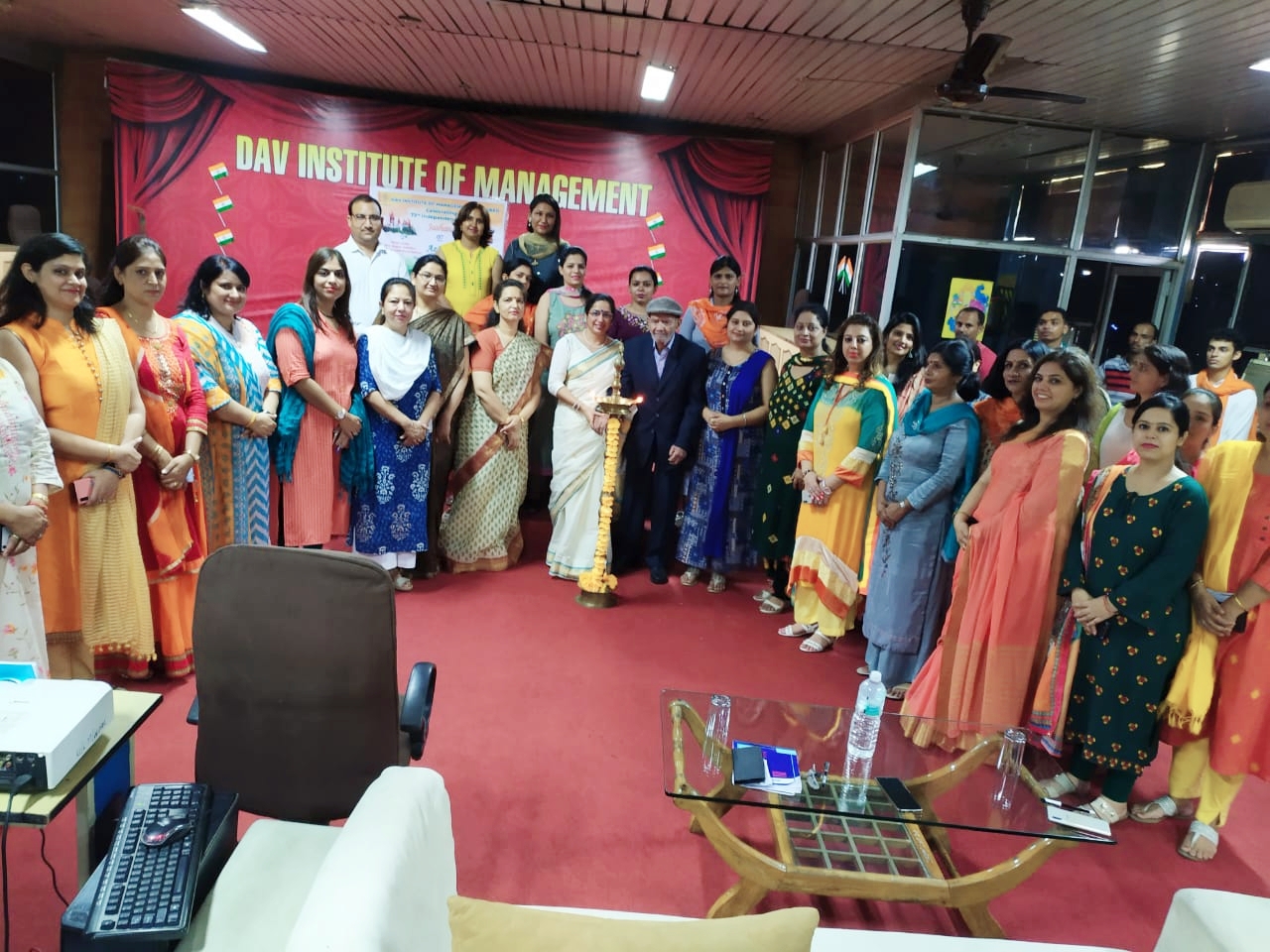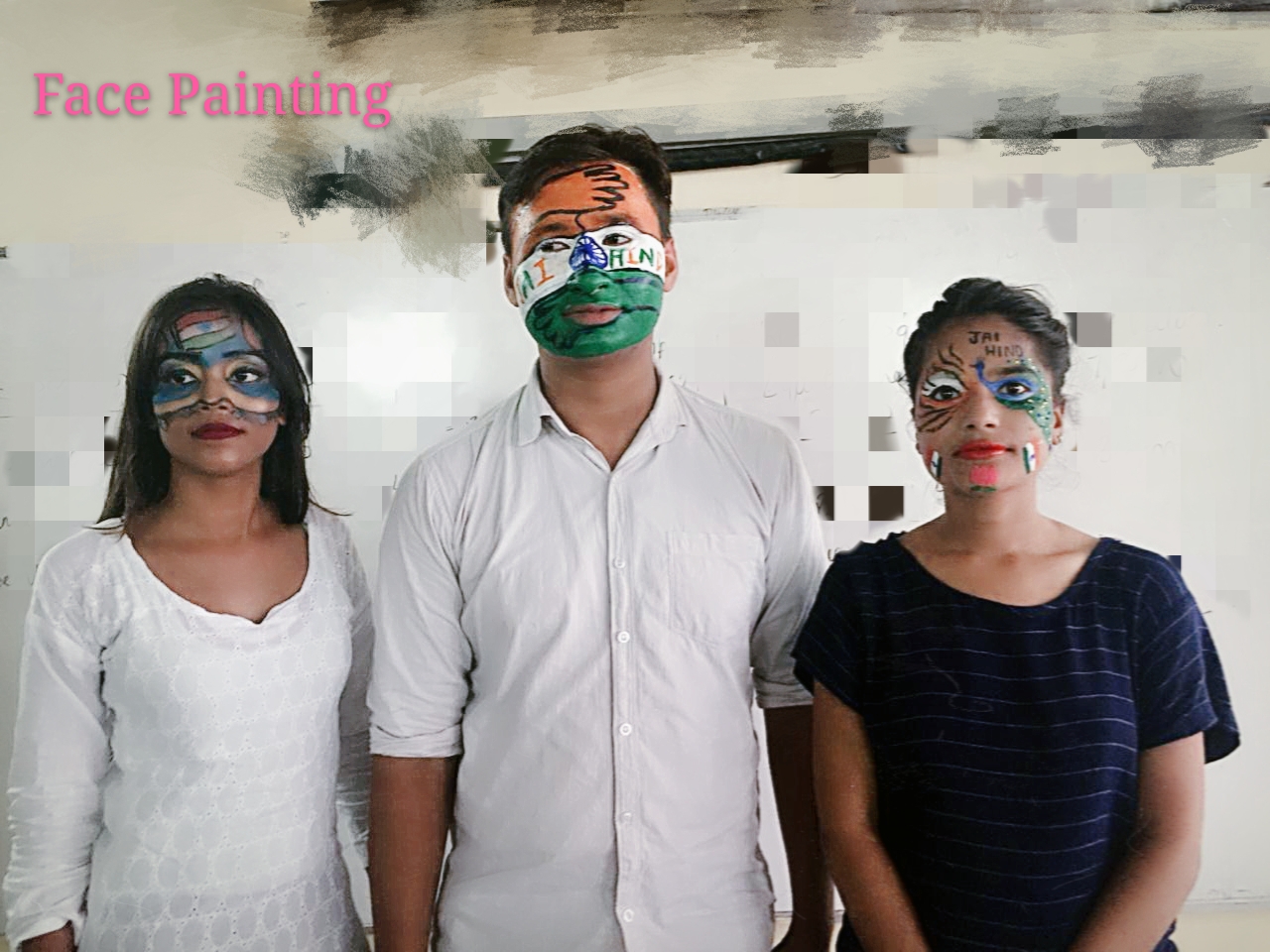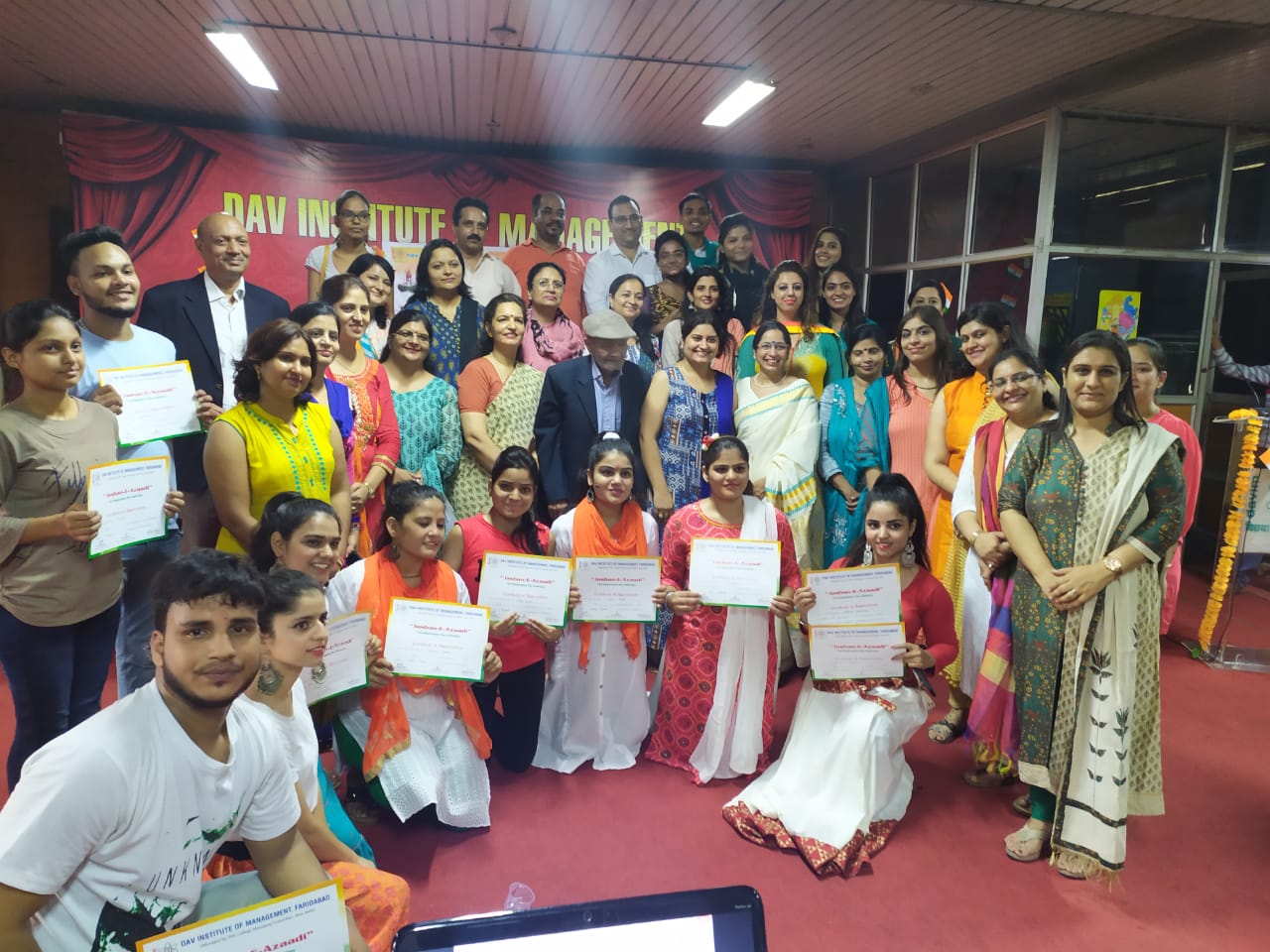 ---