Declamation and Poster Making Competition
The Students' Welfare Department of the institute organized declamation competition and poster making competition to pay tribute to the former President of India Dr. A P J Abdul Kalam, on 8TH August 2016 in its Tarang auditorium. The students were asked to express their ideas through paintings, collages or sketches. Dr. Neelam Gulati encouraged the budding artists. The day was full of fun and zeal. In the Declamation competition, the 1st Position was bagged by Ms. Twinkle BBA (BE), followed by runner-up Ms. Priyanka Bhambhri BBA(CAM).1st position in poster making was bagged by Ms Tanisha BBA(CAM) and the runner-up was Ms. Mahima Khanna BBA(B.E) . An Inter-Departmental Skit Competition was organized on 24th September 2016 within the institute's premises on the societal topic- "Respect towards Elders and Protection of the Environment." Amongst the five participating teams, BBA (1st yr) bagged the first prize, with the theme of "Respect towards Elders". Also, the 2nd prize was awarded to the students of BBA (B.E) .Dr. Neelam Gulati lauded the efforts of the organizers and the students and encouraged them to participate in future in myriad extra-curricular activities to develop their expertise in different fields. The Student Welfare Department conducted a Declamation Contest on 6th February 2016 for the students. The students from all the courses participated in the contest. The students were encouraged to speak boldly and confidently. The topic of the contest was " Individual viewpoint on "ODD-EVEN Ride". Varnika from BBA(CAM) was declared the winner, Anusha from BBA(BE) was the first runner up and Vaibhav Sharma (BCA) was the 2nd runner up. In the end Principal Dr. Neelam Gulati awarded the competitors with shields and certificates that were seen as a great confidence and morale boosting measure for all the participants.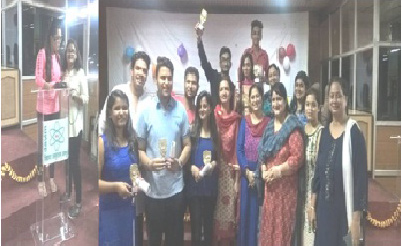 ---
"All the world's a stage, And all the men and women merely players." William Shakespeare.
The Student Welfare Department of DAVIM, gave an opportunity to the students to showcase their acting talentby organizinga mime competition on 26th September 2016 to make everyone aware of the much needed societal activity- "Swatch Bharat". The students from BBA.(B.E) performed the mime exuberantly and depicted their acting prowess wherein through gestures they made the audience realize what all lapses they commit once on the road, like spitting, throwing peel of fruits , wrappers, cigarette butts etc, thinking that to clean the roads is only the job of the municipal workers. Dr. Neelam Gulati, acknowledged the efforts of the organizers and the students and encouraged them to spread such thought provoking messages which would persuade one and all to render their duty toward the nation. She opined that it's only a clean city which would be smart in all respects.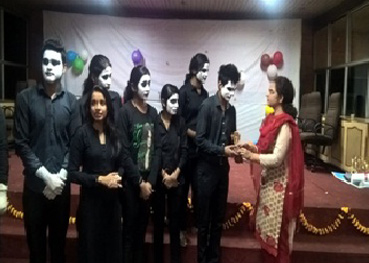 ---
The Student Welfare Department of DAVIM came up with the idea of acknowledging the pious relationship that a student and a teacher shares. So, to mark Teachers' Day celebrations on 5th Sep 2016, a banner was placed in the institute by ICFAI BUSINESS SCHOOL, upon which the students eagerly wrote messages for their favourite teachers along with their names. "Google You Tube Go activity" was organized for the students of all courses. The lively forum featured faculty and staff from across disciplines sharing and discussing how they are successfully integrating technology into their curriculum.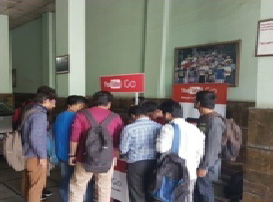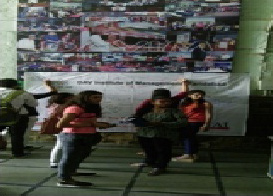 ---
Unnat Bharat Abhiyan- Career Oriented Sessions
A session on "Career in Banking" was conducted on, 29th January 2016 by Mr. Mani Banda a Senior consultant at Third Angle Institute of Banking. He taught students how to develop breakthrough performance and create learning strategies for sustainable growth. A career counseling session was conducted by CDS INTERNATIONAL in the Institute for all the courses. They emphasized that students should have exposure to the international education system that will help them discover themselves while gaining an understanding of a different culture. An interactive session was conducted by Search Squarein the Institute for all courses. The trainer discussed a unique modular programme on Employability Skills, i.e. "THE FINISHING TOUCH", which helps a fresh college student to understand the requirements of an organization and trains the students to meet the expectations of the organization helping him/her to crack the interviews. An interactive activity was conducted by Western Digital Company from 23rd Feb. to 25th Feb, 2016. They installed an information centre and imparted knowledge to the students about new technologies in storage solutions. A workshop on communication effectiveness was conducted on 21st Feb 2017 by Mr. Prashant Goyal, a Corporate Trainer, Public Speaking Enthusiast and a Research Professional. He actively engaged students in the workshop and helped them in Confidence Development and encouraged them to hone new skills. An aptitude based test was organized by T.I.M.E Professionals on 07th February 2017 for undergraduate students. The students gained awareness about different exams pattern based on CAT, Bank PO', SSC, CDS, different Management exams and aptitude exams of reputed MNCs for campus recruitment.The Student Welfare Department organized a workshop for the undergraduate students by Chanakya Academy, on 28th July 2016.The workshop helped the students with studying efficiently, improving memory tips for exam / interview and leading and excelling in the chosen field. A session on "Road to B-school" was organized by the Student Welfare Department in collaboration with ICFAI BUSINESS SCHOOL Professional Dr. Tavleen kaur on 16TH September 2016 for undergraduate management students. The session was followed by GD and PI workshop. An interactive session on "BE A BLOGGER" by Ms. Ruchika from Techno Shiksha was conducted at DAVIM on 21st September 2016 for the UG students. They discussed the impact of blogs and how it has evolved as a medium of expressing oneself. This new concept gained the attention of the students.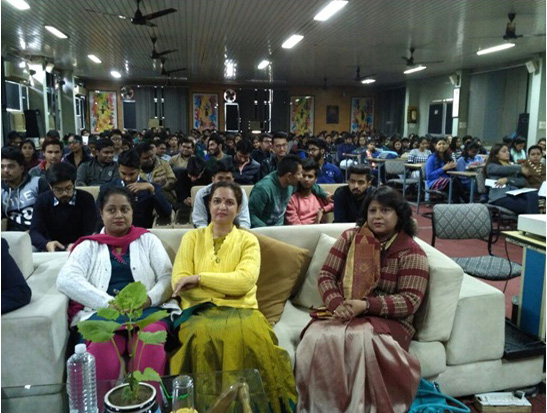 ---
App-A-Thon - An Application and Game Developing Competition
The B.C.A Department of DAVIM organized "App-a-thon" – an Inter-College-Application and Game Developing Competition on 12th November 2016 . The participants from various colleges presented their apps depicting car rental, crime logger, purchase of electrical appliances, food delivery, social networks, video downloading and other games. The participants also showcased the usability of their apps. Professor Dr. Naresh Chauhan, Professor at YMCA, was the Chief Guest and the guest of honor was Dr. R. N. Rajotia, Professor at JIIMS, Delhi. The judges, Mr. Rahul Nagar, DGM Business Paytm, Ms Ashima Girdhar, Project Manager TCS and Ruchika Goyal, Team Leader HCL, appreciated the efforts put in by all the participants. The guests and the judges also gave some tips to the students to improvise their apps. The Head of the institute, Dr. Neelam Gulati, applauded the efforts of the organizers and the students in coming forward with such a rare idea and help in making India Digital.
The Head of the Institute Dr. Neelam Gulati encouraged the students to write blogs and raise their voice for the propagation of social causes, as she too believes in the power of the word. A seminar on "Various Career Avenuesrelated to Media was organized on 22nd September 2016 by Ms. Sonam Saluja from Search Square at the Institute's Premises.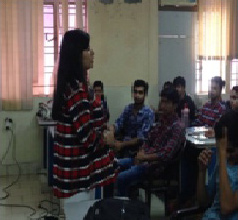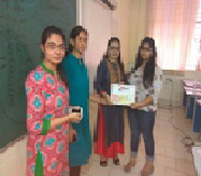 ---
DAVIM organized First Aid Training Sessions by joining hands with Virohan -an Institute of allied health and management sciences from 25th Jan',17 to 31st Jan', 17 for all courses. A medical talk show was organized on 28th Feb, 2017 in the auditorium . Dr.Mrs. Vineeta Arora , Sr. Consultant Eye Surgeon, talked to the students about eye care.
---
DAVIM students took a pledge to maintain cleanliness in and around their surroundings as their contribution to the Swachh Bharat Abhiyan- Clean India Mission - a campaign by the Government of India . To make successful attempt at remembering to keep the environment clean, the students also filled a questionnaire on why and how they should keep the environment clean and the hazards to be faced if they failed to do so. The Head of the Institute Dr. Neelam Gulati appreciated the efforts put in by the Student Welfare Department for this social cause that motivated the students to channelize their energy in the right direction. She also encouraged the students to consider it as their prime task under 'Social Responsibility' to be followed for the betterment of society.
---
Student's Development Sessions
The B.SC (Comp. Science) Hons Department of DAVIM, in association with Nurturing Dreams, hosted Ms. Prerna Bhatia's session for students on Power of Positivity. She spoke to the students on how to control anger and not to yield to stress by adopting a positive outlook towards life. She urged the students to be motivated in life in order to achieve success on the personal and professional front.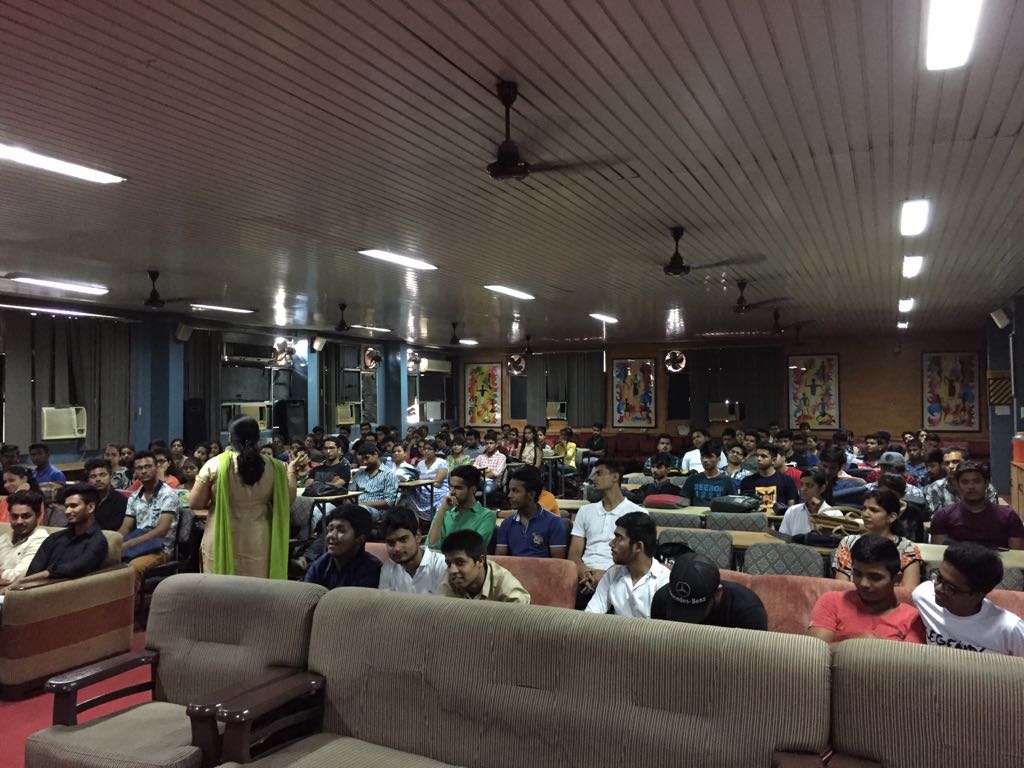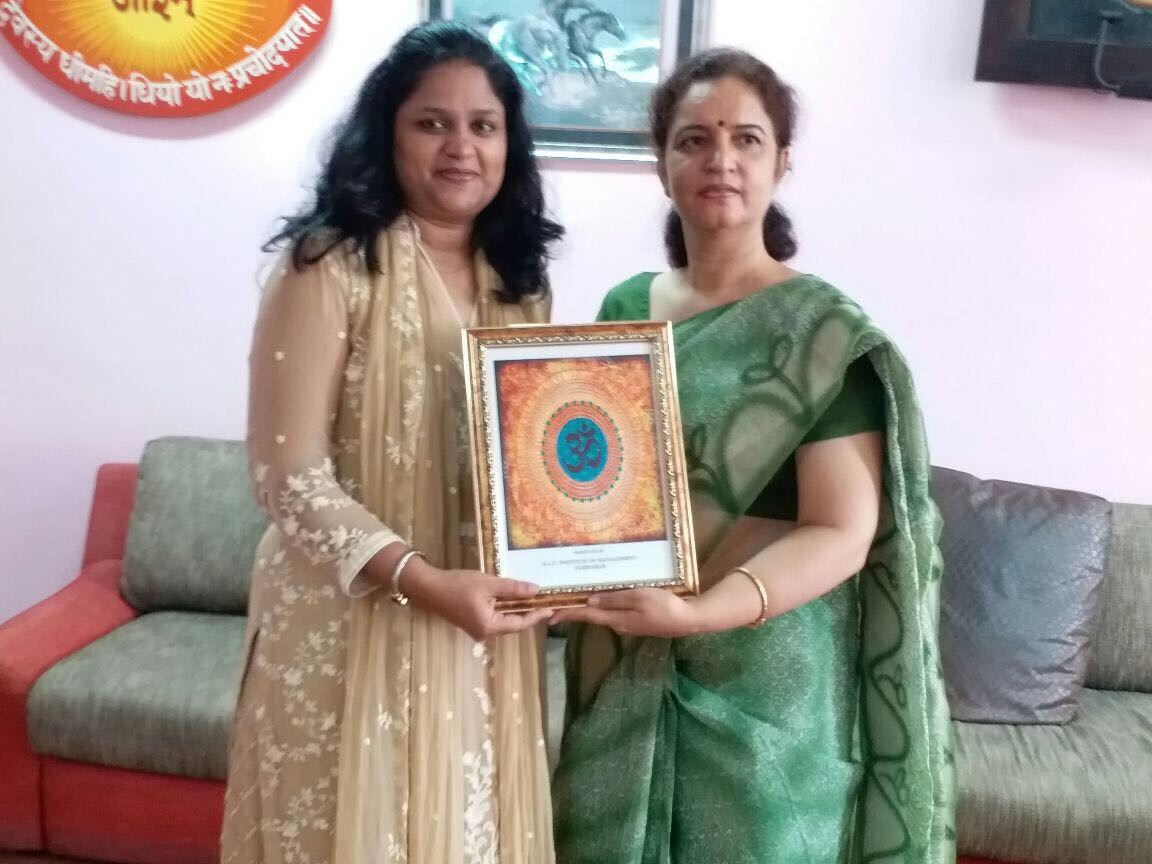 ---
Session on Power of Positivity
The B.SC (Comp. Science) Hons Department of DAVIM, in association with Nurturing Dreams, hosted Ms. Prerna Bhatia's session for students on Power of Positivity. She spoke to the students on how to control anger and not to yield to stress by adopting a positive outlook towards life. She urged the students to be motivated in life in order to achieve success on the personal and professional front.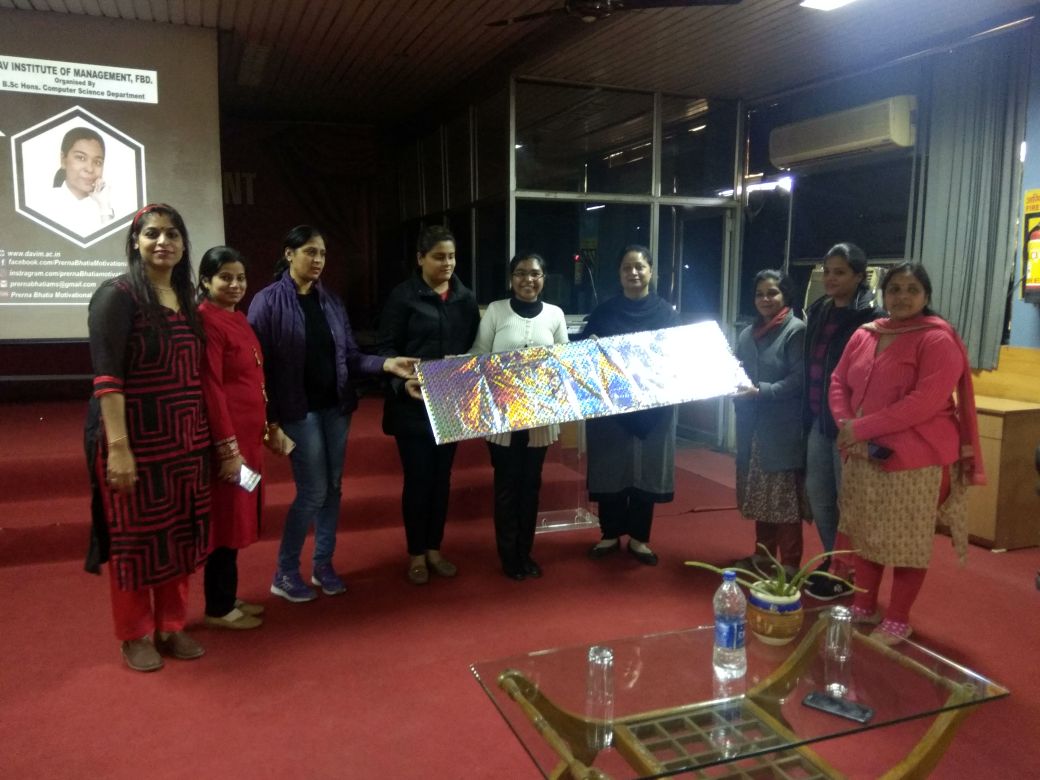 ---
Youth Is Wasted on the Young – Talk-A-Thon
On 18th April'2018, the DAV Institute of Management, Faridabad in collaboration with the Inner Wheel Club of Faridabad, organized a Youth Talk on "Youth is Wasted on the Young" for thestudents of BBA (Management), BBA (Business Economics) and BBA (Industry Integrated). The event was organized by the dedicated team of BBA (Industry Integrated) Department ,C.AAlkaNarula (Program Incharge), Ms. Kanika, Ms. EshaKhanna, Mr. HarishVermaandMr. NitinSetia. The Chief Guest of the event was the President of the Inner Wheel Club Mrs. Nancy Babbar. The core team of Inner Wheel Club which consists of Mrs. Shalu Sharma, Mrs. Sunita Singh, Mrs. Sadhna, MrsShalu Goel also graced the occasion. Mrs. Pooja Gupta, the speaker for the session, empowered the students and enlightened them so as to enabkle them to lead a successful life. Dr. Anjali Ahuja, Director Academics (Management Courses), gave a very knowledgeable speech about youth issues and created awareness among the students regarding their rights for today and tomorrow. The Head of the Institute, Dr. Neelam Gulati- states that it's essential to guide our youth if we all want to have a better tomorrow. As the culmination of the event, CA Alka Narula, ProgrammeIncharge, BBA(Industry Integrated) ,gave the mementos to the guests on behalf of DAVIM and proposed the vote of thanks to the team of Inner Wheel Club.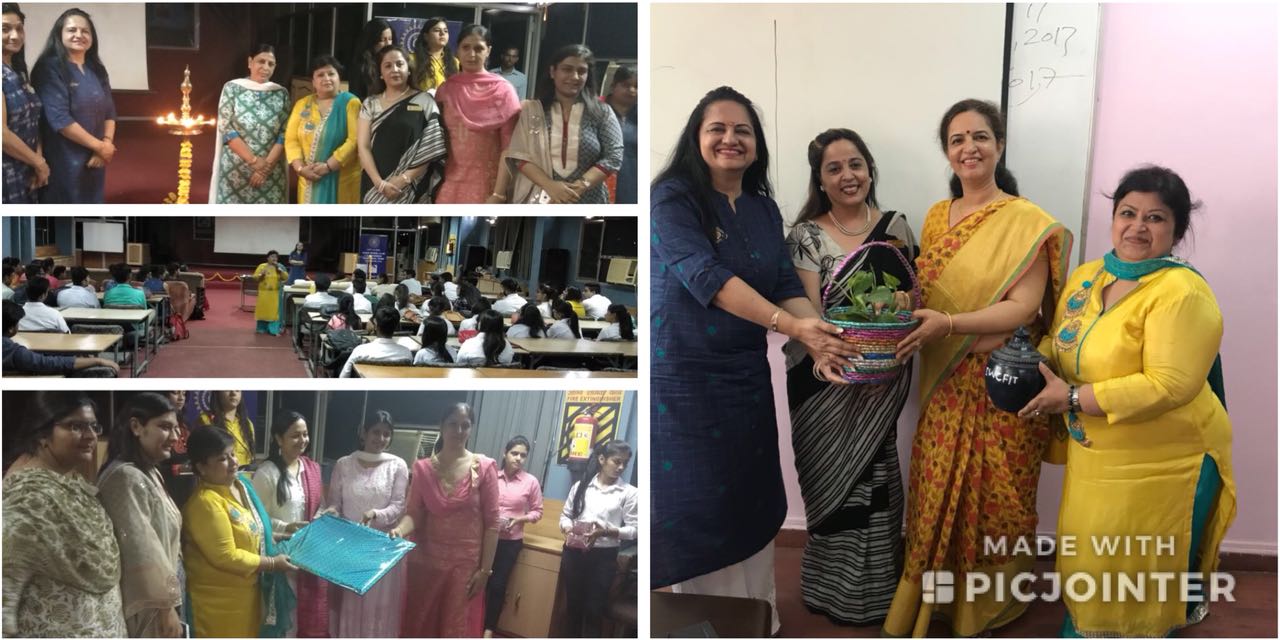 ---
Student Welfare Department of DAVIM joined hands with the students of Pathway School, Gurgaon in their anti smoking campaign. On 4th August, 2018, the student- volunteers of PATHWAY Gurgaon interacted with the students of DAVIM, Faridabad to make them aware about the life threatening effects of smoking and how to get rid of this bad habit. It was organized with a thought that colleges can be the best places for anti-smoking campaigns among youth as youth is the most vulnerable section of society. A Strong anti-smoking campaign may deter students from smoking by focusing on its long term bad effects on
Human health as it causes cancer and heart disease. Students were taught some steps of meditation which could help them in mindfulness in quitting smoking by reducing stress, which often is a trigger for smoking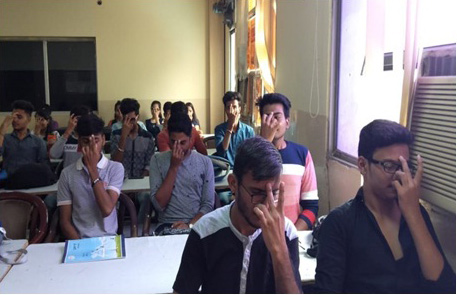 ---
Gaming Championship-Dew Arena
On 21st August, 2018 a Gaming Championship was conducted in collaboration with Pepsico. This event is organized by Pepsico as part of third consecutive year of championship with the participation of 80,000 plus gamers in various formats. The championship for two games 'Rocket League and Street Fighter' was conducted. Pepsico tried to push boundaries and explore new territories in gaming to provide casual, amateur and professional gamers with unique experiences, trainings and opportunities. It is believed that the world of gaming empowers us to take on risks and challenges that allow you to experience the thrill and exhilaration of that extraordinary life, everyday. Students enjoyed this experience and participated with full zeal.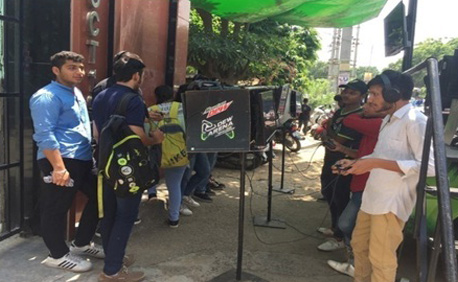 ---
Get Groomed with Flying Machine
Learning cum fun activity was conducted in the institute premises on 23rd August, 2018. A grooming caravan and some outdoor game options like Hammer game, Sound and Mike Games were arranged for students by the Flying Machine. The caravan was designed to look like a brand store on wheels, where all the students could look cool without paying a premium. Team from flying machine tried to give a new look to each student. Students were advised to use good taste in selecting their clothing. Dressing well and appropriately can do wonders for one's self esteem. Team from flying machine gave them live demonstration to dress as per occasion.
---
Two days Certificate Course on Digital Marketing by Webhelpy Technologies
Two days Certificate Course on Digital Marketing by Webhelpy Technologies was attended by MBA students on 30th January-31st January 2019. The workshop aimed at developing an overall understanding of the students about digital marketing, online marketing platforms, social media tools, mobile marketing and email marketing etc. The objective was to educate students in the area of digital marketing analytics.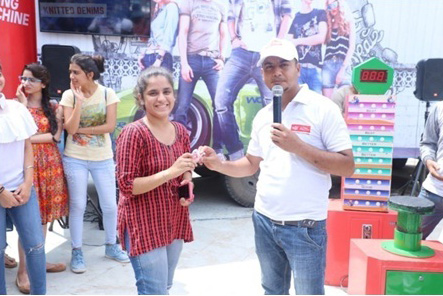 ---
A fun group activity was conducted on 24th August, 2018 for faculty members by Nestle. Lots of games and creative kitchen was included in this. It was a little trial to break the routine, as we all know that fun has a positive effect on motivation levels, determining what we learn and how much we retain. Faculty participated with full enthusiasm and had a gala time.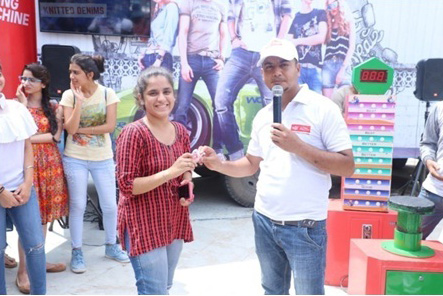 ---
On February12, 2019, a mega counseling exercise was planned by Ministry of Skill Development and Entrepreneurship in association with Occan Light Skill Development with the view to expose students to skill eco system and provide alternate career pathway based on their aspirations and profiles. It will entail technology for the psychometric assessment of the students.
---
Session on Power Sector Awareness Program
On 13 February 2019, Student welfare department organized a session on power sector awareness program. Dr. Rohit Verma, Deputy Director of NPTI took a session and the objective of the session was to provide the basics of electric power system generation, operation and their control. The emphasis was on power system operation with a view to develop economically viable energy sector and energy efficient systems and compliance of laudable objectives of the government of India.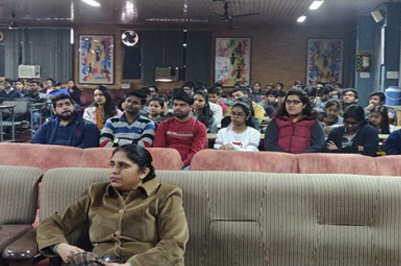 ---
Student Development Programme
DAVIM has always tried to bring him spiritual values in it students. The aim of every SDP is to make aware the students about human values and skills essential in their personal and professional lives. Four students of Master in Computer Applications (MCA), 1st year namely Komal, Deepak, Anjali and Rajni attended an Inter University SDP on "Awareness on Shrimad Bhagwad Gita and Spirituality" on 16th February, 2019 at DAV Centenary College, Faridabad which was organized by its Commerce department. The session was presided by Dr. Saroj and Mr. Shivanshu Singh (member of ISKON). Dr. Saroj elaborated on spirituality and its importance in modern life. Mr.Shivanshu Singh talked about the motivational quotes and shlokas from Gita. The students were overwhelmed by the words of wisdom of the speakers which enriched their knowledge about Gita and how it has answers to all our problems. The students were given participation certificates. In house coordination by Ms. Deepali Grover, Assistant Professor of DAVIM under the guidance of Ms. Reema Nangia, Head of Student Welfare Department.
---
Health Awareness Session conducted by Dietician and Nutritionist Ms.Shalu Bhardwaj (Vestige Marketing Pvt.Ltd.) on 21st February 2020 for the female faculty staff. She discuss about the health issues and also told that body has 46 nutrients but we did not get it from food therefore health supplements are important for health problem. She also talked about sanitary napkins which is now a day made of plastic and air does not pass which results in various ovarian diseases .She suggested to use cotton napkins. She also share her company product catalogue for health supplements.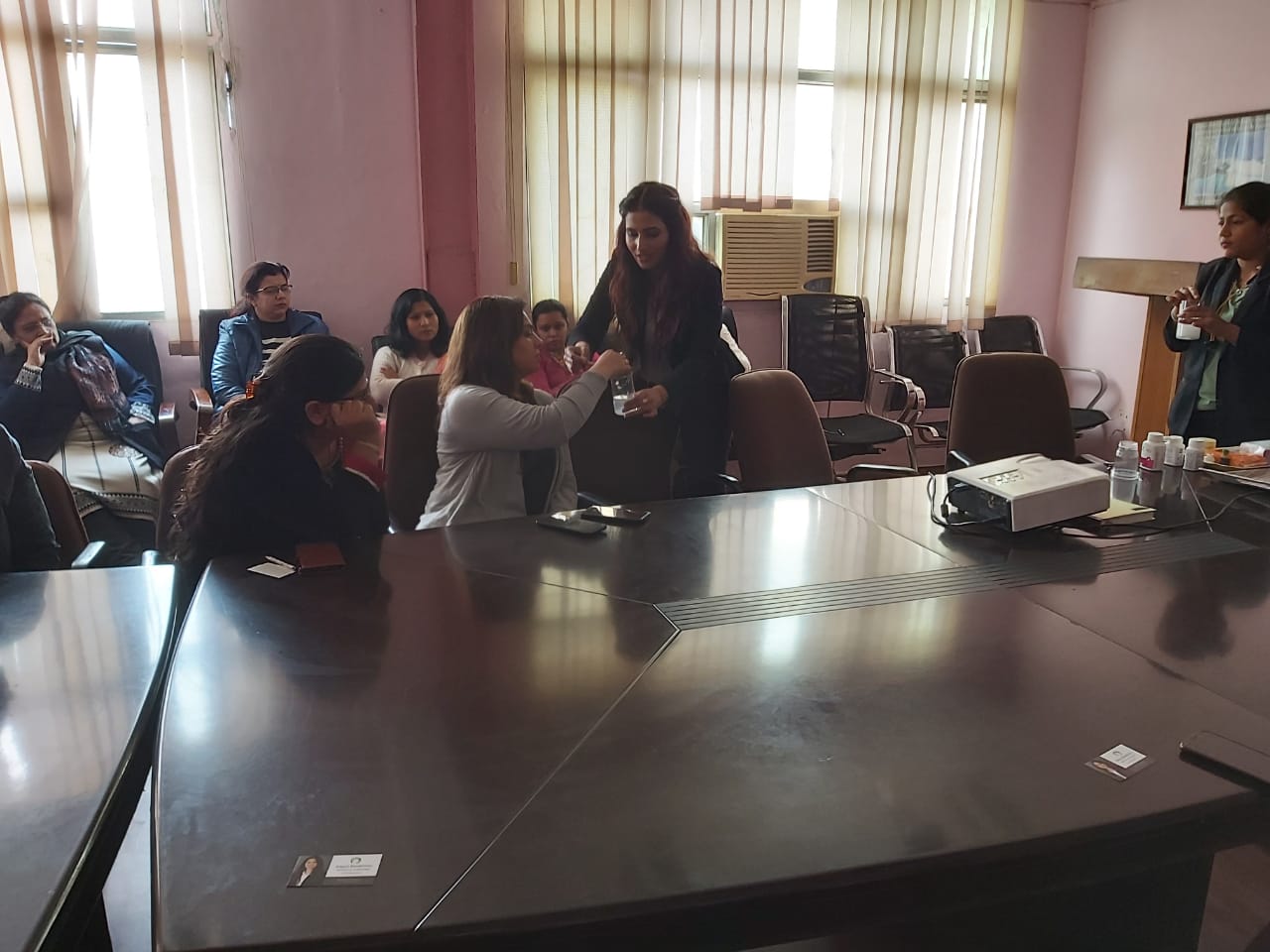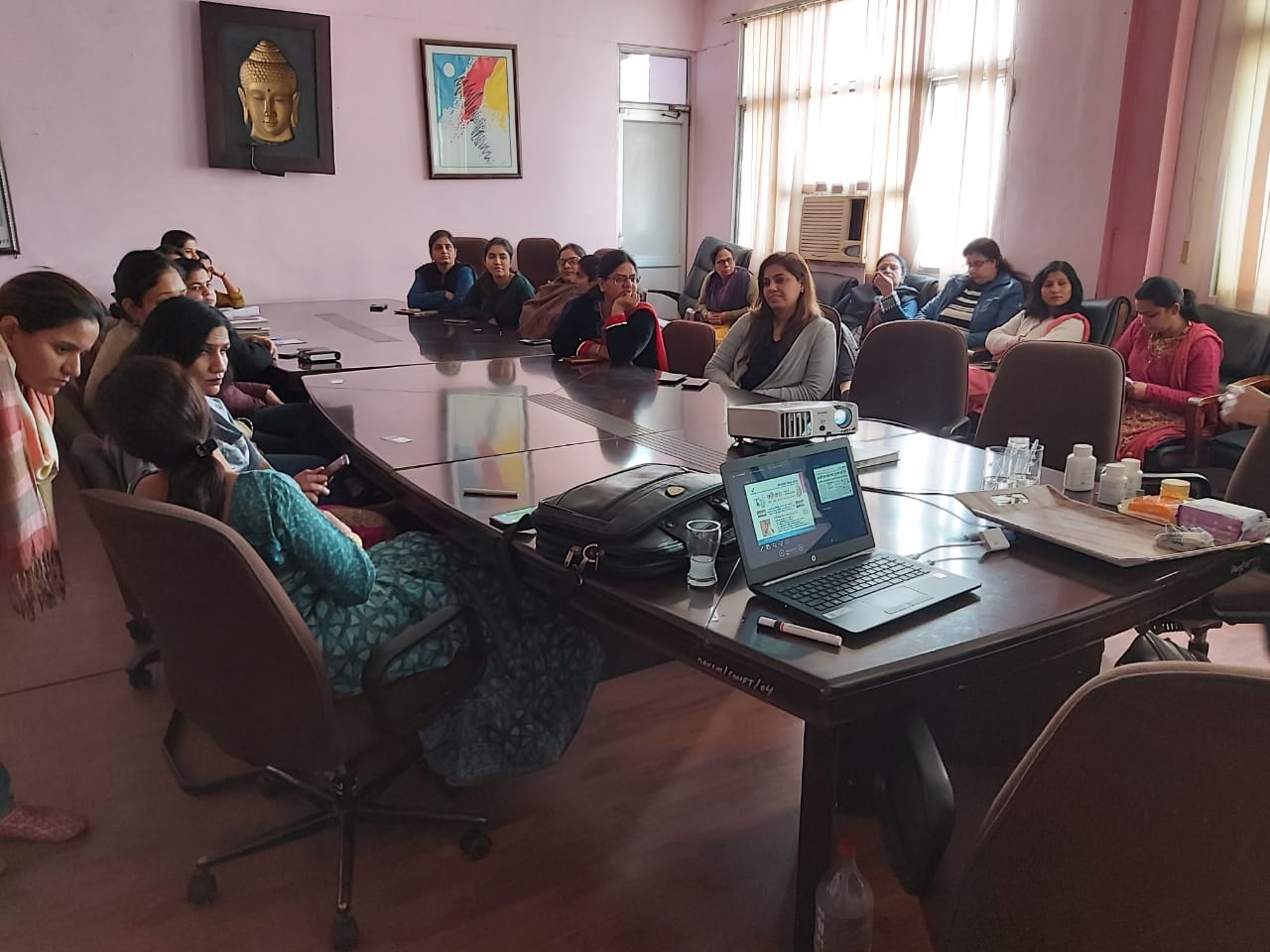 ---
Rashtriya "Krimi Mukti"- National De-worming Day
National Deworming Day (NDD) was observed in the month of February 2020. It aims at eradicating intestinal worms among students in the age group below19 years. Albendazole tablets were distributed and awareness was given regarding the same.
The National Deworming Day is an initiative of Ministry of Health and Family Welfare, Government of India to make every child in the country worm free. This is one of the largest public health programs reaching large number of children during a short period.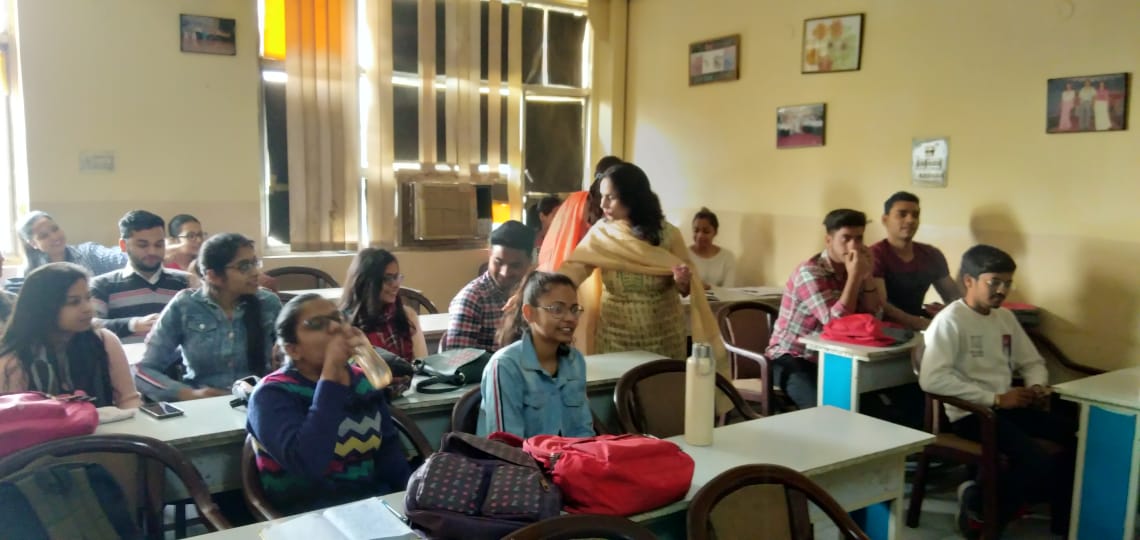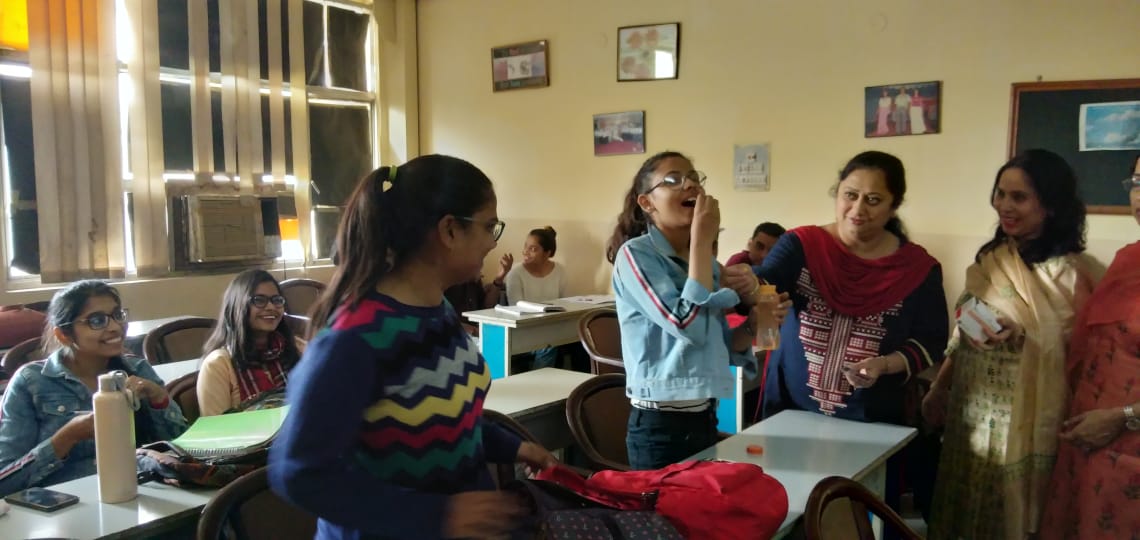 ---
Activity on 'Face of Confidence'
HIMALAYA is India's one of the leading beauty and wellness brand that is well known for top quality products in skin care, hair care and oral care. A team from Himalaya Drug Company conducted grooming session on 17th Jan, 2020 for the students and faculty. Through the activity they conducted live skin care trials and engaged the students in interactive games. They emphasized on the usage of herbal products and their benefits as compared to chemical products.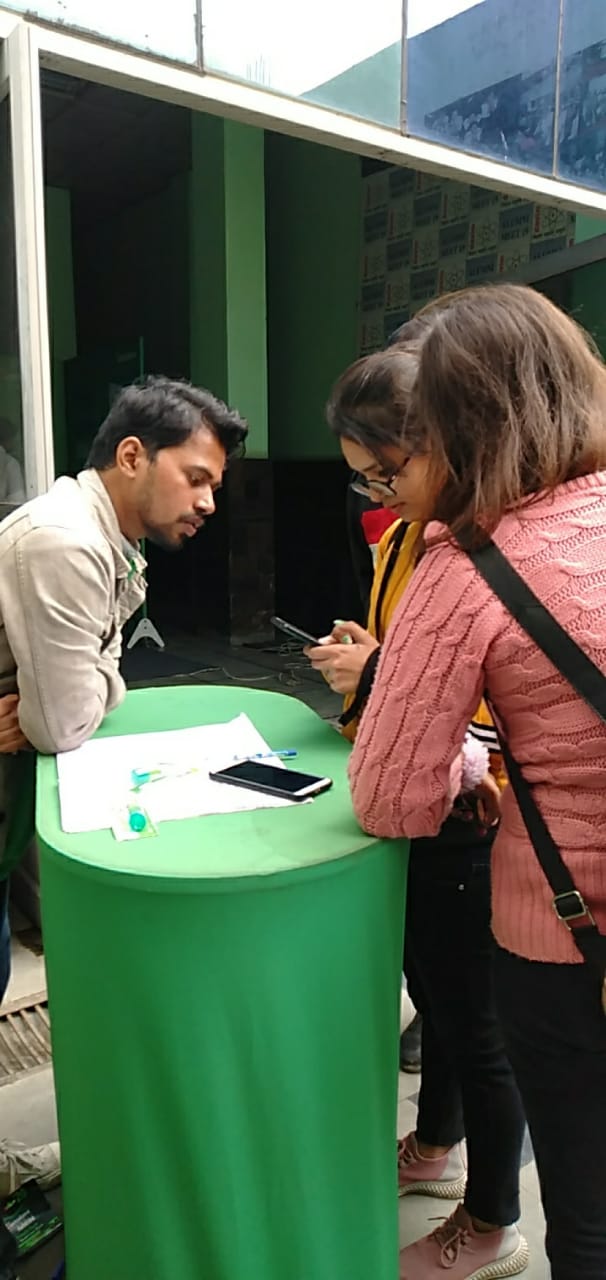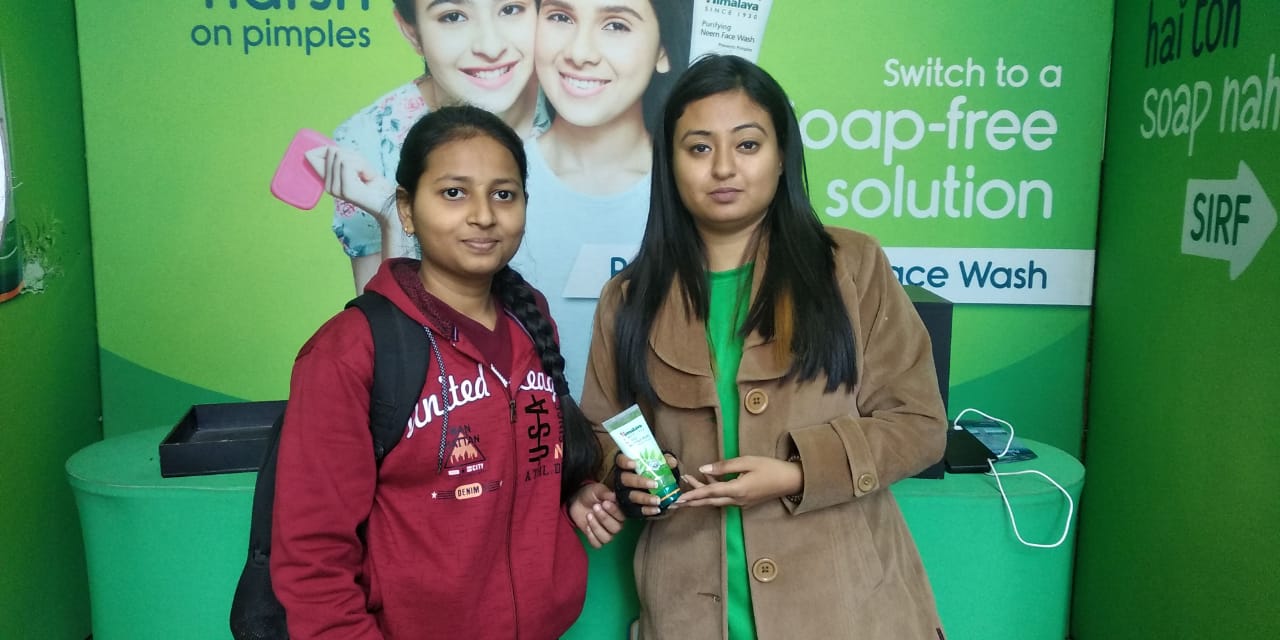 ---
Session on Fight against Oral Cancer
A session was conducted by Dr ShivamVatsal Aggarwal, Oncology Surgeon from Sarvodaya Hospital on 16th Jan 2020, for the awareness of supporting staff about oral health and hygiene. He experimentally proved the ill effects of the usage of tobacco and alcohol. Made the staff aware about the preliminary symptoms and cure and also taught the staff how to do self examination. Dr Aggarwal insisted that one should visit doctor if you have any persistent signs and symptoms that bother you and last more than two weeks.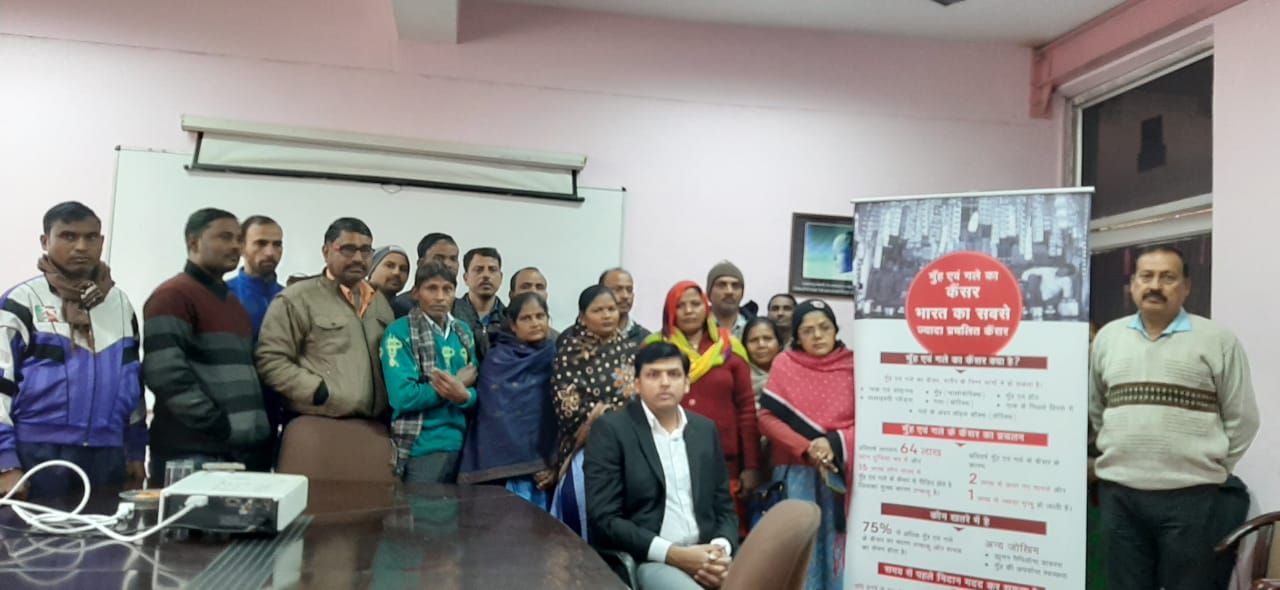 ---
Career Counseling Session
A session was conducted by BHARAT ACADEMY on 16th Jan 2020 & 18th Jan 2020 for under graduate students to create awareness, train and mentor them for their career in CDS, BANKING, POLICE and SSC etc. Trainer explained the students about the importance of appearing in competitive exams as early exposure to learning and competition builds confidence and sharpens skills which raise level from other students on the same platform. It also help out in choosing a career as students start identifying their areas of interest while getting a deeper knowledge of subjects.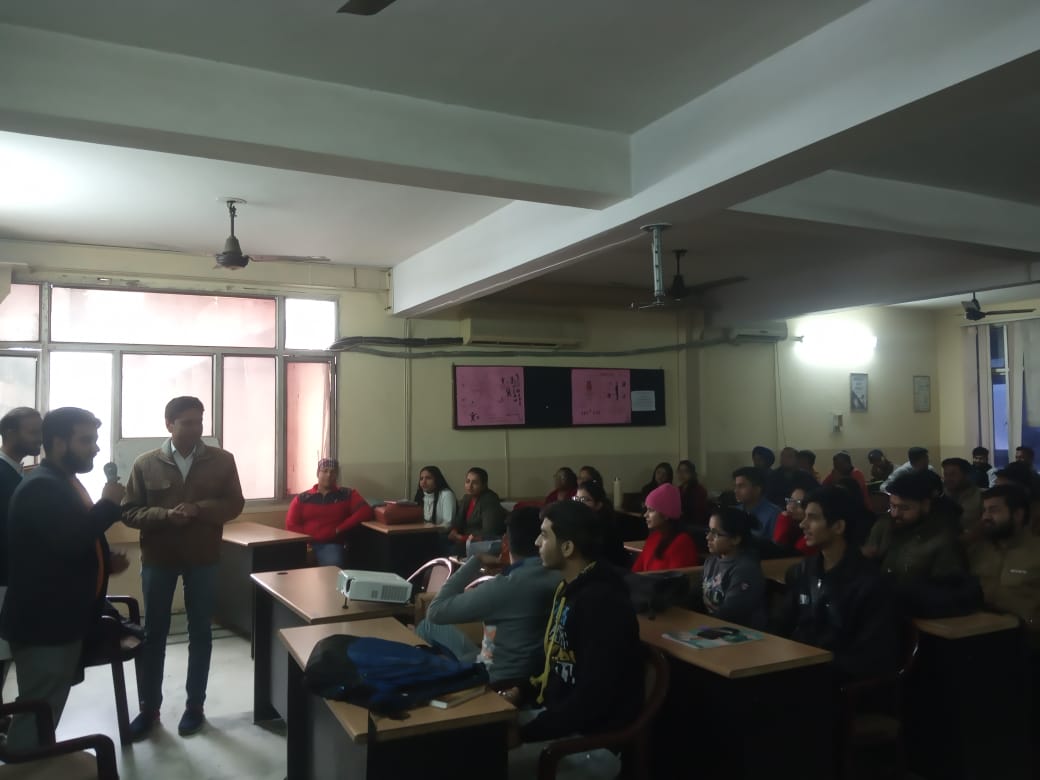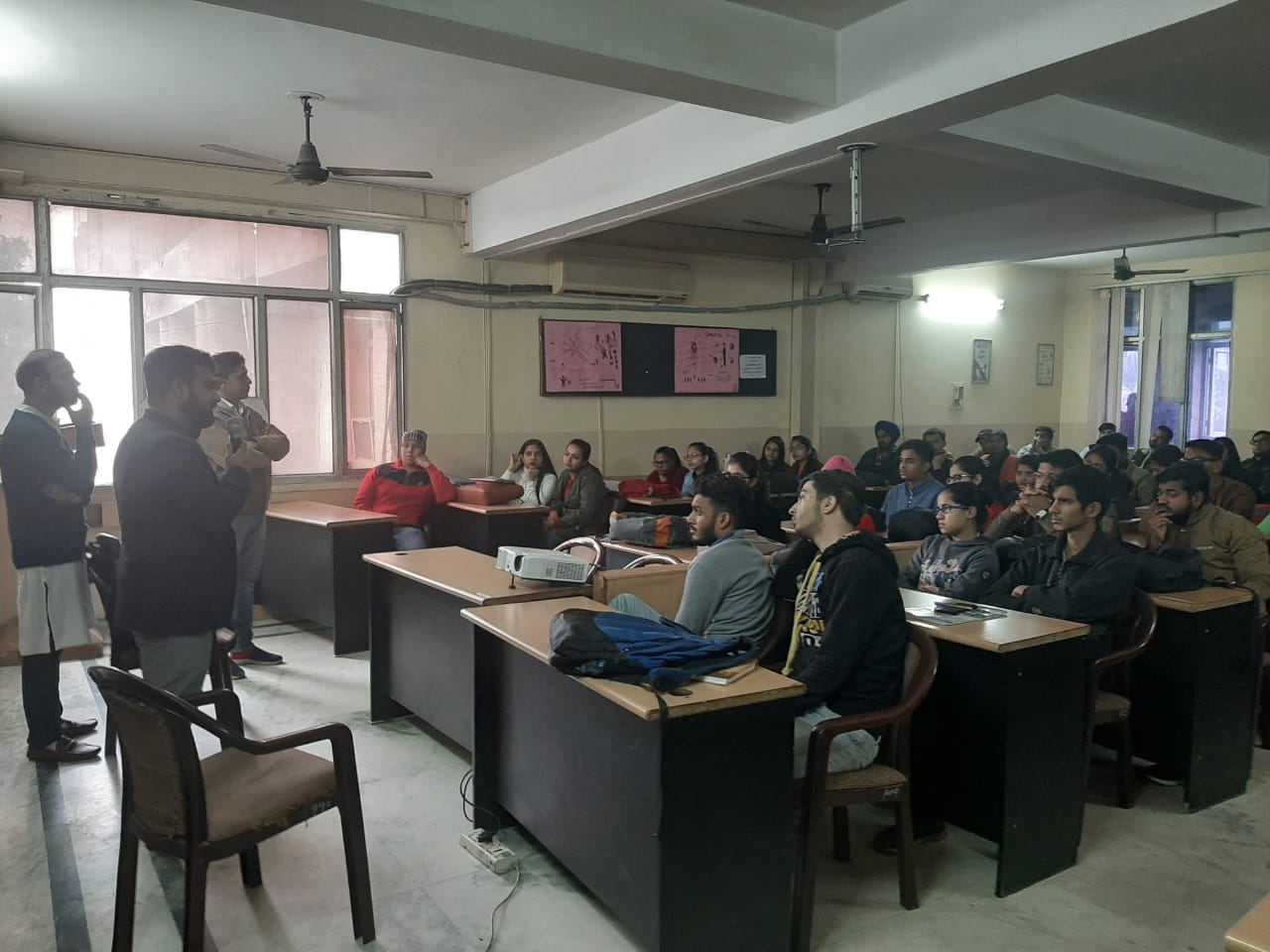 ---
Session on Balance between Body and Soul
On 13th Jan, 2020 an interactive session on "Balance between Body and Soul" has been organized in association with VLCC. A program was designed to focus on vibrant health and sense of fulfillment that we neglect. The solution to all this is self-empowerment. Speaker used the activity tool to personify zest for life and using ones potential to the fullest. Faculty participated with full zest.
---
Session on Goal Setting – How To Set Smart Goals
Interactive session was conducted by, ICFAI Business School, Gurgaon on 10-9-2019for BCA program. The trainer Dr. Nidhi Tak discussed a unique modular program on the business goals that are set should be SMART–specific, measurable, attainable, realistic and timely. A business that is focused on goal setting, action plans and time management techniques for employees is likely to be more effective in the industry. Students participated with full interest.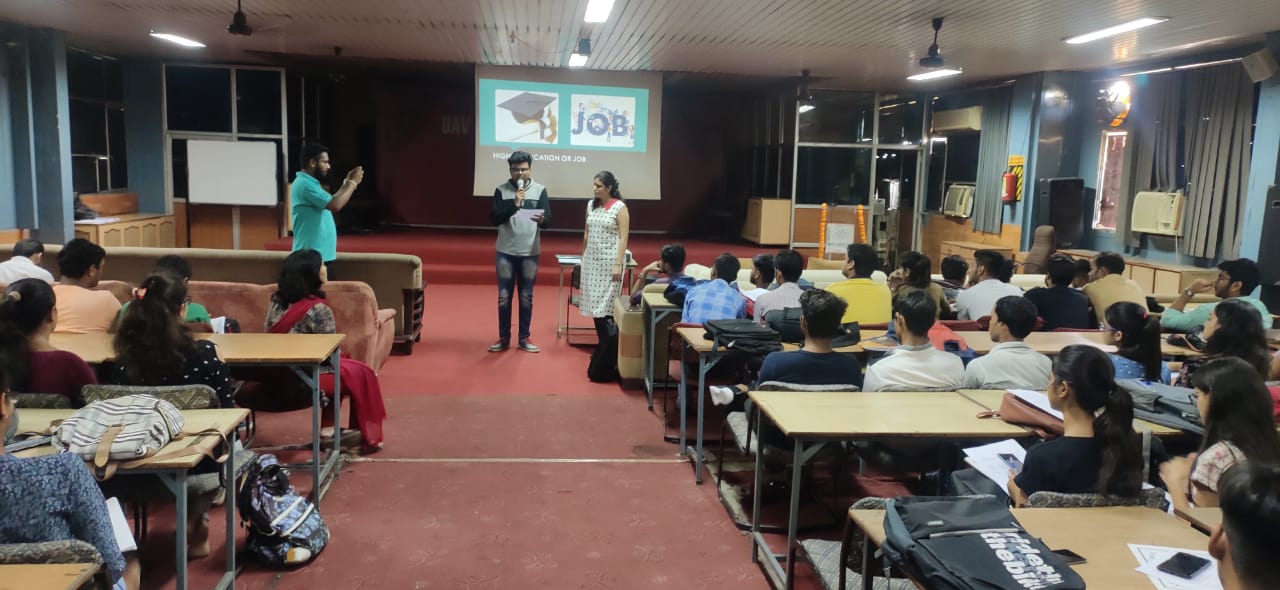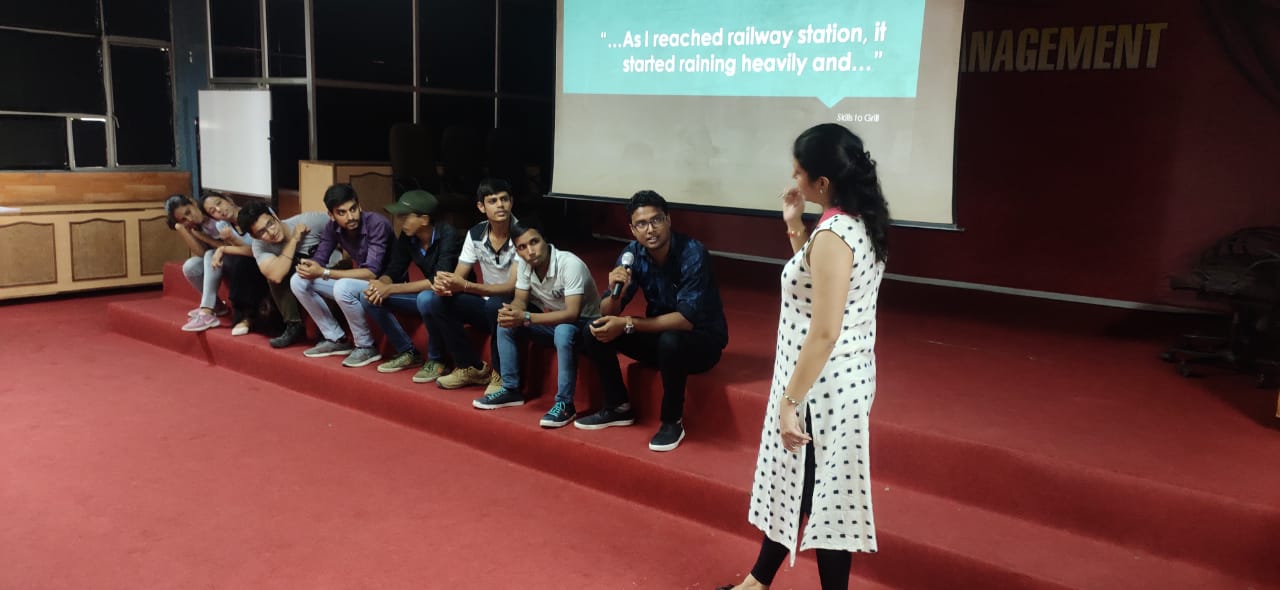 ---
On 5th Oct 2019, a YuvaPrenaPratiyogita was conducted in DAVIM campus, under the guidance of Dr Sanjeev Sharma, Principal DAVIM, and Mr Sudhir Kapoor,City convenor Vivekanand Kendra Kanyakumari (Faridabad branch) a workshop for the students of DAVIM, J.C Bose , Manav Rachna University,Aggarwal College and Govt. Women Polytechnic was conducted in the campus of DAV Institute of Management Faridabad. Trainer Mr Anil Sharma focused on team building, leadership qualities, and goal achievement by the medium of games. They believed in experiential, game-based learning to make strong and efficient teams! It helps to go beyond just the basics and experience a team building program that's engaging, fun and most importantly, impactful. 50 Students participated in the workshop with full zeal
डीएवीआईएममेंआयोजितयुवाप्रेरणाकार ्यशाला डॉसंजीवशर्मा, प्रिंसिपलडीएवीआईएमऔरश्रीसुधीरकपूर, नगरसंन्योजक, विवेकानंदकेंद्रकन्याकुमारी (फरीदाबादशाखा) केमार्गदर्शनमें, डीएवीआईएम, जे.सी. बोसविश्वविद्यालय,मानवरचनाविश्वविद्यालय, अग्रवालकॉलेजऔरसरकारीमहिलापॉलिटेक्निककेछात्रोंके लिएडीएवीइंस्टीट्यूटऑफमैनेजमेंटफरीदाबादकेपरिसरमेंएककार्यशालाआयोजितकीगई। प्रशिक्षकश्रीअनिलशर्मानेखेलकेमाध्यमसेटीमनिर्माण, नेतृत्वगुणोंऔरलक्ष्यप्राप्तिपरध्यानकेंद्रित कासुझावदिया।मजबूतऔरकुशलटीमकोबनानेकेलिएअनुभवात्मकऔर खेल-आधारितशिक्षामेंविश्वास व्यक्त किया।कार्यशालाआकर्षक, मज़ेदारऔरप्रभावशाली थी।50 छात्रोंनेपूरेजोशकेसाथकार्यशालामेंभागलिया।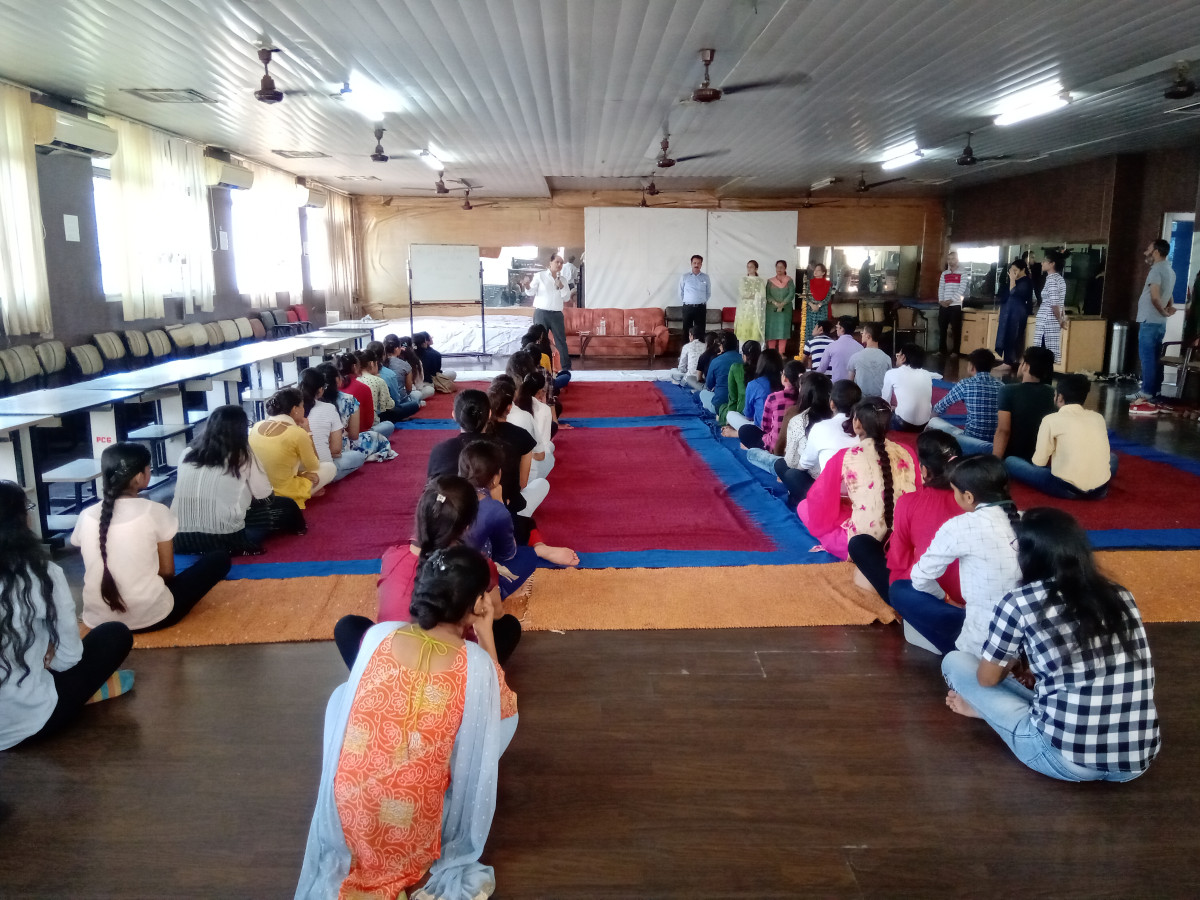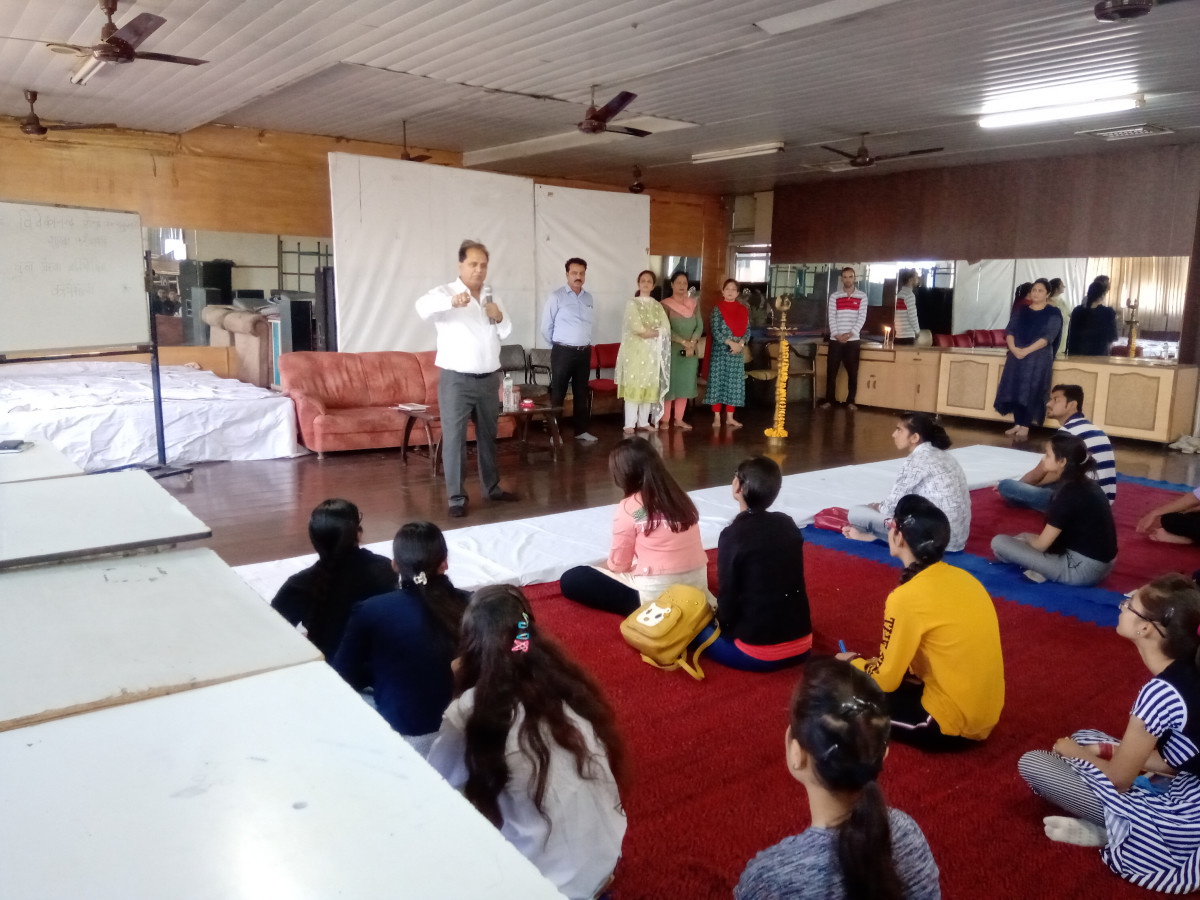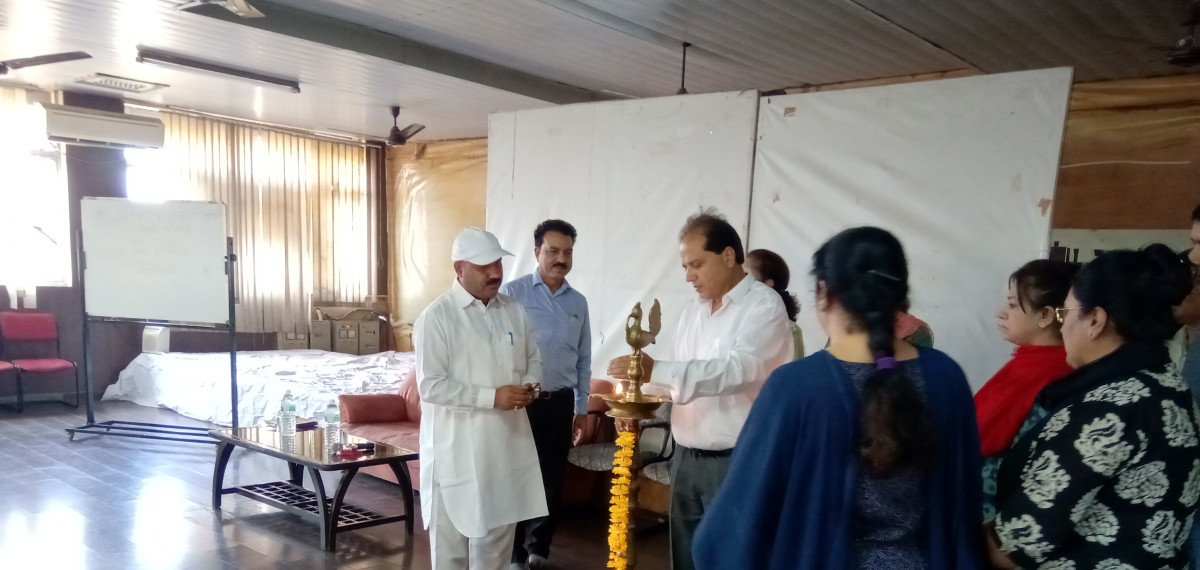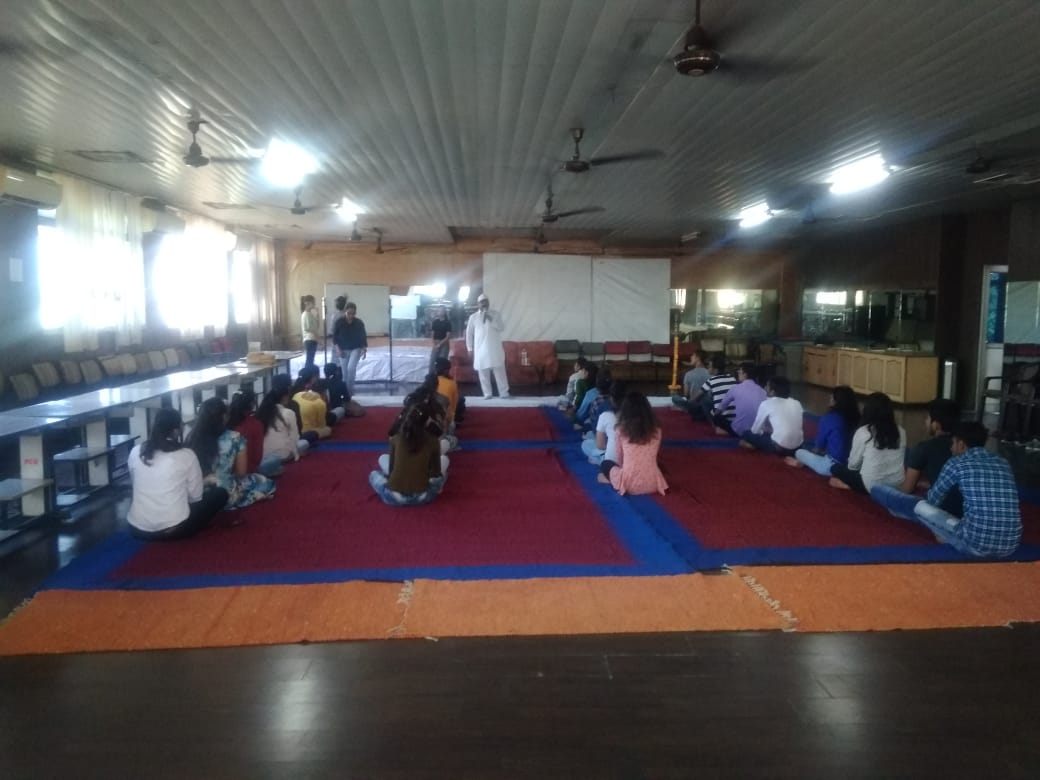 ---
DAVIM joined hands with Decathlon for the student registrations in various sports competitions/ events " Sports Utsav", it was held on 4th Oct, 2019 .This event intends to be inclusive rather than exclusive, an approach to make sports more accessible. Students were invited with their families and friends. This event was a great fun and gained attention of students. They registered themselves whole heartedly. It speeded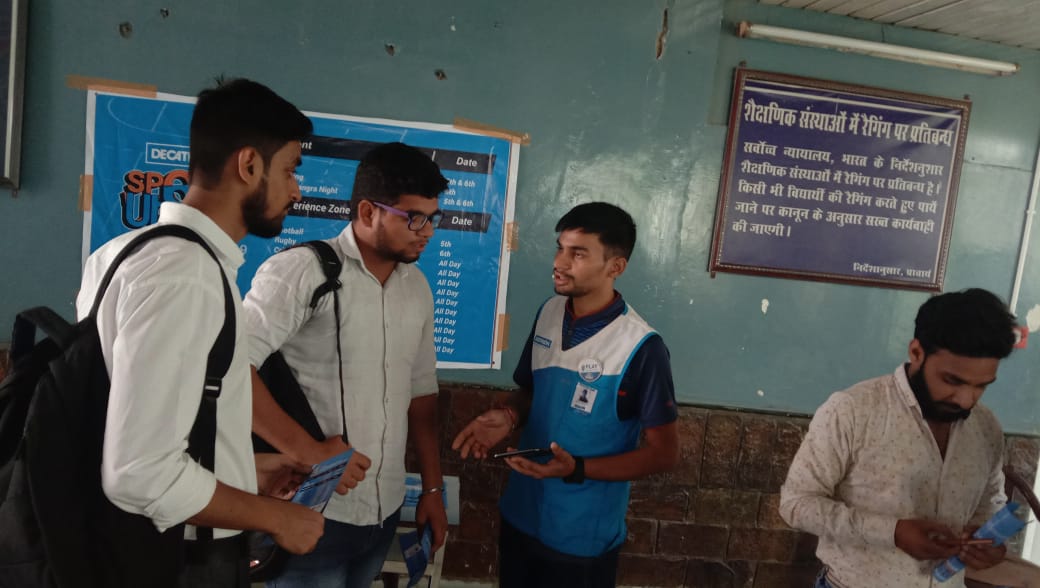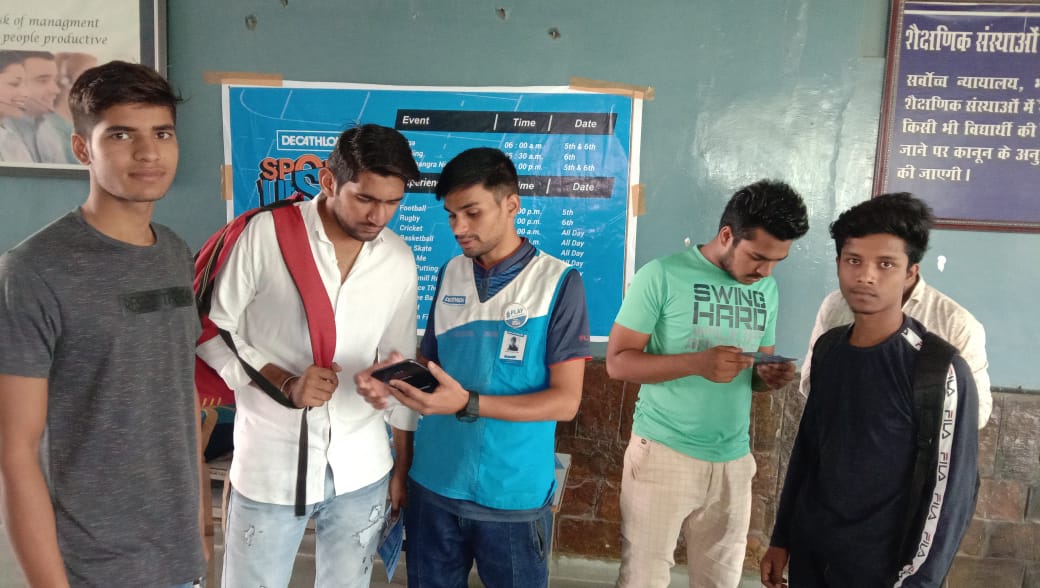 ---
Developing Personalities by Procter & Gamble
A program was designed by Procter and Gamble on 3rd Oct, 2019 to enhance knowledge and importance of grooming which is essential to move forward in life. The session entailed a series of activities and show case of motivational videos by Harsha Bhogle and Abhinav Bindra. The session helped student to understand the requirements and expectation of the organization.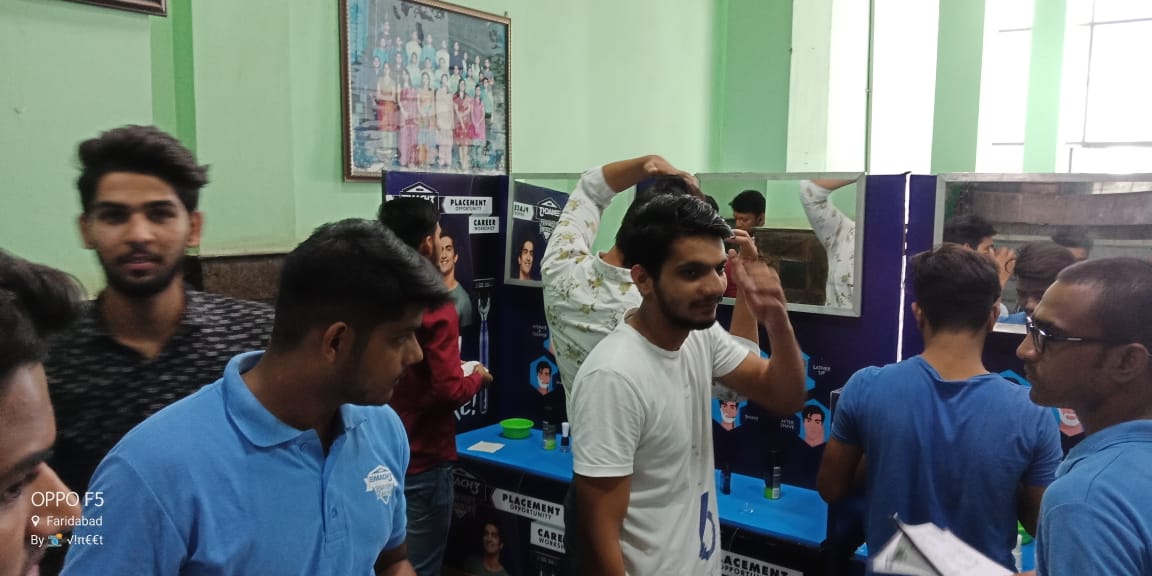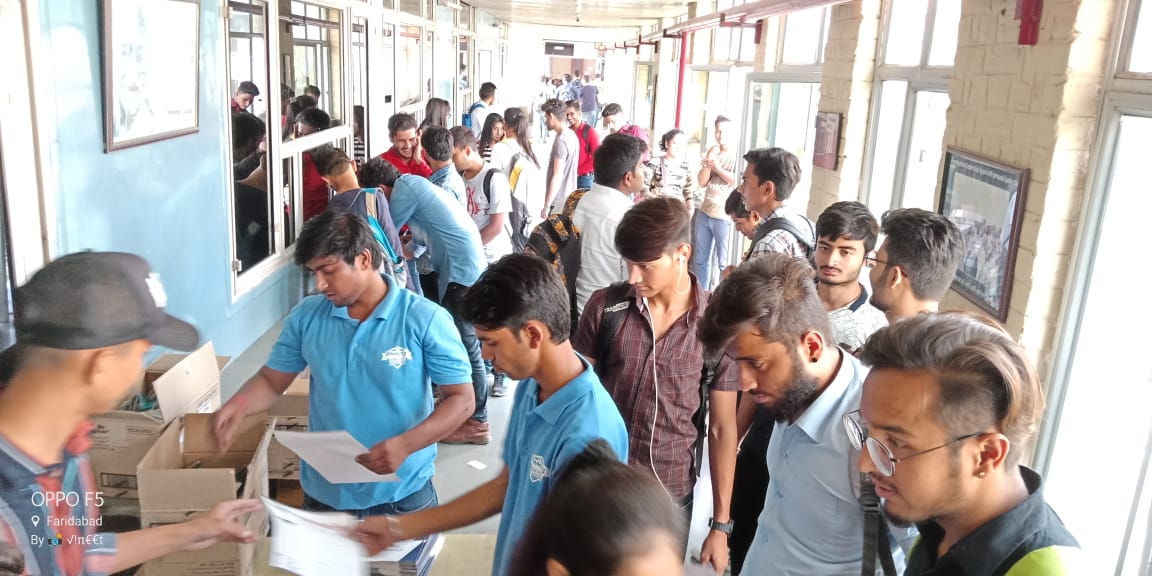 ---
National Nutrition Day was celebrated on 4 Sept 2019 in association with VLCC institute In the Campus of DAV INSTITUTE OF MANAGEMENT, Faridabad. A Workshop was conducted to make students aware about the importance of nutrition for the human body and well being of health. Students were given guidance, to include a healthy diet in their daily routine like whole grains, fruits, vegetables and about their right quantity in right form. This not only helps in growth but also make immune system strong. A health quiz with prizes was also organised for the students. approx 250 students participated in the workshop with full zeal.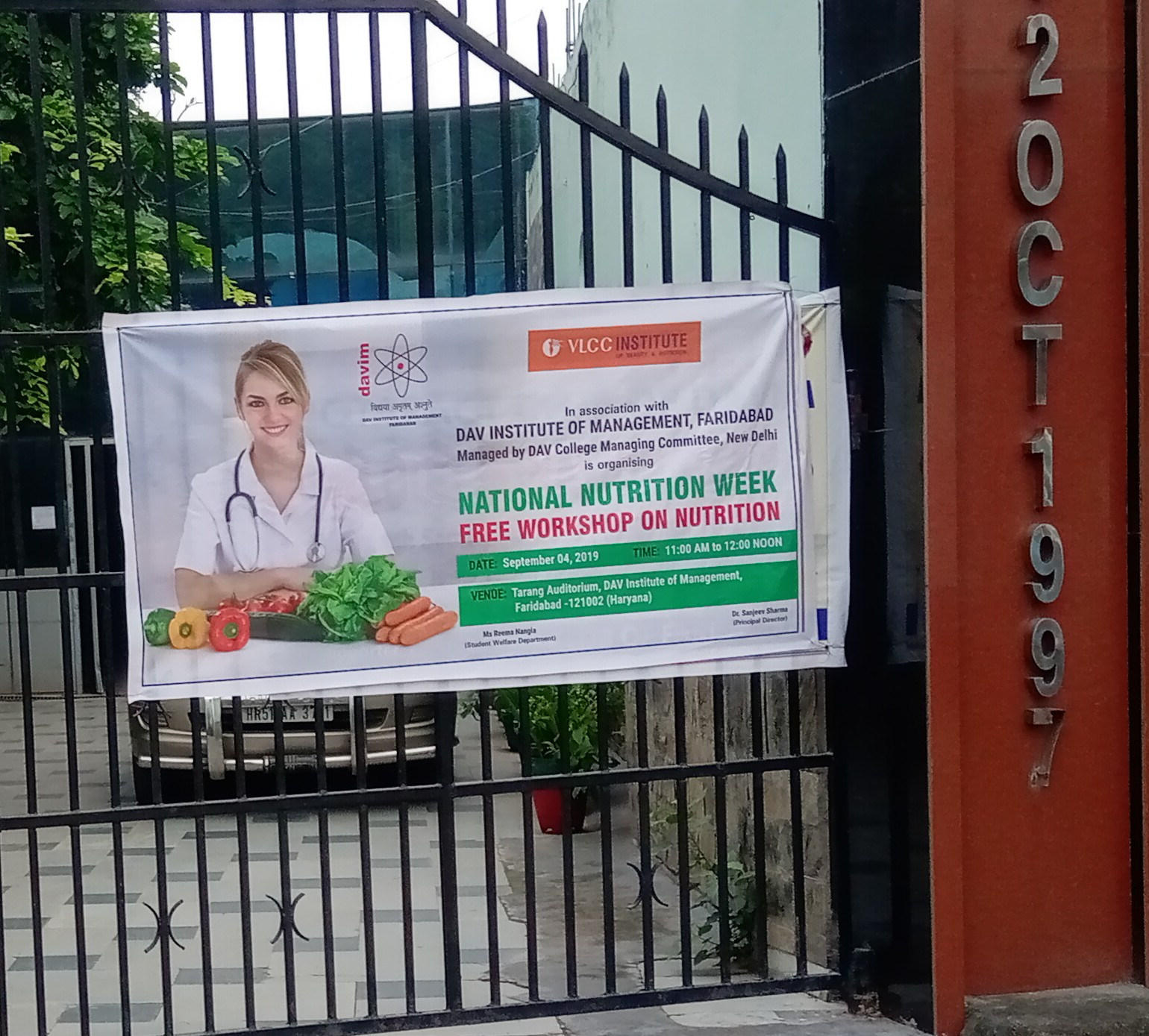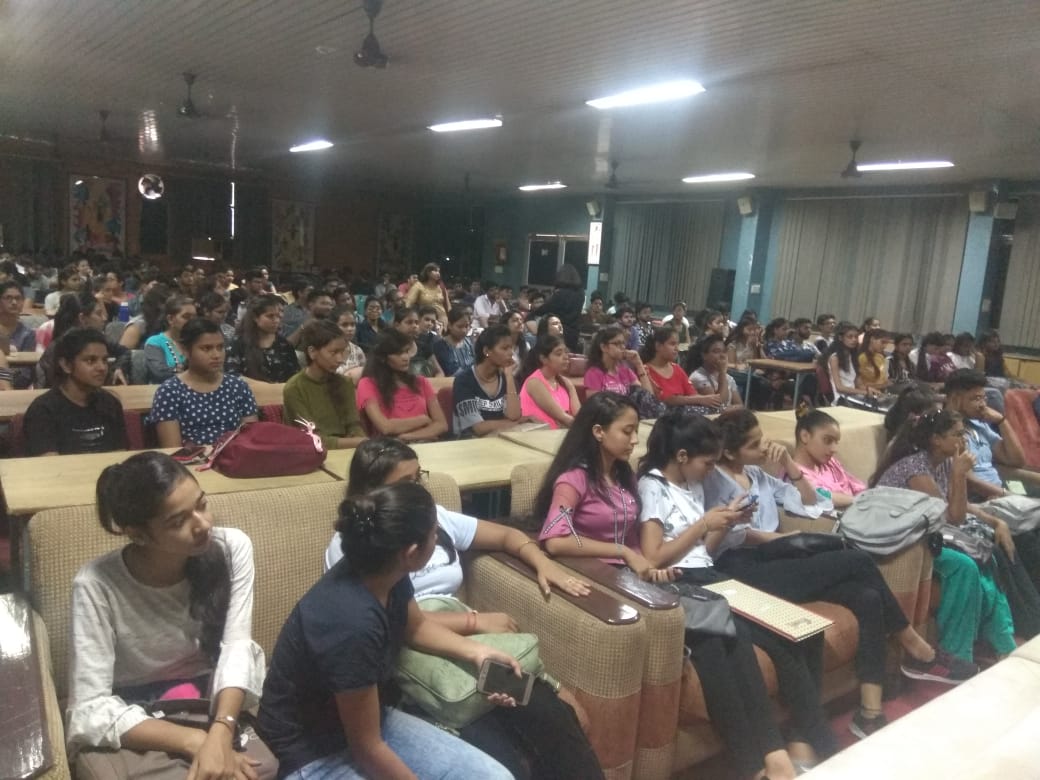 ---
An eye care camp was organized on 02-09-19 at DAV Institute of Management, Faridabad, in association with Centre for Sight. The clinical team examined the students and staff for eye problems with basic required instruments and equipments .Eye care camps was concerned with primary eye care and enlightened the students on the precautions to be taken to protect their eye sight. Approx. 200 students, faculty members and staff from all programs attended the camp. It was successfully organized under the guidance of Dr Ritu Arora Registrar DAVIM, Ms Reema Nangia Student Welfare Officer , camp was coordinated by the welfare committee Dr Bhawna Sharma (MBA), Ms Poonam Singh (MCA) ,MsDhrity Ahuja (BBA), Ms Kanika Duggal (BBAII),Ms Neha Sharma(BBACAM),MsRitu Gautam(BCA), Ms Pooja Goyal(B.Sc C.S).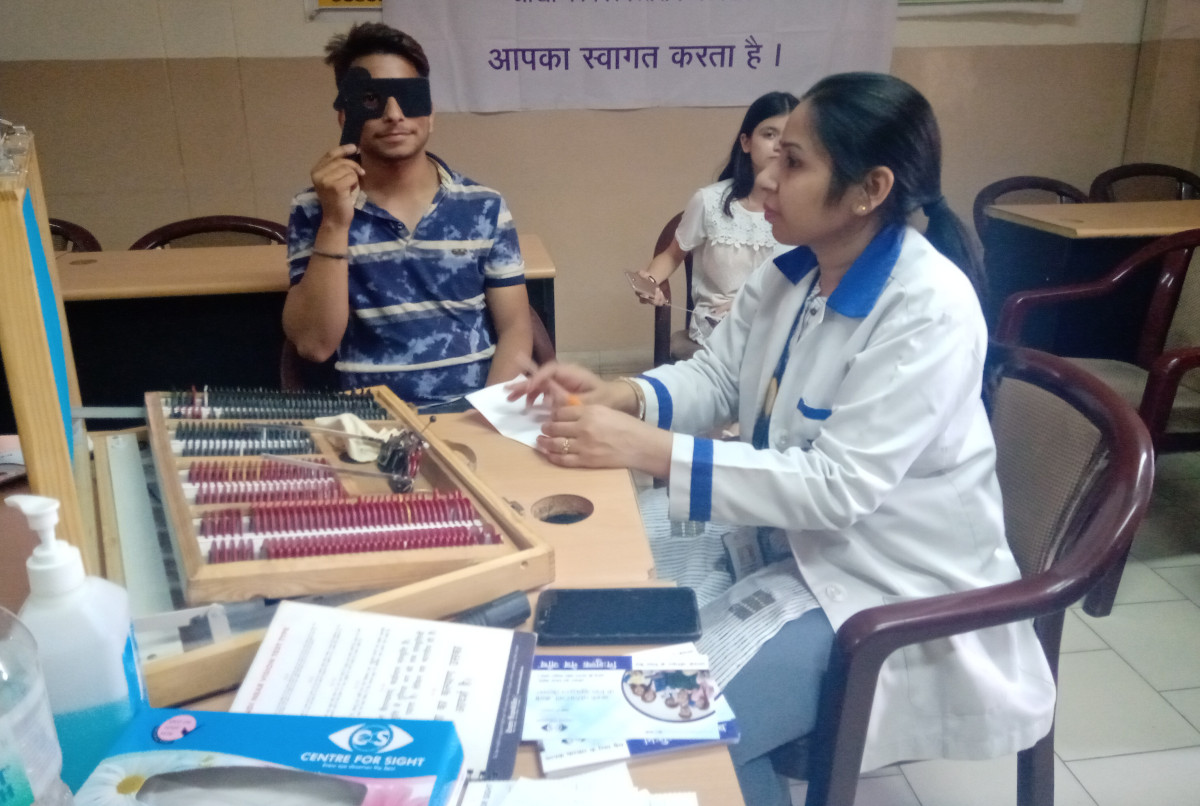 ---
Session on English Language and Personality Development
Interactive session was conducted by Institute of English language and Personality Development on 13-8-2019for BCA program. The trainer discussed a unique modular programme on Time Management and Tools of Success which helps student to understand the requirements of an organization and to meet the expectation of the organization helping him/her to crack the interviews.
---
Expedition Thrill Ka Drill
A student activity was conducted in the institute premises on 2nd August 2019 in association with YAMAHA .The activity was conducted for student's zeal boosting. Giving students a platform to showcase their talent, an opportunity to win a YAMAHA bike and also few best talented students will get an opportunity to participate in the reality show "EXPEDITION Thrill ka Drill".(in Association with YAMAHA, is a reality show currently on air on channel ZING (Zee Channel partner).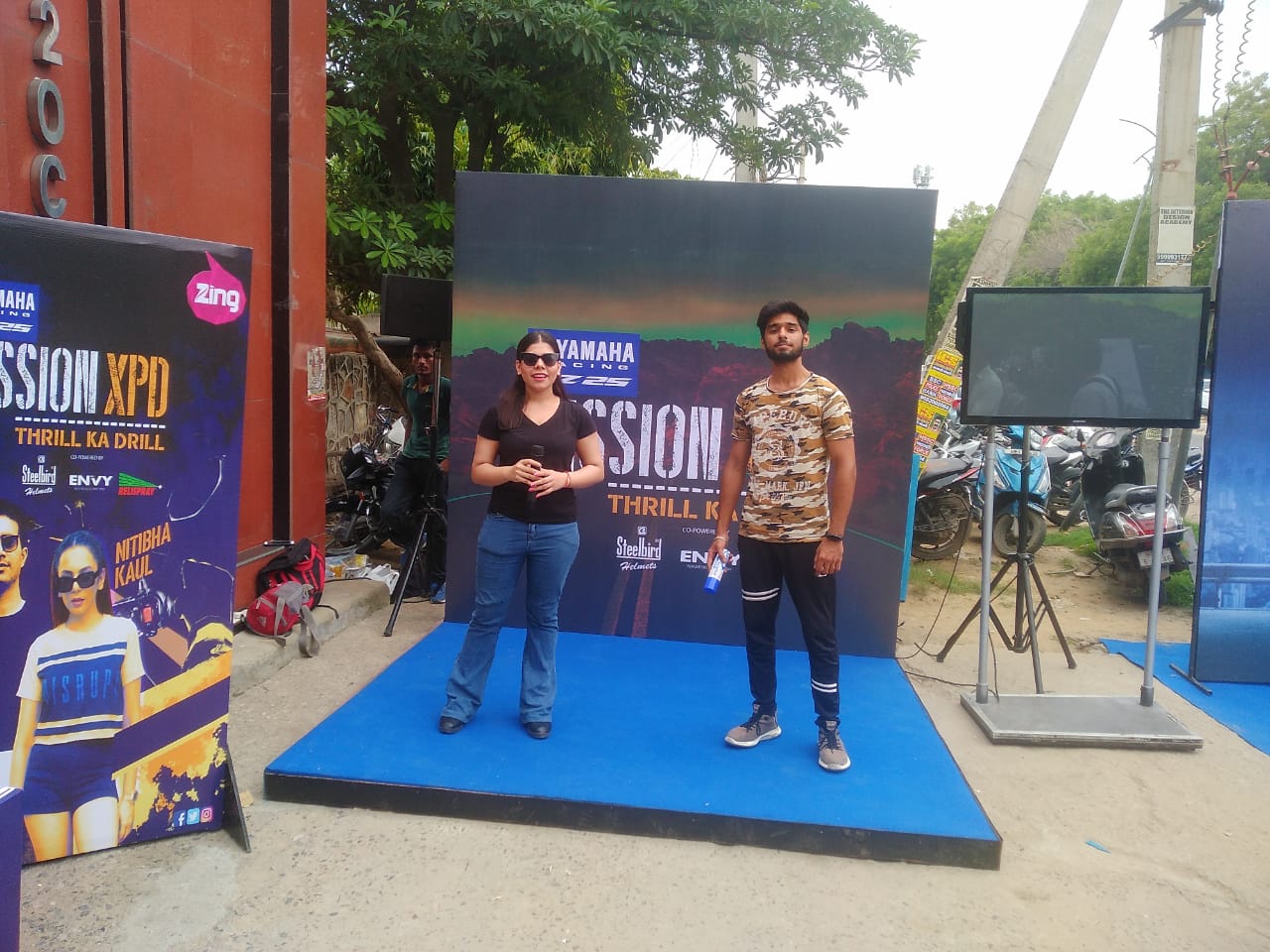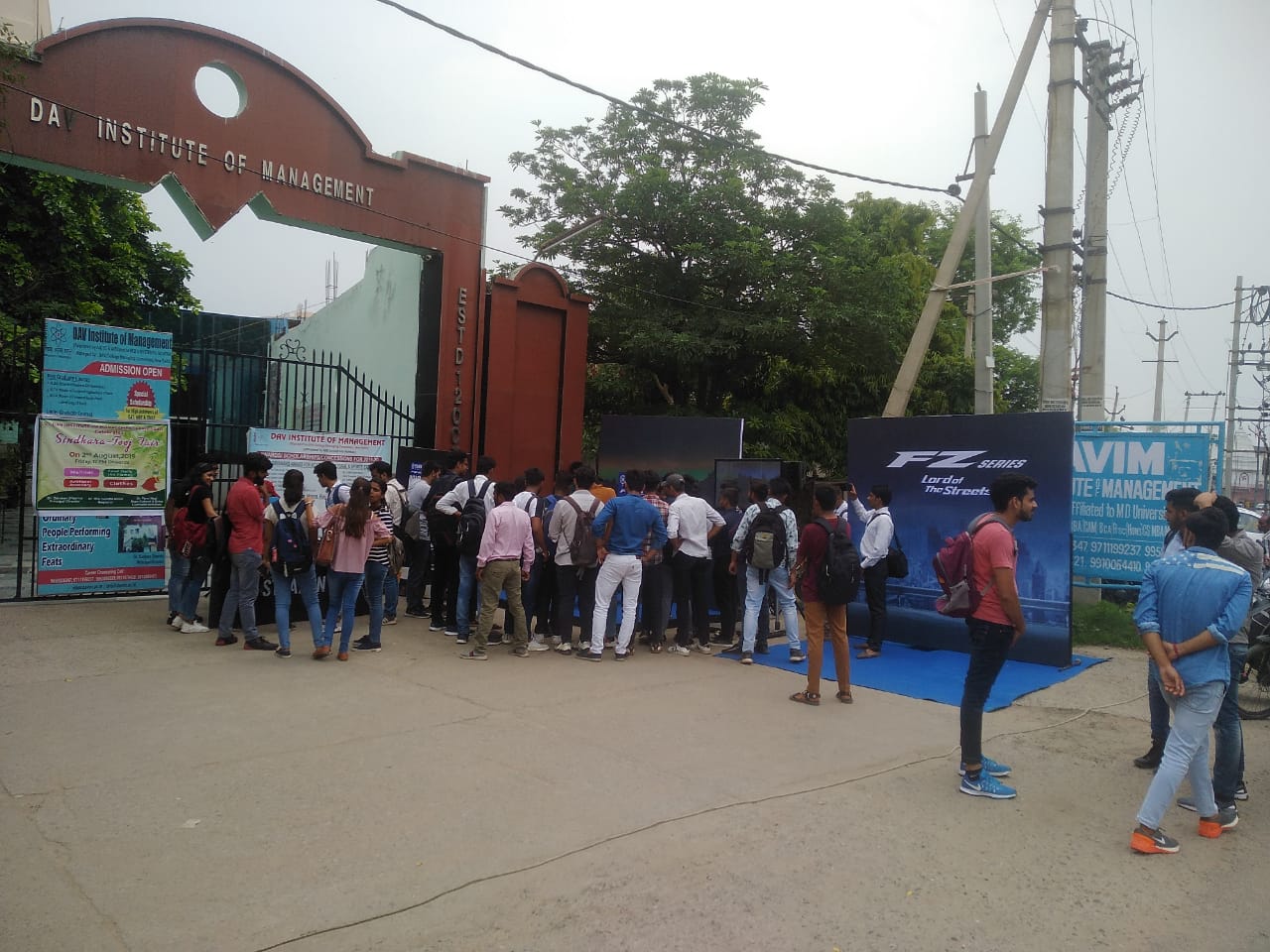 ---
Knowledge Sharing Program
Students of DAV Institute of Management, Faridabad, have completed internship with Knowledge sharing network Luneblaze. In this internship students have delivered 40 sessions on Topics like Human Resource Management, Digital marketing, International Business and Company laws. More than 50 students from different colleges have attended the sessions, Kumkum Sahni and Dishant Saini were certified as best performers. This activity was organized from 17 June 2019 TO 27 June 2019helped students in developing soft skills needed in the industry along with their academics
---
Lohri Celebration at DAV Institute of Management, Faridabad
On the pious festival of Lohri on 13th January 2021 the Student Welfare Department organised Lohri celebration for staff and students. The mood in the campus was upbeat and the students were totally absorbed in the festive spirit of Lohri. The Principal Director Dr. Sanjeev Sharma wished all with the hope that the coming year would bring happiness in the lives of the students and teachers as well. He emphasized that Lohri festival prompts people to be thankful for God's provision.
The DAVIM Centre for Environment and Rotaract Club of DAVIM Celebrated Lohri with the children of Roshni NGO and distributed lohri sweets to them. The celebration bought smiles on children faces and they enjoyed it with great zeal and enthusiasm. Dr. Sanjeev appreciated the efforts of the team who came forward with the idea of celebrating such festivals with these children.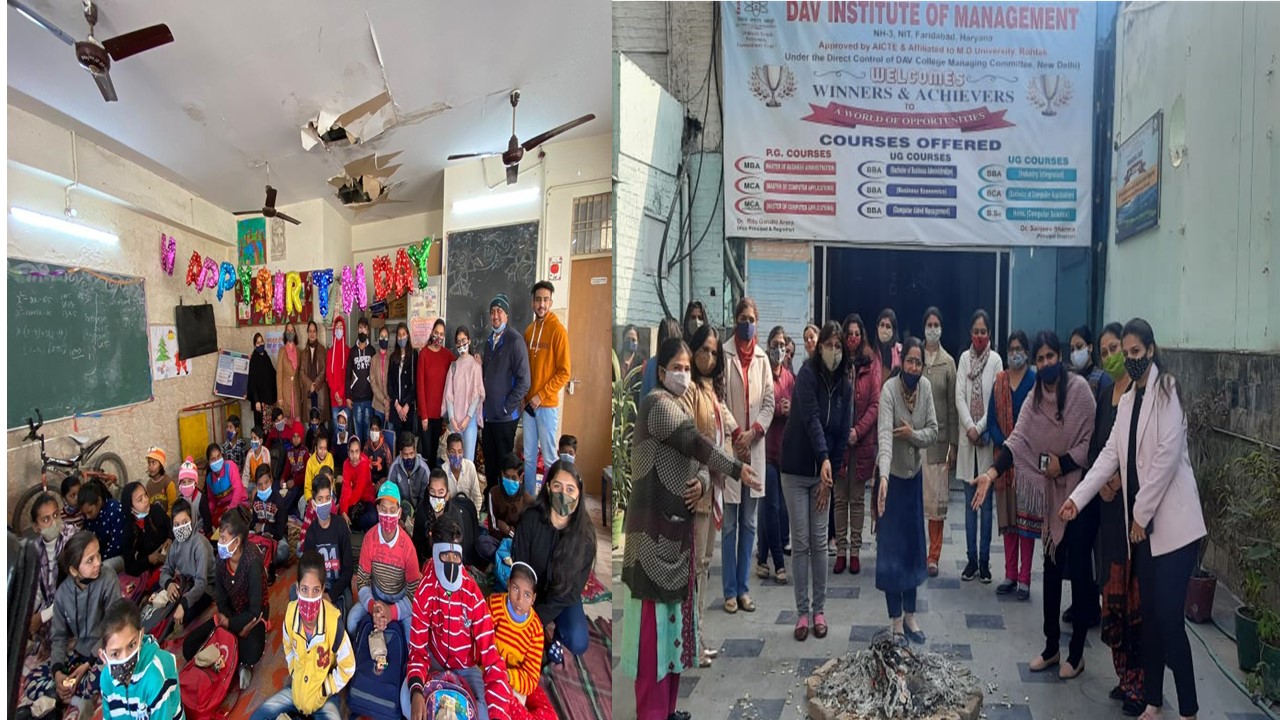 ---
NUTRITIONAL DONATION DRIVE – SAMARPAN ON THE OCCASION OF DAVIM 24TH FOUNDATION DAY
It was a journey of enthusiasm and steady effort which has brought DAV Institute of Management, Faridabad to this platform where it is serving the nation in the best way by imparting education and contributing to the development of nation. DAVIM celebrated its 24th foundation day completing 23 years of successful existence. It was founded on 12th October 1997 and since then it has kept to its legacy of training bright, young minds by honing their talent and each year a huge number of aspirants pass out from the campus seeking excellence. In the light of Indian government's Third Rashtriya Poshan Maah, the auspicious occasion was celebrated as a three days Nutritional Donation Drive – SAMARPAN, organized by the Student Welfare Department of DAVIM from October 9 to October 12, 2020.In the time of adversity when the world is battling with a deadly virus, DAVIM family endeavoured to be a helping hand to those in need by providing nutritional food items like cereals, pulses and spices. Students, staff members and people living in the vicinity contributed in a great number for the noble cause. Dozens of cartons with food items collected at the end of the day marked a successful fulfilment of the event's purpose. The collected food items were donated to Navjan Morcha Samiti-Tau Devi Lal Old Age Home, NIT 2 Faridabad. Dr. Sanjeev Sharma, Principal Director, DAVIM appreciated Student Welfare Department for coming up with such a splendid idea and putting gallant efforts to make the occasion a great success. Also, he was overwhelmed by the contribution made by all the staff members.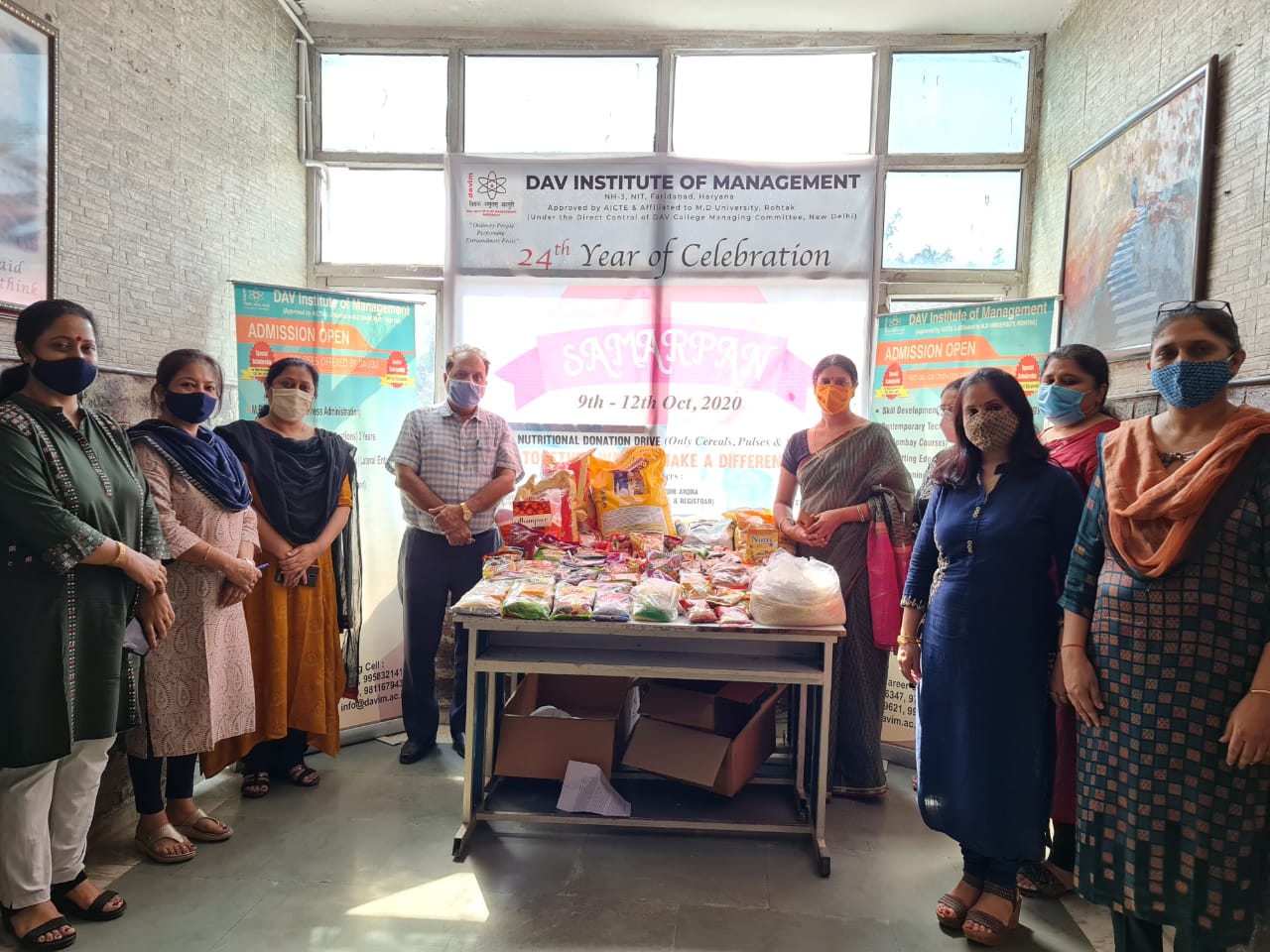 ---